Bertie Ling was born in Suffolk and moved to Felsted by 1901 where his father was landlord of a pub whree he worked as an ostler. He moved to Chelmsford by 1910 where he married and had four children. Bertie worked as a chauffeur, at Hoffmann's bearings factory, and then latterly as the licencee of a High Street pub before joining the army in mid-1916. He was killed in action in July 1917 near Ypres.
LING, BERTIE,
Rifleman, 2nd Battalion Rifle Brigade (formerly of the Gloucester Regiment)
When Winifred was baptised in July 1910 Bertie was still working as a chauffeur and was living at 159 Upper Bridge Road, Chelmsford.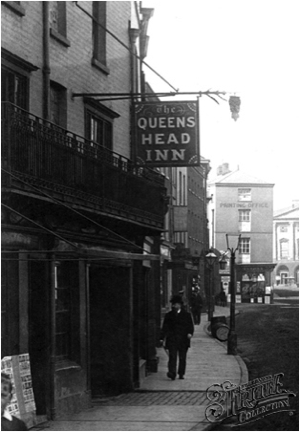 Bertie was born on 20th March 1882 in Botesdale in Suffolk, the son of the police officer Robert Archer Ling and Sarah Ann Ling (nee Jacques). His father had been born in 1837 in Eyke in Suffolk; his mother in 1836 in Rendlesham in Suffolk. They had married in Suffolk in 1862.
Bertie's seven siblings were: Laura Ling (born c1862 in Rendlesham, Suffolk), Edward Ling (born in 1863 in Gilsingham, Suffolk), Anna Maria Ling (born in 1866 in Gilsingham, Suffolk), Albert Edward Ling (born in 1867 in Gilsingham, Suffolk), William Archer Ling (born in 1870 in Wickham Skeith, Suffolk, died 1926), Robert Archer Ling (born in 1871 in Wickham Skeith, Suffolk) and Frederick Arthur Ling (born in 1878 in Stanton, Suffolk).
In 1891 the census found 9 year-old Bertie living with his parents, brother and two boarders at Broad Street in Eye in Suffolk. His father was a police inspector.
A decade later the 1901 census recorded 19 year-old Bertie living with his parents and two brothers at the Swan Inn in Felsted where his father had now retired and was the licencee. Bertie and his two brothers were ostlers (men employed to look after the horses of people staying at an inn).
Bertie's father, who was then living at
Rosslyn House in Felsted died on 22nd August 1903. He left an estate valued at £392 13s 4d.
On 13th June 1910 28 year-old Bertie married Annie Josephine Sturgeon at St. John's Church in Moulsham. At the time he was working as a chauffeur and lived at 10 Queen Street. His bride was the daughter of a Suffolk-born inn keeper, Walter Sturgeon. She was then living at 159 Upper Bridge Road in Chelmsford. Annie had been born in 1885 in Raglan, Monmouthshire.
The couple went on to have four Chelmsford-born children: Winifred Annie Ling (born on 16th June 1910, died in 1973), Muriel Laura Ling (born on 24th January 1912, died in 1997), Jack Edward Ling (born on 29th March 1913, died in 1994), and Gwendoline Maud Ling (born on 3rd May 1916, died in 1988).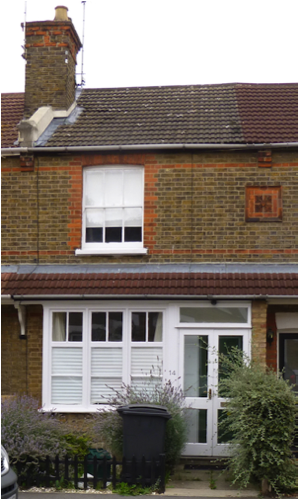 The 1911 census recorded Bertie's widowed mother living with his brother Frederick at Myrtle Villas, Chelmsford Road in Felsted. Meanwhile the census found 29 year-old Bertie, his wife and daughter living at 14 Wolseley Road, Chelmsford (pictured). Bertie was employed as a machinist at Hoffmann's ball-bearings factory in Chelmsford. He was still living there and working as a machinist when his next two children were baptised in March 1912 and June 1913 and was listed there in the 1914-15 register of electors.
Bertie's father and father-in-law were both lin the pub trade so it was no surprise in August 1915 when Bertie was temporarily granted the licence of the Queen's Head pub in Chelmsford's High Street (number 61, pictured far left). He took the licence over from his brother William. He was still resident there in April 1916 when his fourth child was baptised, but the following month magistrates approved the passing back of the licence from Bertie to William following Bertie's call-up into the army.
Bertie joined the army at Chelmsford and initially served as Private 29756 in the Gloucester Regiment. Later he served as Rifleman S/28530 in the 2nd Battalion of the Rifle Brigade. He was killed in action on 7th July 1917, aged 34. By then his wife and children are thought to have moved to live with her family in Gloucester.
On 27th July 1917 the Essex Weekly News reported:
"Mrs, Ling, Quay-st., Gloucester, has
received notification of the death of her husband, Rifleman Bert Ling, Rifle Brigade, who was killed in action on July 8 [sic.] Before joining up deceased was licencee of the Queen's Head, Chelmsford, and he leaves a widow and four children."
Today Bertie lies in Belgian Battery Corner Cemetery on the outskirts of Ypres in Belgium (grave 1.D.11.). He is not commemorated by the Civic Centre Memorial in Chelmsford, but is recorded on Gloucester War Memorial and the Hoffmann War Memorial at Chelmsford Cathedral. His widow lived at 1 Lower Quay Street in Gloucester. The 1918 register of electors listed Bertie's brother William, and sister-in-law Annie, at The Queen's Head, 61 High Street, Chelmsford.
Bertie's mother died in 1920, aged 84.
Bertie was entitled to the British War Medal and Victory Medal. His widow died in Gloucester in 1966.
141214