Alfred Henry Mott worked as an upholster's assistant and then as an upholster before joining the army in February 1916. He never made it to the front, dying of pneumonia the following month in Kent. His home was in Manor Road.
MOTT, ALFRED HENRY,
Private, 1st Battalion, East Surrey Regiment.
On 15th February 1916 he was placed in the Army Reserve and nine days later was mobilized. On 23rd March 1916 Alfred was posted as Private 15594 in B Company of the 10th Battalion of the East Surrey Regiment at Dover, Kent. However, he was admitted to the Military Hospital, Dover on 3rd May 1916 suffering from double pneumonia. He died there at 5.45 a.m. A telegram was sent to his mother informing her of his death the same day. It read:
"OHMS. Mrs. Mott, 3 Upper Trinity Rd. Halstead, Essex. I regret to inform you of the death of your son this morning. Letter follows. From the Adjutant, 10th East Surreys, Dover."
Alfred was buried at Halstead Cemetery (grave: L. 1931, pictured). His name appears on the Halstead War Memorial.
Alfred is not commemorated on the Civic Centre War Memorial in Chelmsford. He was not commemorated by the war memorial at St. John's Church, Moulsham.
His mother, Ann Amelia Mott, died in 1919.
140310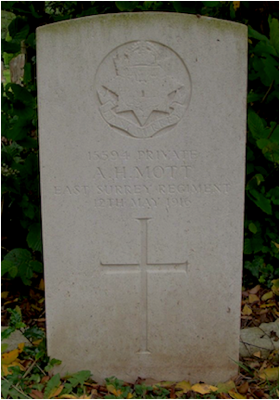 Alfred was born in Stratford in 1892, the son of Ann Amelia Mott. His mother had been born in White Colne in 1848 and is thought never to have married.
Aged 9, Alfred was recorded by the 1901 census living at 3 Upper Trinity Road in Halstead with is mother and her sister Phoebe Mott and three other boarders.
In 1911 the census found 19 year-old Alfred working as an upholsterer's assistant, still boarding with Ann Amelia Mott at the same address. Ann was a former silk weaver.
On 14th February 1916, when aged 24 years and one month, Alfred attested at Chelmsford for short service (for the duration of the war). At the time he was resident at 36 Manor Road, Chelmsford and employed as an upholsterer.He passed his medical which recorded that he was five feet three and a half inches tall, with a chest of 35 inches. He weighed 120 pounds and had good physical development. His next of kin was his mother, still of 3 Upper Trinity Road, Halstead. He was a Congregationalist.