George Christopher Plastow (sometimes 'Plaistow') lived in Widford after his marriage in 1907 and went on to have three children. He worked as a builder's labourer and as a soldier before the war. He rejoined early in the war. Having gone overseas he died from wounds in France in July 1917. His home was in what is now Widford Chase.
PLASTOW, GEORGE CHRISTOPHER,
Private, 11th Battalion, Essex Regiment (formerly of the 1/1st Battalion, Hertfordshire Regiment)
The 1911 census recorded the family living at 5 Harris' Cottages in Widford - the cottage, demolished in the late 1930s as part of a slum clearance programme, was situated behind the Sir Evelyn Wood public house. At the time George was a builder's labourer, probably for Chelmsford builder Jessie Gowers.
At the outbreak of the war George was serving as a Territorial in the 4th Battalion of the Essex Regiment. He subsequently served as Private 9657 and 269668 in the 1/1st Battalion of the Hertfordshire Regiment. He was already in the army by September 1914.
Later George transferred to serve as Private 202778 in the 11th Battalion of the Essex Regiment. Aged 35, he died of wounds on 1st July 1917. Today George rests in Bethune Town Cemetery, Pas De Calais, France (grave VI. F. 31.).
On 13th July 1917 the Essex County Chronicle reported:
"Pt. George Christopher Plastow, Essex R., died on wounds on July 1, lived at Widford and was formerly employed by Mr. J. Gowers, builder, Chelmsford. He used to be in the band of the Essex Territorial Battalion at Chelmsford. He leaves a widow and three young children."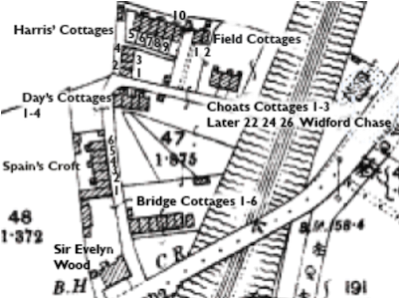 George was born in Stisted in 1882, the son of Charles Plastow (1846 -1921) and Mary Matilda Plastow (nee Tunbridge) (1851-1897). His siblings included Annie Maria Winnifred Plastow (born 1873), Charles Clement Plaistow (1875-1953), James Enos Plastow (1878-1936), Lily Gertrude Plastow (born 1885), and Katie Frances Plastow (1887-1966).
In 1891 the census found eight year-old George living with his parents and five siblings at Ropers in Writtle. At the time George's father and two
brothers were employed as agricultural labourers.
On 30th March 1907 George married Writtle-born Ada Florence Foreman (1883-1950) at St. Mary's Church in Widford. At the time George was a labourer, and both bride and groom lived in Widford. The couple went on to have three children born in Widford: Charles Christopher Plastow (1907-1978), Edward William Thomas Plastow (1910-1994), and Ellen Mary Plastow (1911-1983).
In 1901 George's father, widowed four years earlier, married Louisa Crozier (nee Bonnington). One of Louisa's daughters from her previous marriage, Louisa Mary Crozier (later Rolfe) was to die as a result of an explosion in a Home Guard exercise in Springfield in 1942.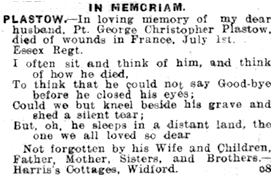 The Widford Parish Magazine of August 1914 reported:
""Our sympathy goes out to the widow and family of the late Pte. George Plastow, who has made the supreme sacrifice and given his life for his country, The deceased soldier lived in Widford as a boy, and later returned to the village on his marriage. He was a man who had seen some years service, and when the call came to fight for the right in this war he re-enlisted and served until July 1st, when he was seriously wounded"
George is not commemorated by the Chelmsford War Memorial but is commemorated by the war memorial at St. Mary's Church, Widford.
In 1920 George's widow remarried, to Thomas S. Styles. She died in 1950.
Harris' Cottages became part of the Borough of Chelmsford when parts of Widford were absorbed into an expanded Borough in 1934 - prior to that the boundary between the two had run largely down the centre of what is now Widford Road with the parish on the northern side and the Borough on the southern.
140309