Edgar Rayner was born and grew up in Suffolk. He married there in 1908 and went on to have four children. He moved to Chelmsford before the war and worked as an insurance salesman and at the Hoffmann's bearings factory. He joined the army in January 1915 and was sent to Salonika in October 1916. He went missing there in September 1918. His home was in what is now Widford Chase.
RAYNER, EDGAR*,
Sapper, 99th Field Company, Royal Engineers
On 25th January 1915 Edgar enlisted into the army at Chelmsford for the duration of the war. His experience as a skilled carpenter led him to serve as Sapper 65388 in the Royal Engineers. At the time he was aged 27 years and eight months old, five feet five and three-quarters inches tall, weighed 118 pounds with good physical development. His home was at 2 Harris' Cottages in Widford.
He subsequently served in Chatham, Warminster, Pangbourne, Beganiivy and Pilay.
Whilst still in England Edgar either exceeded his pass pr went absent without leave on four occasions - on one of them he was apprehended by the civil police in Chelmsford on 27th May 1915 having been absent for 94 hours. At that time he was with 108th Field Company.
He embarked for Salonika, Greece on 8th October 1916 after 1 year and 257 days in the army. On 7th November 1916 he joined 99th Field Company in Salonika as a reinforcement.
Edgar went missing and was later presumed killed in action on 18th September 1918. By then he was serving in the 99th Field Company, Royal Engineers which had been in Macedonia since late 1915.
The November 1918 edition of the Widford Parish Magazine reported:
""Death of Sapper E Rayner is reported as having occurred on Sept 17th. He leaves a widow and four young children who reside in the village."
Edgar has no known grave and is commemorated by the Doiran Memorial in Greece and the war memorial at St. Mary's Church Widford. He is not commemorated by Chelmsford's Civic Centre War Memorial.
At the time of his death Edgar's widow was living at 2 Harris' Cottages in Widford. His parents were resident at Swan Street in Sible Hedingham.
Edgar's widow and their four children were subsequently awarded a pension of 33 shillings and ninepence per week from 28th April 1919. She acknowledged receipt of how British War Medal and Victory Medal on 6th January 1922. By then she had remarried, to John Blundell. The couple went on to have two children - Gerald Ivor Blundell and Brenda M. Blundell.Gerald was killed in an air raid on Chelmsford in 1943. Edgar's widow died in 1964.
Harris' Cottages became part of the Borough of Chelmsford when parts of Widford were absorbed into an expanded Borough in 1934 - prior to that the boundary between the two had run largely down the centre of what is now Widford Road with the parish on the northern side and the Borough on the southern.
130511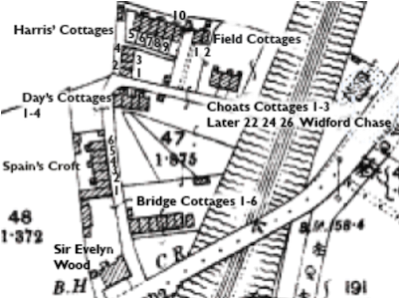 Edgar was born in Haverhill. Suffolk in 1887, the son of Frederick Lynton Rayner (1861-1924) and Lydia Rayner (nee Gowers) (1859-1939). Edgar's parents had married in 1879 and produced at least ten siblings for Edgar including: Albert Linton Rayner (1880-1947), Annie Rayner (born 1883), Gertrude Rayner (born 1885), Nelly Rayner (born 1892), Grace Rayner (1894-1992), Percy Ronald Rayner (1897-1978), Frederick Rayner (born 1899), Ida Florence Rayner (born 1899), and Edith Nina
Rayner (1904-1991).
On 5th July 1908 Edgar married Emily Julia Reed at Halstead. The couple went to have four children: Victor Lynton Rayner (born 24th October 1908 in Halstead, died 1989), Edgar Rayner (born on 17th April 1912 in Chelmsford, died 1980), Hilda Rayner (born on 16th April 1913, died 1972), and Rufus Ronald Rayner (born on 8th August 1915 in Widford, died in 1991).
In 1911 the census found 23 year-old Edgar, his wife and eldest son visiting Edgar's brother Albert and his family at 26 Bradford Street in Chelmsford. At the time Edgar was a life assurance agent. Edgar then worked for Hoffmann's ball-bearings' factory in Chelmsford.