Stanley Rice was born in Cumberland, son of a Chelmsford-born electrical engineer, and emigrated with his family to South Africa in the 1890s. Following the death of both of his parents there he lived in an orphanage in Eton. He joined the army and served in France. He died from wounds in May 1915. A brother was also killed in 1915, in Gallipoli.
RICE, STANLEY*,
Gunner, "X" Battery (2nd Indian Cavalry Division), Royal Horse Artillery
Stanley's brother Cecil also served in the army, as Private 2640 in the Australian Infantry Force, having been sent to Australia before the war. He joined up in June 1915, embarked from Brisbane two months later and served in Gallipoli and France where he was wounded in 1916. He was returned to Australia the following year, was a talented golfer, and ran a business.
Their brother Leonard also served in the army during the war, and later worked as an accountant before rejoining the army. Leonard excelled at cricket, and is thought to have played for Essex at one time. He was also a talented swimmer and diver and died in 1957.
131222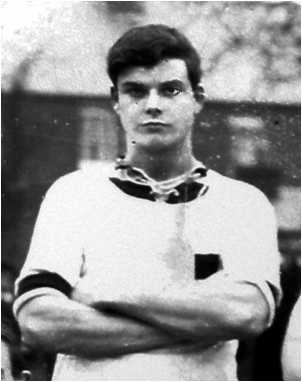 Stanley was born in Keswick, Cumberland in 1889, the son of the electrical engineer William Henry Rice and Betsy Rice (nee Hockley). Stanley's father had been born in 1865 in Chelmsford; his mother in 1859 in Mashbury.
The couple had married on 3rd October 1887 at St. John the Evangelist Church in Lambeth, London. At the time Stanley's father was a 22 year-old electrical engineer resident at 3 Catherine Street, Lambeth. His mother was 28 and lived in Chelmsford. Jack's father had begun working for the electrical engineers Crompton & Company in 1879. Jack's grandfather was the engineer at Chelmsford Gaol.
Stanley had two brothers born in England: Leonard George Rice (born in 1888 in Eastbourne, Sussex) and John 'Jack' Rice (born c1892 in Keswick).
The 1891 census found one year-old Stanley living with his parents, brother Leonard and a cousin in Keswick where Stanley's father was an electrical engineer. It is believed Stanley's father was in the town undertaking work for Crompton's.
In the early 1890s Stanley''s father went to South Africa to work as an engineer in the gold mines, but suffered from poor health. On 1st July 1893 Stanley, his mother and two brothers set sail for Cape Town, South Africa on board the ship Dunnottar Castle to join up with their father. Whilst in South Africa Stanley's mother gave birth to a third brother, Cecil Ernest Rice (born in 1895 in Johannesburg, South Africa).
Stanley's mother died in South Africa from 'fever' and as a result Stanley and his brothers returned to England. While on board the ship that brought them back Stanley's brother, Leonard, won a cup for winning quoits. The brothers are pictured (right) while on that ship.
The children became orphans when their father died in South Africa in 1899. News of the death of Stanley's father appeared in the Essex County Chronicle on 25th November 1898:
"Death of Mr. W. Rice. Mr. W. Rice who went abroad last month after attending the funeral of his father, the late Mr. G. Rice, died of internal haemorrhage within a week of landing at Cape Town, He leaves four young children,, who are now living in Springfield. His wife pre-deceased him."
In 1901 the census found Stanley, aged 12, listed as a pupil at the British Orphan Asylum in Eton, Buckinghamshire. His brother Leonard, aged 13, was also a pupil there. Meanwhile younger brother John was living with his paternal step-grandmother Jane Rice (widowed second wife of his grandfather), a cousin and boarder at 16 Randulph Terrace in Springfield (today's 277 Springfield Road).
In 1911 the census recorded Stanley's brothers Leonard and John boarding at 21 Navigation Road in Chelmsford, the home of the bricklayer Arthur Allen and his wife Selina. Leonard was a clerk; John a tool a gauge grinder.
Stanley enlisted at Warley and served as Gunner 62146 in "X" Battery (2nd Indian Cavalry Division) of the Royal Horse Artillery. He died from wounds on 14th May 1915. His brother Sergeant John Rice was killed in action on 15th August 1915 in Gallipoli.
On 24th September 1915 the Essex County Chronicle reported:
"Gunner Stanley Rice, R.H.A., of Chelmsford, killed in action in France, was one of four orphan brothers serving. A brother, Sergt. J. Rice, 5th Essex, is reported missing at the Dardanelles. All four were well-known athletes, excelling at boxing, football. etc."
Today Stanley lies at Bethune Town Cemetery, Pas de Calais, France (grave: III. C. 61).
Stanley's and John's names are not among the 359 remembered by the Civic Centre Memorial, Chelmsford.