Stanley Ernest Stock was born and raised in Middlesex where his father was a police officer. In 19078 when aged 16 he joined the army where he served until 1913. As a reservist he was called up at the outbreak of the war and survived its entirety, being demobbed in December 1918, shortly after getting married. He died in Chelmsford from consumption in May 1919. His parents lived in Fairfield Road.
STOCK, STANLEY ERNEST*,
Gunner, E Battery, 3rd Brigade, Royal Horse Artillery
On 5th August 1914, the day after Britain declared war, Stanley was mobilized as a reservist and posted as Gunner 53295 to E Battery, 3rd Brigade, Royal Horse Artillery at Woolwich. At the time he had been resident at 7 Shalimar Terrace, Horn Lane, Acton, Middlesex. Almost immediately he went to France, landing there on 15th August 1914. Later that autumn his battery was said to have fired the first shells against the Germans at the Battle of Mons.
Stanley was posted to the Advance Horse Transport Depot on 12th October 1914. On 15th September 1915 he was admitted to hospital in France and transferred to England few days later having spent one year and 40 days overseas. On 4th January 1916 he was temporarily released to employment with the firm of A. C. King & Co., Canal Works, Hayes in Middlesex.
On 26th October 1918 Stanley married 23 year-old Ellen Johnson at St. John's Church, Southall in Middlesex. At the time he was a soldier of 148 Western Road, Southall. His bride was the daughter of the late Harry Johnson and she lived at 144 Western Road, Southall.
On 14th December 1918 Stanley was demobilized and transferred to the reserve for a second time. His military character being described as 'very good'. He was entitled to the 1914-15 Star, British War Medal, and Victory Medal.
Stanley's marriage to Ellen was to be short one - he died from consumption on 24th May 1919 in Chelmsford. Six days later the Essex County Chronicle reported:
"The funeral took place at Chelmsford yesterday with military honours of Mr. Stanley Ernest Stock, son of Mr. George Stock, of 12 Fairfield Road.
The deceased, who was 28 years of age, was only transferred to the Army Reserve last December, and his death was due to rapid consumption. Called up with the Reserve at the outbreak of the war, he rejoined his unit, the Royal Horse Artillery, and it is claimed that his battery fired the first shells against the Germans near Mons. After seeing about 16 months in the hottest quarters he came back home for a slight operation, and afterwards, being a skilled fitter, was engaged in making gauges for big guns.
His father served in the old 31st (Royal West Surreys), and is a pensioner from the Metropolitan Police Force, now engaged at the Hoffmann's Works. His only other son has been serving with the Bedfords since Oct., 1914. The deceased, who was 6ft. 2in. in height, was employed at Hayes, and only married last October.
At the funeral the Rev. J. Thomas officiated, and the mourners were: The widow, Mr. and Mrs. Stock, father and mother; Miss Stock, sister. The floral tributes included one from the deceased's employer. Messrs. Beckett and Sons were the undertakers."
Today Stanley lies in the Borough Cemetery in Writtle Road, Chelmsford (grave: C. 2432).
Stanley's parents were listed in the 1918 register of electors at 12 Fairfield Road, Chelmsford.
Stanley's name is not one of the 359 remembered by the Civic Centre Memorial, Chelmsford.
100905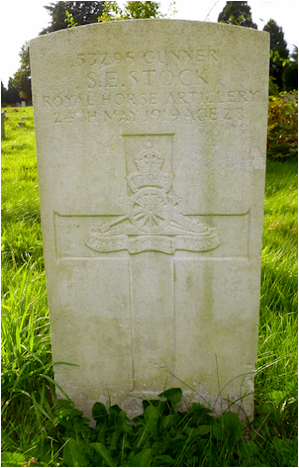 Stanley was born in 1891 in Paddington, London, the son of the policeman and publican George Stock and Emily Stock (nee Cogdale). His father had been born around 1863 in Great Bardfield; his mother in 1867 in Chelmsford. The couple had married on 25th November 1885 in Middlesex.
Stanley's two known siblings were Arthur George Stock (born on 22nd November 1886 in Paddington and christened on 3rd February 1889 at St. Mary Magdalene's Church Paddington), and Nora Emily Stock (born in 1899 in Mill Hill, Middlesex).
The 1901 census found ten year-old Stanley living with his parents and two siblings at Nora Cottage, Manor Road, Mill Hill, Hendon in Middlesex. His father was a police constable with the Metropolitan Police; his brother was a plumber.
Claiming to be aged 18 years and eight months, Stanley enlisted into the army on 6th December 1907 at Mill Hill. He initially signed up for three years in the colours plus nine in the reserve. Previously he had worked as a turner. He was five feet, nine and five-eighths inches tall, had grey eyes, weighed 135 pounds, had good physical development and a chest of 31 inches. He was a member of the Church of England. He joined the Royal Army Medical Corps at Aldershot, Hampshire three days later and served as Private 1428, He moved to Curragh in Ireland on 4th April 1908.
After 344 days with the Royal Army Medical Corps he transferred to the Royal Horse Artillery on 13th November 1908, six days after altering his conditions of service to six years in the colours and six in the reserve. He was given the service number 53295. After a period in hospital he moved back to Aldershot on 12th August 1911 and after six years' service Stanley was transferred to the army reserve on 5th December 1913.
The 1911 census listed Stanley's parents and sister Nora at The Queen Victoria public house, 79 Stortford Road in Great Dunmow.