Walter Charles Suckling was born and raised in Runwell and moved to Chelmsford after his widowed mother remarried in 1908. He worked at Hoffmann's bearings factory and in March 1915 married, gaining a child a year later. In December 1915 he joined the army and was mobilised in October 1916. He left England for Salonika in June 1917. He died from broncho pneumonia in January 1919. His home was in Springfield Road.
Walter was born in Runwell in 1890, the son of William Charles Suckling (1864-1898) and Emma Sucklling (nee Jarvis) (1865-1950). His parents had married at All Saint's Church. Rettendon on 5th February 1877. At that time his father was aged 22, his mother a year younger, and both lived in the parish.
William's siblings included Mabel Susan Suckling (1887-1982), Arthur William Suckling (1889-1932), and Bertha Suckling (born 1893).
In 1891 the census recorded eight month-old Walter with his parents and two elder siblings at Church Road, Runwell where his father was a hay bailer.
Walter's father died in 1898, an event that attracted the newspaper report below.
SUCKLING, WALTER CHARLES*,
Private, 49th General Hospital, Royal Army Medical Corps
On 9th October 1916 he was posted to the Royal Army Medical Corps as Private 84945. He spent much of early 1917 suffering from influenza in hospitals in Kent - ill health was to plague his time in the army.
He left Southampton on 9th June 1917 with the 66th General Hospital, arriving in Le Havre the following day. On 21st June 1917 he left Marseilles and arrived in Salonika, Greece on 28th June 1917. On 17th November 1917 he transferred to 49th General Hospital.
Walter died from broncho pneumonia on 20th January 1919 at 50 General Hospital in Salonika, Greece. He was buried the following day at Mikra British Cemetery in Kalamaria.
At the time his mother and step-father were living at 166 Springfield Road, Chelmsford (later renumbered 161). Walter is commemorated on the Springfield War Memorial in All Saints' Church.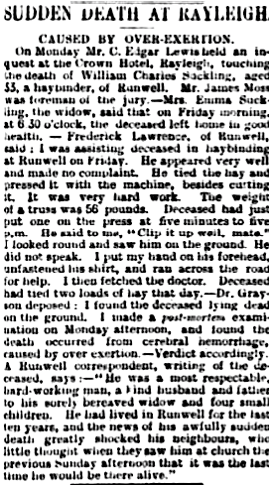 On 6th August 1900 Walter's widowed mother married the haulage contractor Ernest Lorenzo Dyke (1868-1939) at St. John's Church, Moulsham. Ernest's first wife had died aged 24 two years earlier. The couple went on to have four children, half-siblings to Walter: Edith Dorothy Dyke (1901-1928), Alfred John Dyke (1903-1979), Harold Sidney Dyke (1904-1982), and Constance Beatrice Dyke (1909-1998).
The 1901 census found Walter, his three siblings, mother and step-father at 5 Roman Road in Chelmsford. He was aged ten.
A decade later the 1911 census recorded him still at 5 Roman Road with his step-father, mother and four half-siblings. At the time he was working as a machine minder at the Hoffmann bearings factory in Chelmsford.
On 6th March 1915 Walter married Emily Mary Smith in Chelmsford.
On 1st December 1915 Walter attested at Chelmsford to join the army for the duration of the war. At the time he was 25 years and three months old, working as a painter and resident at The Street in Galleywood. He was five feet seven and a half inches tall, weighed 133 pounds and had an expanded chest of 36 inches. He was placed on the army reserve on 2nd December 1915 and was not mobilised until 8th October 1916. By then he and Emily had a child, Emily, who was born at Great Baddow on 7th March 1916.

From July 1919 Walter's widow and daughter were awarded an army pension go 20 shillings and five pence per week. Later that year she married Leonard W. Hammond and by January 1920 she was living at 2 Blenheim Cottages, Black Notley near Braintree.
Walter was entitled to the British War and Victory medals which his widow acknowledged receipt of on 6th July 1921.
Walter's brother, Arthur, had his life cut short following service in the army during the First World War. A newspaper report of his death in 1932 appears left.
140309