John Rees 'Jack' Barnard was born in Great Baddow and brought up in Chelmsford. After being an electrical apprentice he served in the Royal Engineers during the First World War and in 1919 married in Suffolk going on to have four sons. He worked for 29 years at electrical engineers Christy Brothers. As a Territorial he was called up at the start of the Second World War and was sent to France before being evacuated from Dunkirk. In 1941 he was posted to the Middle East and he died from illness in Cairo in December 1941. His home was in Moulsham Drive.
John Rees BARNARD, Serjeant, Royal Army Service Corps
Died in Egypt from illness. Aged 46
Between the wars Jack was a Sergeant in the territorial army and was employed at the Chelmsford electrical firm Christy Brothers, where his eldest son also worked. He was still living in Fairfield Road in 1929, and subsequently moved to 2 Swiss Avenue, Chelmsford. By 1938 Jack was at 21 Moulsham Drive in Chelmsford.
Jack worked for Christy Brothers for 29 years, during which time he had risen from an apprentice to foreman electrician. He is known to have installed the air raid siren in Chelmsford and once received a letter from the author Rudyard Kipling, thanking him for electrical work he had carried out.
As a Territorial Jack was mobilized on 2nd September 1939 (the day before Britain entered the war) at Feltham in Middlesex. It was just weeks before he would have reached the then upper age limit. His army service record described him as: an electrician, five feet eight inches tall, weighing 158 pounds, with a fresh complexion, blue-eyes, brown-hair, and a 38 inch chest when fully expanded (a 3 inch range of expansion).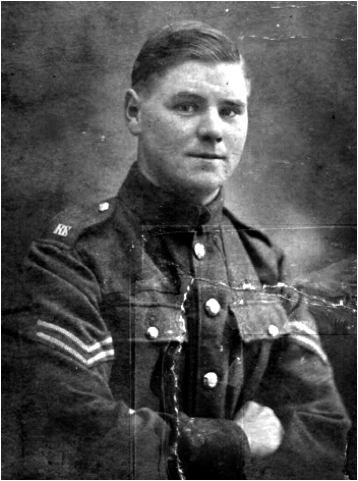 John was born on 21st May 1895 in Chelmsford, the son of George Barnard and Annie Barnard (nee Rees). His father had been born in Chelmsford on 24th December 1849; his mother in Carmarthan, Wales in 1855. Jack was christened at St. Mary's Church (today's Cathedral) in Chelmsford privately on 27th May 1895, and again on 1st September 1895. On both occasions his home was at 5 Albert Terrace, Baddow Road in Chelmsford.
Jack's parents had married at the same church the previous year, on 27th January 1894. At the time Jack's father was 44 year-old widower; his bride a 36 year-old spinster. Jack's father had previously been married to Susan Coxhead and had three children in that marriage. One of them, Herbert Barnard (Jack's half-brother) was killed in Gallipoli in the First World War and is commemorated on Chelmsford's War Memorial.
Jack's cousin, Samuel Allen Barnard, also lost his life serving with the Royal Navy in 1917.
The 1901 census found five year-old Jack living with his parents and three boarders at 2 Corporation Terrace, Goldlay Road, Chelmsford. His father was a farmer's labourer.
In 1911 the census recorded Jack (recorded as 'Johnny'), aged 15, living with his parents at Rose Cottage in Fairfield Road, Chelmsford. He was employed as an electrical apprentice for a motor car builders. His father remained a farmer's labourer.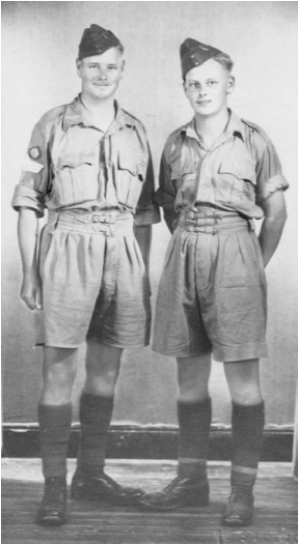 On 10th December 1915 Jack joined the army where he served with the Royal Engineers, rising to the rank of Sergeant. His service number was 530189 and later, T/50048. Jack left the army on 13th March 1919.
Later that year, on 27th December 1919, he married Minnie May Abbott in Stowmarket Suffolk at which time he was an electrician living at 6 Fairfield Road in Chelmsford. His wife had been born in Stowmarket on 27th May 1896. The couple went on to have four Chelmsford-born sons. They included John Rees Barnard (born 7th May 1921, died 4th November 1996), Donald Rees Barnard (born 4th July 1925, died 17th January 2001), and Trevor Barnard (born 2nd October 1928, died 12th June 2004). Jack's father and mother died in 1923 and 1924 respectively.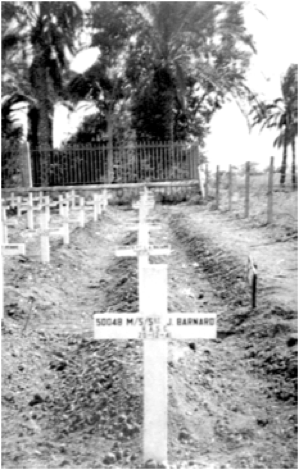 Jack joined the Royal Army Service Corps Supplementary Reserve, and on 30th September 1939 he went to France. He was posted to Supply Reserve Pool as an electrician on 14th November 1939 and three days later was appointed Corporal.
Jack survived the Allied evacuation from Dunkirk, escaping back to England on 30th May 1940 on board H.M.S. Greyhound. His son Donald saw him on his return at Chelmsford railway station, 'having survived on biscuits, looking in a sorry state'.
Jack was posted to the Infantry Training Centre Devon on 31st May 1940, then to the 2nd Corps Troops Supply Column on 13th July 1940, and subsequently to the 13th Corps Petrol Park on 9th December 1940. Three days later he was appointed acting Serjeant, a rank that was later made permanent.
On 18th March 1941 Jack was posted abroad for the second time during the war, this time going to the Middle East where he served as Serjeant T/50048 in 13 Corps Petrol Park, Royal Army Service Corps in Egypt. His namesake son also served with the Royal Army Service Corps (they are pictured together, left).
On 20th December 1941 Jack lost his life to an illness at the Second General Hospital in Cairo. He was 46. Jack was later buried at Tel El Kebir War Memorial Cemetery 110 kilometres north-east of Cairo (grave: 3. F. 1.). The grave is pictured with its original grave marker (above left) and permanent one (below left).
Jack left an estate valued at £850.
At the time of his death Jack's widow and children had left Chelmsford to escape he bombing of the town, and were residing at 10 Creeting Road in Stowmarket, having lived for a while at 22 Stowupland Road in Stowmarket.
Jack's widow remarried in 1955 and died in Suffolk in 1976. Jack was commemorated on the war memorial at London Road Congregational Church in Chelmsford (now demolished).
120319