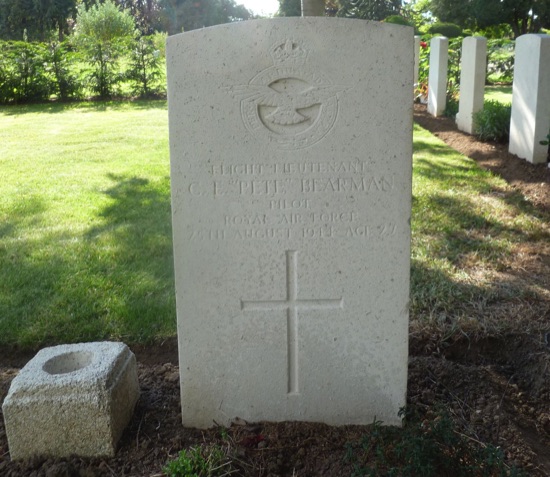 Cecil Ernest 'Pete' Bearman was the son of a police officer and was educated at Chelmsford's grammar school. He worked as a clerk for Eastern National before joining Essex County Constabulary in 1937. He left the police in May 1941to join the R.A.F. and trained as a pilot in Canada and the United States. He returned to England where he flew Spitfores and was killed in August 1944 when his aircraft crashed in Wiltshire. His home was in Moulsham Drive.
Cecil Ernest BEARMAN, Flight Lieutenant (Pilot), Royal Air Force Volunteer Reserve
Killed in aircraft crash in Wiltshire. Aged 27
Cecil Bearman and find that he is stationed within half an hour's flying time from here. We were trained under different systems, and I have only by your assistance learnt of his presence here. Three days ago Ron Priestley walked into the mess and gave me a shock, so now we are to have a reunion party of the Essex Constabulary'.
Upon his return to England Pete was posted to Fighter Command as a Spitfire pilot, and subsequently reached the rank of Flight Lieutenant.
He was killed on Friday, 25th August 1944, whilst serving as Flight Lieutenant 122343 and leading a flight of 131 Squadron, Royal Air Force Volunteer Reserve. His aircraft, thought to have been a Spitfire Mark VII, is believed to have crashed in woods to the east of the village of Alderbury near Salisbury in Wiltshire. Pete was 27, and had been a flight commander for just two weeks at the time of his death.
Pete's funeral service was held on 1st September 1944 at the London Road Congregational Church in Chelmsford. The funeral cortege passed down Moulsham Street, along the High Street, and into London Road for the service at the Congregational Church. The coffin, draped with the Union Jack, and covered with flowers, was headed by officers and men of the Mobile Section of the Chelmsford Division Police, War Reserves, and Special Constables. Four of his colleagues, P.c.'s Coe, Hurst, Lacey and Wakefield, acted as bearers. A guard of honour was formed as the coffin was borne into the church for the service, which was conducted by the Rev. Herbert Stock.
In a moving tribute the Rev. Stock said: "This is not the end; it is the beginning of another and more glorious volume. The soul lives after the body dies. Death is swallowed up in victory. I should like to pay tribute to his life as he passes on his way. He was a faithful member of the Forces and a faithful servant of the public. He need not have volunteered for service in the Forces, but he wanted to do something for his King and country. So he volunteered. Truly he was one of the few to whom so many owe so much. By such sacrifice you and I are able to live. He wanted to get rid of this evil thing that has smeared our civilisation. Yes he gave his life in a great cause. His was a short life, but it was one that was full of usefulness and service. He had lived with intensity. He had left behind a memory that us beautiful and fragrant. We shall remember him, and I hope we shall prove worthy of the life that has been given for us".
Among the mourners were his parents, of 16 Moulsham Drive, Chelmsford (also Pete's home address), brother and sister in law, the Chief Constable, and Superintendent Day, as well as many of Pete's former colleagues.
After the funeral Pete was interred in grave 5680, part of the Square of Honour, at Chelmsford Borough Cemetery.
Pete's brother, Ronald, also served as a police officer with Essex County Constabulary from 1935 to 1965.
120504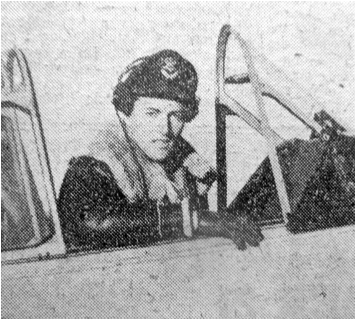 Great Sampford from 11th November 1919, and Rochford from 30th April 1924, before moving to Danbury on 30th March 1927 soon after promotion to sergeant.
Pete was educated at King Edward VI's Grammar School in Chelmsford before moving on to work as a clerk with the Eastern National Omnibus Company in Chelmsford.
On 1st March 1937, exactly 14 months after his father's retirement, Pete followed his footsteps and joined Essex County Constabulary where he was given the collar number 267. He undertook the usual period of training at Headquarters and then saw service at Clacton from 24th April 1937. He then returned to Headquarters on 20th December 1937 to work on the recently created motor patrols. After two years 'Pete' was posted to Chelmsford, on 11th December 1939.
The following summer he was awarded the Royal Humane Society's testimonial for his efforts with Pc 635 Lacey to save a boy from drowning on 19th July 1940. The incident was recorded in the Essex Chronicle:
"Boy Drowned - Barrie Pilgrim, aged seven years, of Railway Cottages, Arbour Lane Chelmsford, fell into the River Chelmer - where he was fishing - between Victoria Road and the railway bridge on July 19th, and was drowned. Upon receiving information at the police station of the happening P.s. Joslin and P.c.'s Lacey and Bearman dived in, and Lacey recovered the body. The three officers applied artificial respiration, but their efforts were unavailing. At the inquest held on Monday by Mr. Coroner L.F. Beccle, Mrs. Lilian W Pilgrim, mother of deceased giving evidence of identification, said her husband, Mr William E. Pilgrim, was serving with the R.E.'s. In civil life he was railway goods porter. Dr. F.E. Camps said death was due to drowning. Marcus Giddy, aged 8, of Arbour Lane, said he, Barrie, and another boy went fishing on Friday. They stood on the bank. Deceased caught a fish, pulled it in, and threw the line in again. Witness saw deceased's float go under again, and deceased fell in. Witness went home to get help. George V. Giddy, Arbour Lane, father of the last witness, said he heard his son calling, and went with him to a spot which he indicated. "When I got there I could see it was too dangerous for me to do anything" he said. "The bank was only a few feet from the water. I cannot swim or dive, and the water was black. I could see nothing so I thought the best I could do was to rush back and 'phone the police, which I did. The police were there in a very short time." P.c. Lacey gave evidence of finding the body at the bottom of the river which was about seven feet deep at the spot. The grass was damp. and there was a slight slope, so it would be easy for the deceased to fall in. The Coroner: Especially if he had a bite. Returning a verdict of Accidental death, the Coroner said no blame attached to anyone."
Three days after the incident Pete was posted to Romford and remained there until leaving the police on 23rd May 1941. On 24th May 1941 he became the first Essex police officer to join the R.A.F., and was then the first to obtain his wings at Craig Field in Alabama and a commission following training in Canada and the U.S.A.
Late in 1942 a letter to Mr. W. G. Percival of Chelmsford referred to the reunion of Pete and two fellow former police officers - Pilot Officer Angus Watson and Pilot Officer Ronald Priestley (son-in-law of Mr. Percival) - while training in the U.S.A. The three had all been stationed in the Chelmsford and were firm friends. When they joined they R.A.F. they became separated.
Then Mr, Percival had occasion to write to Pilot Officer Watson: 'There are two other Essex lads, old friends of yours, out your way'. The letter to Mr. Percival from Pilot Officer Watson read: 'I received your note with pleasure and remember several occasions upon which we met. I have finally located
Pete was the second son of Henry Bearman and Harriett Bearman (nee Barker) and was born in Saffron Walden on 1st February 1917. Pete's parents had married at All Saints' Church in Springfield on 22nd June 1912. At the time his father was a 26 year-old police constable, living in Halstead. His 26 year-old bride lived in Springfield.
Pete's elder brother was Ronald Henry Bearman, born in Saffron Walden on 14th May 1914.
Pete's father was an officer with Essex County Constabulary, having joined up on 1st October 1909 - after training at Headquarters he saw service at Halstead and Colchester, before being stationed at Saffron Walden from 11th August 1913. Henry subsequently served at