Agnes Ginn was Chelmsford born and raised. She worked as a silk minder, cook and charwoman before marrying at the age of 37 in September 1911. By 1914 they had moved to Townfield Street and it was there they were killed in May 1943 during the 'Chelmsford Blitz' when their house was destroyed by a parachute landmine.
Agnes was born in Chelmsford in 1874, the daughter of John Edward Ginn and Mary Ann Ginn. She gained a sister, Ellen Louisa Ginn, born in 1882.
The 1881 census found seven year-old at 3 French's Yard, Moulsham Street, Chelmsford accompanied by her mother (a charwoman), sister and a cousin. A decade later 17 year-old Agnes was living with her mother and sister at 3 Roger's Yard, Moulsham Street. Agnes was a silk minder, her mother remained a char woman. In 1901 the census recorded Agnes, aged 28, living with James Neave, a civil engineer and his wife, in New London Road, Chelmsford. Agnes was a cook. In 1911 the census listed 37 year-old Agnes living with her mother and sister ar Roger's Yard, Moulsham Street. Agnes was a charwoman; her sister was a cook. Later that year, on 24th September, Agnes married George Edward Bonner at St. John's Church, Moulsham. At the time Agnes was 37 years old, and lived at Roper's Square off Moulsham Street, Chelmsford. George was 34 years old, employed as a painter, and lived at 15 Springfield Road.
In 1913 Agnes and her husband were living at 24 Glebe Road in Chelmsford. By the autumn of 1914 they had moved to 46 Townfield Street, Chelmsford, which was their home for the rest of their lives.
Agnes' mother died in 1923.
In the early hours of 14th May 1943 Chelmsford experienced what was to prove to be its heaviest air raid of the war. In a sharp attack that lasted for just over an hour, the German air force, the Luftwaffe, dropped a large number of high explosive, incendiaries and parachute landmines which caused extensive damage to residential, commercial and industrial properties in the town, and led to the deaths of more than 50 people and became known locally as the 'Chelmsford Blitz'.
During the raid a pair of parachute landmines, apparently intended for Marconi's factory, narrowly missed the factory and struck residential areas. One fell to the north-west of the factory and scored a direct hit on 8 Victoria Crescent.
Agnes BONNER (nee GINN), Civilian
Killed in air raid at 46 Townfield Street, Chelmsford. Aged 69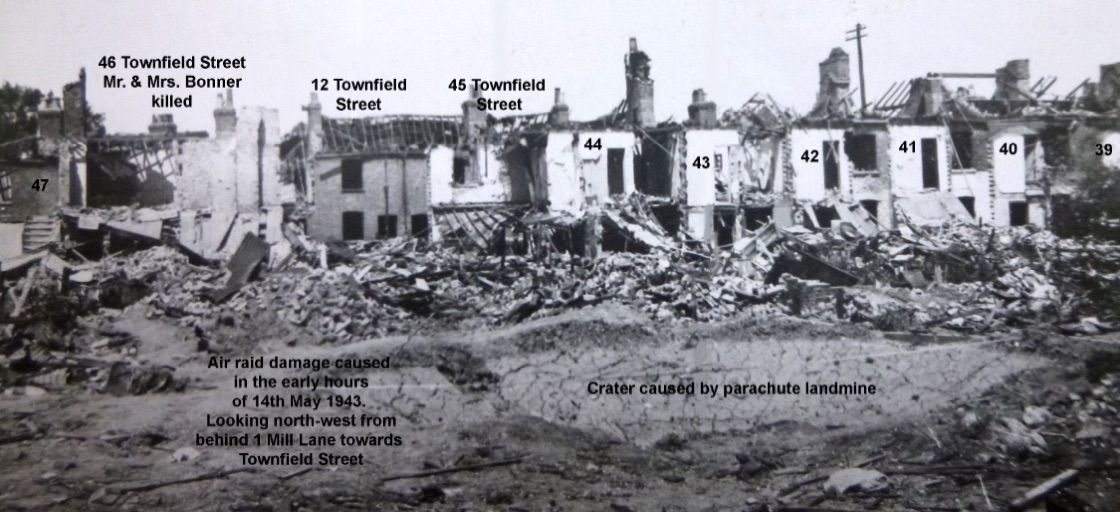 The other parachute landmine fell a couple of hundred yards south, in between Townfield Street, Chapel Place, Mill Lane and Railway Street. It detonated directly behind 45 & 46 Townfield Street and 1 & 2 Mill Road, leaving a water-filled crater 35 feet across. The explosion caused a considerable amount of damage to nearby buildings in the four surrounding streets, but only inflicted two fatalities, Agnes and her husband, who were killed at their terraced home, 46 Townfield Street.
The property was demolished by the blast along with its immediate neighbours, numbers 45 & 47. The remaining 11 houses on the south-eastern side of the road, numbers 35, 36, 37, 38, 39, 40. 41, 42, 43, 44 & 45 were all damaged beyond repair. Opposite them, all 25 properties in the terrace from number 1 The Royal Steamer P.H. to number 25 The White Horse P.H. were seriously damaged. Beyond Glebe Road the remaining nine houses, numbers 26 to 34 Townfield Street were damaged to a similar degree.
The whole block formed by Townfield Street, Chapel Place, Mill Road
and Railway Street was subsequently purchased after the war by the Council for use as a car park - initially a surface one which was replaced by a multi-storey version several decades later.
Agnes and George were both buried at Chelmsford Borough Cemetery in an unmarked grave (number 5441) on 21st May 1943. Their service was conducted by the Reverend T. H. Cullen.
150222