Sebert Edmund Bray born in Goodmayes, the son of an ironmonger's commercial traveller. He married in 1939 and had a daughter. He joined the army, was commissioned in 1941 and went overseas in December 1943. He participated in fighting in Italy and was fatally wounded in January 1945 at Monte Grande. His home was in Rectory Lane.
Sebert Edmund BRAY, Lieutenant, 2/7th Battalion, Middlesex Regiment
(formerley of the Devonshire Regiment). Killed by 'friendly fire' in Italy. Aged 34
By May 1944 the Battalion had been reorganised into five companies, as opposed to the Support Group system of the Anzio Beachhead, and though still commanding the same men, he was now Platoon Commander of what had been renamed "4 Platoon"
The first photograph (below left) was taken 5th or 7th June 1944, when the Allies had just taken Rome. It features 14 soldiers of his Platoon (4 Platoon), in front of the Basilica of Saint Paul Outside The Walls, Rome. Sebert is the second soldier from the right. The annotation by Corporal Frank 'Doug' Towner shows that Sebert was known as 'the Guvnor'.
The second photograph (below) was taken around August 1944, just before the Battalion went back into the line in Florence.  It shows four of the five main officers of `B´ Company in their "`B´ Company Mess. left to right: Lieutenant John "Jock" Smith (from Glasgow), Lt. Bray, Major Edward Bruce (Company Commander) and Lieutenant James Hill (from Stillington, Co. Durham). Sadly, Lt. "Jock" Smith was killed just north of Florence on 1st September 1944.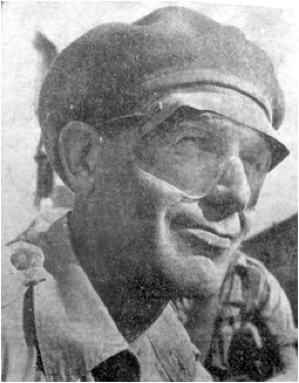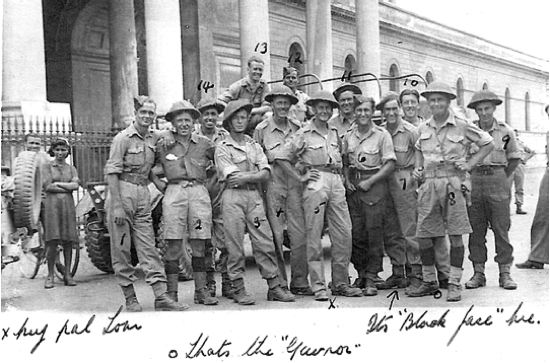 Sebert was born in Goodmayes in 1910, the son of Alfred Herbert Bray (1869-1931) and Emma Edith Bray (nee Wood).
He was baptised on 27th November 1910 at St. Chad's Church, Chadwell Heath. At the time his father was a commercial traveller living at 80 Blythswood Road in Goodmayes.
His parents had married in Stepney, east London in 1900. Sebert had four siblings including Edna Edith Bray (born in London in 1901), Elwyn Lovelace Bray (born in London in 1903), and Alfreda Evelyn Bray (born in Goodmayes in 1908).
In 1911 the census recorded five month-old Sebert living with his parents, three elder siblings and an aunt still at 80 Blythswood Road. At the time his father was a commercial traveller for an ironmongers.
As a youth Sebert was a member of the Seven Kings and Goodmayes Scouts.
In 1939 he married Doris Sheila Iron in Essex.
Sebert was given an emergency commission into The Devonshire Regiment as a Second Lieutenant on 18th October
1941. He transferred to the 2/7th Battalion, Middlesex Regiment on 1st October 1942.
Prior to going overseas in December 1943 his home was at Garden Cottage in Rectory Lane, Chelmsford.
The photograph above appeared in the Essex Chronicle in October 1944. The accompanying article read:
"One of our fighting men. Lieut. Sebert Edmund Bray, of Garden Cottage, Rectory Lane, Chelmsford, went overseas last December with the Middlesex Regiment. He is now with the Eighth Army in the fighting on the road to Bologna. This War Office picture shows him in a mechanised column on the Florence-Bologna road, 'where (says the official caption) faces of dispatch riders and drivers of open vehicles soon get covered with dust from the road.' Lieut. Bray is in the early thirties. He is married, and there is a three months' old baby girl, whom he has not yet seen."
He took over command of 7 Platoon (Medium Machine Guns) of `B´ Support Group on the Anzio Beachhead at the end of February 1944.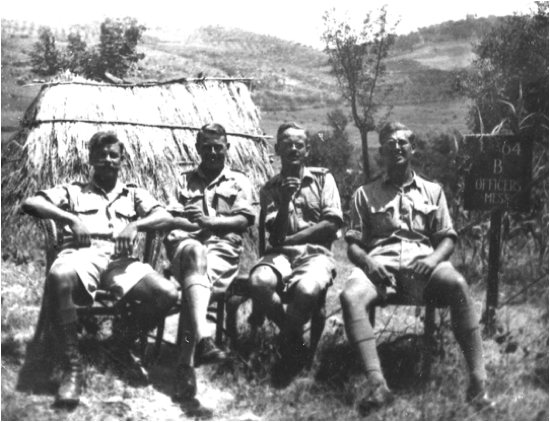 Sebert was wounded at Monte Grande by Allied fire when he walked in front of an infantry platoon as they cleared their guns on 5th January 1945 dying the following day. He,was aged 34. In September 2007 Private Ben Sculpher recalled the incident:
"At one stage my officer was Lieutenant Bray. I was in the area the day he was killed. He said to us "Now listen, I want you all to spread out and be careful. This is our last position as we are moving out after this one."

But immediately after we ́d moved into our positions, he was walking along, around the cemetery area, it was. He was inspecting the two sections and suddenly our own guns opened up, firing down the hill and Lt. Bray was hit. I remember being with "Busty" Sweeting in one of the dugouts nearby at the time when Sergeant Batchelor came in and told us the news of poor Lt. Bray ́s death."
Today Sebert lies in Bologna War Cemetery in Italy (Grave: V, C, 5.). His widow died in 1998.
150301