Born in Germany in 1914, Heinz-Georg Corpus served in the German air force during the Second World War. He was killed along with two crewmates when their aircraft was shot down and crashed and came to rest at Bishopscourt in Springfield Road, Chelmsford in June 1940.
Heinz-Georg CORPUS, Oberleutnant (Flying Officer), KG4, Luftwaffe
Killed when his aircraft crashed in Chelmsford. Aged 26
On 24th June 1940 the Manchester Guardian reported:
"Three German airmen who lost their lives when their bomber was brought down in an Essex town during Tuesday night's raid were buried in the town's cemetery yesterday. Full military honours were paid by officers and men of the R.A.F. and a firing party fired three volleys over the one large grave in which the three coffins covered with Nazi flags were interred. The Bishop of Chelmsford officiated. The Bishop's wife was one of the mourners. There was a wreath from the R.A.F. and another from girl telephonists
Heinz-Georg was born on 4th March 1914. During the Second World War he served as an Oberleutnant (Flying Officer) in the German Air Force, the Luftwaffe.
He was one of three German airman killed when their aircraft, a Heinkel He 111 H-4 of KG4 (number 2894, markings 5J + GA) was shot down and crashed in flames in the grounds of Bishopscourt in Springfield Road, Chelmsford around 12.30 a.m. on 19th June 1940.
The aircraft was on a reconnaissance sortie ahead of the main bomber force whose target was the Royal Air Force bases at Honnington and Mildenhall. The Heinkel was turned by anti-aircraft fire, caught and then held by three or four searchlights over Wickford which made escape impossible. It was engaged over the Thames estuary by a Spitfire of 74 Squadron (Hornchurch) operating from Rochford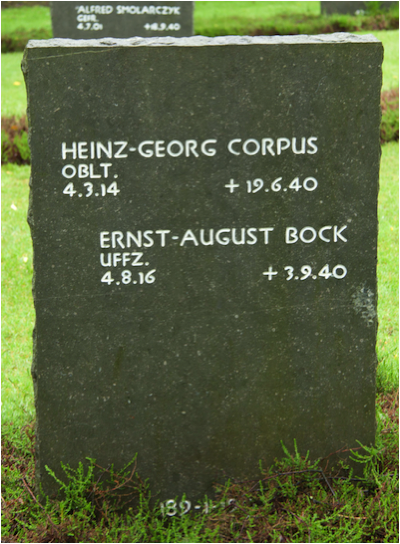 Aerodrome. The Spitfire was flown by F.O. Adolph 'Sailor' Malan D.F.C., a South African who was to later command the squadron.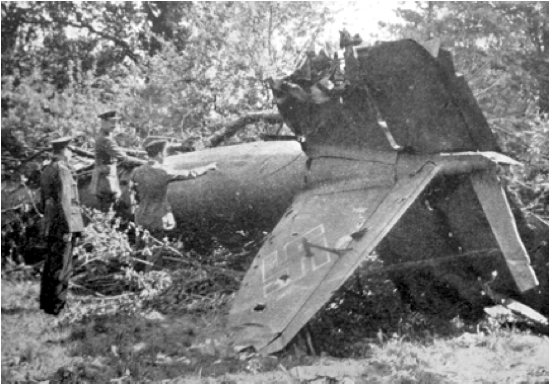 Malan approached the doomed aircraft, attacked from astern and closed to within fifty yards before firing a four second burst into it. Obviously damaged, the Heinkel broke away, spiralled downwards and with thick black smoke pouring from one engine it appeared over Chelmsford. It circled the town two or three times before crashing across the garden of Springfield Tyrells then Springfield Road itself, before coming to a halt in the grounds of Bishopscourt, home to the Bishop of Chelmsford.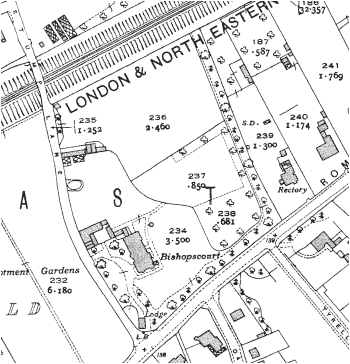 One crewman of the Heinkel, Leutnant E. Simon, managed to parachute to safety. He landed slightly wounded close to Writtle, and walked to a house along the Margaretting Road near Nathans Lane where he knocked on the door to be met by an astonished housewife.
The local policeman was called and arrested Simon, who was taken to the Chelmsford and Essex Hospital to be treated for wounds to his arm. His three compatriots, including Walter were not so fortunate.
They failed to get out of the plane and were killed when it crashed. Two bodies were thrown clear of the wreckage and the third, who was the rear gunner, was found dead at his post.
The other two killed were Oberfeldwebel (Flight Sergeant) Walter Gross and Feldwebel (Sergeant) Walter Vick.
There were no casualties among people on the ground, though a major tragedy was avoided by a matter of feet when the aircraft just missed Springfield Tyrells. The house, which was run by Dr. Barnardo's as a training school, contained 54 people, of whom the majority were girls. It was unscathed but its boundary fence with Tyrells Close, a brick wall and wooden fence on top of it and numerous bushes and trees in the garden were all demolished. Very similar damage was caused in Bishopscourt where the burning wreckage of the aircraft ended up. The fire was quickly extinguished without incident.
Local rumour in Chelmsford soon put it that the Bishop himself had shot the Heinkel down with a shotgun he was known to possess. After the incident he was to subsequently receive a letter from a fellow Bishop congratulating him on his marksmanship!
Fittingly, the Bishop officiated at the joint funerals of the three German airmen two days later at the Borough Cemetery (grave: 5078 A). The photograph top-right from 1942 shows their grave marked by the larger cross (the smaller cross marked the grave of Ernst-August BOCK.
In 1966 their graves were removed to the newly formed German Military Cemetery at Cannock Chase in Staffordshire. Walter lies in grave 189 in block 1, row 6.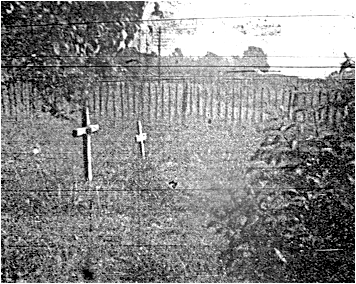 of the A.F.S. stationed in the town inscribed 'When duty calls all must obey."
In the 1990s a number of witnesses to the crash were interviewed for the book 'Chelmsford at War'. Below are their recollections of the aircraft crash and its aftermath:
"After the Heinkel had come down at Bishopscourt the same night I walked down to see it, along with my dad. We lived at 98 Springfield Road, near 'The Endeavour', so we didn't have far to go. It was bright moonlit night and by the time we reached Bishopscourt the plane was no longer on fire. We couldn't get right close but we were near enough to hear one of the blokes on the scene say something like 'Here's one dead bugger!' and someone else say 'Bloody good job'! Then we heard a woman say 'Well he is someone's son'.
Later I found out that when the surviving German parachuted from the Heinkel his boots had dropped off. My grandfather, William Carter, was a farmworker in Writtle and he'd found them out in the countryside and had handed them in to the police station. He never saw them again after that.
After work on the day following the crash I went back up to Bishopscourt to get souvenirs from the plane. By then the bits of wreckage that had been on Springfield Road had been pulled into Bishopscourt. There were long scratch marks left in the road from when the Heinkel had skidded across and they were there until well after the war. Hundreds of sightseers were swarming around the area. We were allowed a lot closer than the previous night and I managed to get quite a few mementos, including a German map of England with Chelmsford ringed in red. After a time the authorities found some more bits of a German's body, someone said it was a jaw with some teeth, so everyone was cleared out. The crashed plane had a smell all of its own, a horrible smell, I'll never forget that."
Gerald Carter
"One night as I was at home with my family in Gainsborough Crescent we heard machine gunning overhead and then the spent bullets as they fell on the sheds in the back gardens. A German plane was shot down by one of our fighters at the junction of Tyrell's Close and Springfield Road. At that time I was working as a V.A.D. nurse for the Red Cross at the Chelmsford & Essex Hospital where the one and only enemy airman to survive was brought in for treatment. He was taken into a small ward where he remained under guard."
Marjorie Wilks
"The air raid siren had sounded and I was at sitting indoors with my sister and her husband at home in Yarwood Road. I don't think we'd even got into the shelter when we heard the rat-a-tat-tat of machine gun fire in the sky above. Then suddenly there was a whoosh right across the roof of the house and the sound of debris dropping down. To our relief the plane, which turned out to be a Heinkel, went on to crash in the Bishop's garden in Springfield Road. For most of us it was our first real experience of war."
Jack Palmer
"My wife and I were patrolling in Springfield Road during the alert when we saw an aircraft approaching from the south-east, caught in the beam of a searchlight. It was evidently in trouble and had been hit. As it neared the town it was losing height and began circling. We sheltered in the passageway leading to the Gas Works and ran backwards and forwards in the passage as the plane circled three times, getting lower until eventually it landed in flames in the garden of Bishopscourt."
Gerald Hockley
"A chap that I once met had relatives who lived down by the 'Three Cups' in Springfield Road. He told me that one of them found a teddy bear from the crashed Heinkel at Bishopscourt. They thought it must have been the crew's lucky mascot."
Eric Clark
"During the night a Heinkel was shot down and had crashed in Bishopscourt, Springfield Road. By the morning the news had spread like wildfire so I, and dozens of others, went up to have a look. The wreckage was all roped off and there were police and air force personnel keeping the big crowds back. It was forbidden to take any wreckage, but us youngsters waited until the bobbies weren't looking and ducked under the ropes to get pieces.
I managed to pinch a small piece of fuselage, a few inches square and badly damaged, and I took it home as a souvenir. I wrote on it where I got it and what it was, but eventually it went the way of most things and my mother put it in the dustbin. Other kids got bits and pieces and there was a story of people having one of the Heinkel's wheels away.
We were in competition to get the best piece of crashed aircraft and if someone had an instrument he was reckoned to have done very well. Even if it was only a sort of a battered clock face it was considered worth having.
I can't recall any feelings of remorse or sorrow, whatsoever for the dead German crew, even though at that age I was sensitive to all those things. I suppose we'd been pretty well indoctrinated by then by the wardens, by the press and the Churchillian attitude and we took it for granted that the only good German was a dead one."
Ray Knappett.
"Whenever the air raid warning sounded I tended to listen until I heard something before venturing outside to have a look. For some reason you could always tell a German plane from one of ours by the droning, throbbing sound of its engines. Local people became experts at distinguishing them from friendly aircraft.
On that particular night, from my parents house in Patching Hall Lane, I heard the sound of a German plane which proved to be a Heinkel. I went out into the back garden with my father's First World War field glasses to see what was happening. The plane, which appeared to approach Chelmsford from the east, was picked up by the searchlights and once they got it they fixed onto it and passed it all the way along.
One of our fighters was up there too and it opened fire at the Heinkel which was set alight. As I watched, it circled the town once or twice obviously in trouble. Although the Heinkel was in the searchlights, the fire inside it was so fierce that it was brighter than them, and as a result I could clearly make out the shape of the plane's windows.
It eventually crashed in Springfield and I went over the next day to have a look at the wreckage. We were 'invincible' in those days and it was 'one up to us.'"
Les Appleton
"We heard that a German plane had come down in Springfield during the night and crashed by the Bishop's house. I was curious so I went up there to have a look, and saw the crew sitting in the wrecked plane dead. They were only young men. I thought 'They belong to somebody'."
Winifred Wales
"A lot of people went up to Bishopscourt to try to see the crashed German plane. Not many of us had ever seen one before and it created a great deal of interest.
At that age we didn't worry about the dead German crew, and to be honest, had we done so, we we'd probably have been pleased that they had been killed. I suppose it was a legacy of the First World War. When we were children we had been taught that the wicked Germans were 'the Hun' and our enemies."
George Brown
Bishopscourt stood in grounds on a site that bordered Springfield Road and Stump Lane. Planning permission to demolish the house and redevelop the site as Redgates Place was granted in April 1980.
150308