Norman Frederick Dawson was born and raised in Chelmsford. He was educated at the town's Victoria School and Mid Essex Technical College before working for Cornhill Insurance in their Chelmsford office. Prior to the war he joined the R.A.F.'s Volunteer Reserve and was called up at the outbreak of the war, joining a Coastal Command squadron. He was killed in April 1941 when his aircraft crashed in north Yorkshire. His home was in Victoria Road, Chelmsford.
Norman Frederick DAWSON, Pilot Officer (Observer), 114 Squadron, Royal Air Force
Killed in an air crash in Yorkshire. Aged 21
Aged 21, Norman was killed at 11:14 p.m. on 28th April 1941 when his aircraft, Bristol Blenheim IV V6022 (markings RT-B) crashed in north Yorkshire two miles short of its destination, R.A.F. Thornaby, after a convoy protection sortie. His two comrades on board, Flying Officer (Pilot) John George Keith Long and Sergeant (Wireless Operator/Air Gunner) Norman Frank Taylor were also killed.
Norman's funeral service was held on 5th May 1941 at Chelmsford Cathedral, conducted by the Provost, the Very Reverend W. E. R. Morrow, followed by interment at the Borough Cemetery in the same grave as his brother (grave: 3339). At the time of Norman's death his parents were living at 33 Victoria Road, Chelmsford. His father died in 1974; his mother in 1977.
Photograph of Norman credited to Mr Johnnie Shipley, via Rich Allenby
1503013
Norman was born in the Chelmsford registration district in 1919, the second son of George Dawson and Susaan Ellen May Dawson (nee Carter) (1885-1977).
His elder brother, George, had been born in 1913, the year after his parents' marriage. He also had a sister, Ellen Maude Dawson (1916-2003), and a younger brother, Alan Victor Dawson (1922-2004).
Norman was baptised at Chelmsford Cathedral on 19th October 1919. At the time his father was a carpenter living at 6 Regina Road in Chelmsford.
On 3rd August 1929 Norman's brother, George Dawson, died, aged 16, in a gallant attempt to save another scout (Stanley Groves) from drowning off Ostend in Belgium. His body was returned to Chelmsford and more than three thousand people attended his burial at Chelmsford Borough Cemetery. A memorial to George Dawson can be found at Chelmsford Cathedral.
Norman was educated at the Victoria School and Mid-Essex Technical College in Chelmsford before working for Cornhill Insurance at their Chelmsford .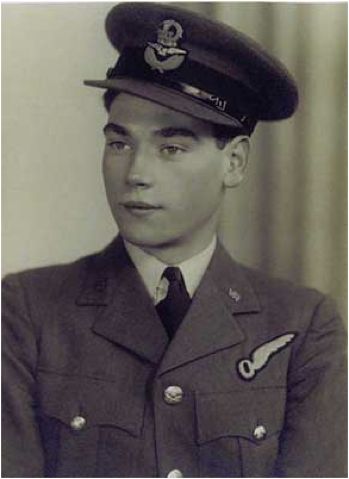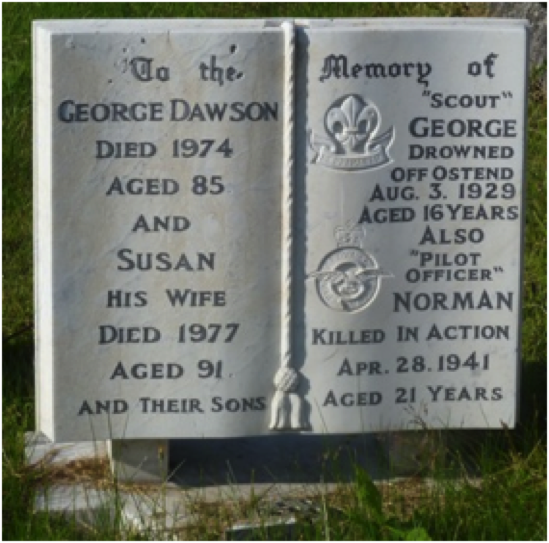 Office.
He was a scout, and played cricket, football, hockey and swam.
He was a member of the R.A.F.(Volunteer Reserve) prior to the war, and on its outbreak had been called up and subsequently commissioned during August 1940. He served as Pilot Officer (Observer) 84729 in 114 Squadron, part of the Royal Air Force's Coastal Command. In 1940 he was in charge of the squadron's cricket team