Charles Eric Dewar (sometimes 'Eric Charles Dewar') was a Canadian who came to England in the month preceding the outbreak of war and within two months was serving in the Royal Air Force. He became a Flying Officer in May 1941 and three months later married the daughter of Chelmsford Rural District's Mediacal Officer for Heath, He died just over a month later in an aircraft crash in Hampshire. His widow lived in Chignal Road.
Charles Eric DEWAR, Flying Officer (Pilot), 48 Squadron, Royal Air Force
Killed in an aircraft crash in Hampshire. Aged 27
On 21st October 1939 Charles was promoted from Flight Cadet to Pilot Officer on probation. Then on 18th May 1940 he was promoted from Acting Pilot Officer to Pilot Officer on probation. His probation was confirmed on 8th August 1940.
On 18th May 1941 he was promoted to the war substantive rank of Flying Officer. He was a member of 48 Squadron which had arrived in December 1940 at R.A.F. Stornoway in Scotland, flying Anson aircraft. The Squadron switched to Hudson aircraft flying coastal command mission.
On 22nd August 1941 Charles married Ena MacDonald at Stornoway. She was the daughter of Dr. & Mrs. John Finlay MacDonald of Melbourne in Chignal Road, Chelmsford. Dr. McDonald was Medical Officer for Health for the Chelmsford Rural District from 1914 to 1948.
By September 1941 Charles was resident 1 Lewis Street in Stornaway, Scotland, close to the airfield.
Charles lost his life in when his aircraft crashed on landing at R.A.F. Odiham in Hampshire on 26th September 1941. He was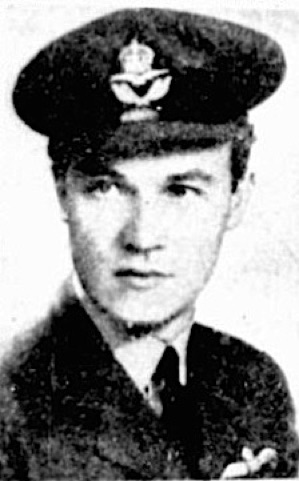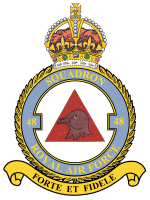 Charles was born in Ottawa, Canada on 10th May 1914, the second son and one of five children of John Henry Charles Dewar and Eva May Dewar (nee Kendall). His parents had married in 1909.
In 1921 the Canadian census found seven year-old Eric living with his parents, four siblings and his father's aunt in Main Street, Westboro, Nepean, Ontario. His father, who was of Scottish descent, was a 39 year-old senior auditor.
Before the war Charles lived at 46 Imperial Avenue in Ottawa.
On 13th August 1939 he landed in Liverpool on board the liner 'Letitia' having arrived from Montreal, Canada. He was one of a number of passengers described as students with an intended address of c/o De Havilland Aircraft Company in Hatfield, Hertfordshire - all presumably Royal Air Force trainees. Certainly in October 1939 he was serving with the Royal Air Force with a service number of 42814.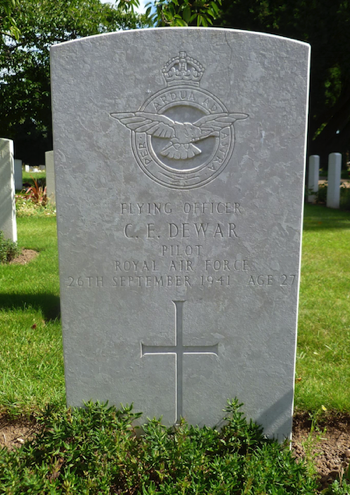 years old and had been married for little over a month. His widow still lived at Melbourne in Chignal Road.
Charles was buried at Chelmsford Borough Cemetery (grave: 5699) on 2nd October 1941. The cemetery records show his 'usual' abode as his wife's home.
He is commemorated by the Canadian War Memorial.
150110