Thomas William Heavon came from Lancashire and served in the Royal Artillery during the Second World War. On Christmas Eve 1941 he visited Chelmsford with army comrades and was accidentally killed when hit an run over by a bus in New London Road, Chelmsford. His home was in Bootle.
Thomas William HEAVON, Gunner, 5 (The West Somerset Yeomanry) Field Regiment, Royal Artillery
Killed by a bus in New London Road, Chelmsford. Aged 23
injuries.
Gunner G. Dyment, R.A., who, with Heavon and another soldier, John Bean, came into Chelmsford on the afternoon on Dec. 24, told the Coroner (Mr. L. F Beccle) that they first went to cinema; after having tea at the Y.M.C.A. they went to public-houses, consuming a minimum of six pints of beer each. As it was too late for a "bus they decidcd to walk back to their barracks.
"I had got about three-quarters of the way across the London Road, coming from Tindal Street, when a bus swung round from the High Street into London Road. I shouted 'Look out!' and jumped on to the pavement. I shouted for my mates Johnnie answered, but the other man didn't. We realised that he had been knocked down and started to look for him. The 'bus went on for 30 yards and Heavon was got from under it think sailor found him."
The Coronet : What state were you in that night?— Sober
Absolutely sober ? —Yes, sir.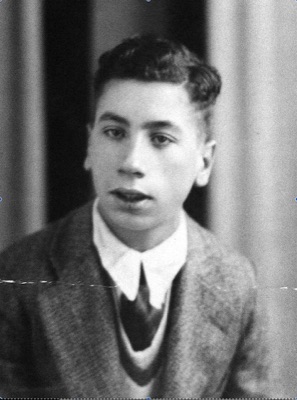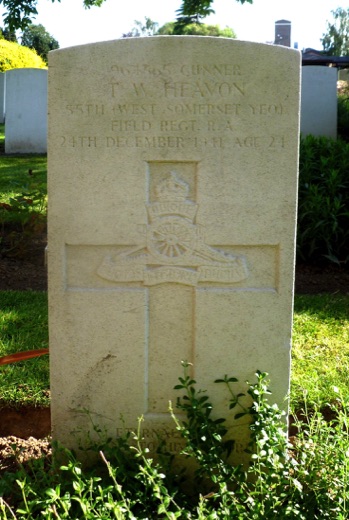 Thomas was born in Bootle, Lancashire in 1918, the son of John Heavon and Edith Kate Heavon (nee Sherman).
During the Second World War he served as Gunner 964565 in the 55 (The West Somerset Yeomanry) Field Regiment, Royal Artillery.
On Christmas Eve 1941 he was knocked down and killed by a bus In Chelmsford as he crossed New London Road near its junction with the High Street. He had spent the evening drinking with other soldiers in the town, and his inquest was to subsequently record a verdict of accidental death. He was aged 23. His home address was 19 Beattis Street in Bootle.
A Chelmsford newspaper reported:
"How a young soldier met his death while visiting Chelmsford on Christmas Eve was described at inquest at Chelmsford on Monday on Gunner Thos. Wm. Heavon, 23, whose home address was at Beattie St., Bootle. lie and others were crossing London Road from Tindal Street, going towards the High Street, when he was knocked down and run over by an Eastern National 'bus which was turning into London Road from High Street. Heavon sustained terrible
In reply to Mr. J. C. Llewellyn (appearing for the Eastern National Company), the witness denied that he and his companion were refused drink at a public house. He did not threaten to murder the 'bus driver.
Gunner Bean declared that they had not had too much to drink.
Ann F. Thompson, Navigation Road, Chelmsford, the 'bus conductress, said the first she knew of the occurrence - the 'bus was filled with passengers - was hearing foul language. Soldiers were shouting, " He's under the 'bus. I'll kill him." She considered the men had had some drink. A general free for all " ensued.
P.c. Channon, a passenger on the 'bus, stated that he felt a bump, and thought the 'bus had hit the kerb. Then he heard shouting and some "terrific language " was used. The 'bus was not going fast, and it stopped almost immediately. Then it went on for 30 to 40 yards. Threatening words were used, and witness managed to get out.
"Everybody seemed to have gone crazy," he said "There were a few gypsies, soldiers, and sailors all fighting each other. should say they were all the worse for wear."
The driver of the "bus, Harry A. Cook, of Broomlield, said he
turned from High Street into London Road at a walking pace. Three soldiers stepped immediately in front of the 'bus. "I had to brake to miss them," he said. "I started on again, when a fourth soldier ran immediately on to my off-side front wheel. I felt a bump, and stopped immediately. Afterwards, I was threatened by soldiers, who appeared to be in drink, badly."
Replying to Mr. Llewellyn, Cook said he had been driving motor vehicles for 22 years, and 'buses for ten years. He held a Safety First medal, with two bars. But for the war he would have had a third bar.
Returning verdict of Accidental death, the Coroner said it seemed quite clear that Heavon was not in a fit condition, because of his state of intoxication, to walk across the main road. The 'bus driver had no earthly chance to do other than he did, and no blame attached to him."
John was buried at Chelmsford Borough Cemetery on 30th December 1941.
150322