Frederick 'Fred' Herbert Hunt was born in Wickford and came to live in Springfield when a few weeks old. He was educated at Trinity Road School, Springfield and joined the army as a 17 year-old before the war. He went to Palestine in 1938 and in November 1940 on to Egypt. He was wounded and captured fighting at Tobruk and taken to a camp in Italy. He was killed there in September 1943 having 'died whilst evading the enemy after escaping from captivity'. His parents lived in Railway Cottages, Arbour Lane, Springfield.
Frederick Herbert HUNT, Trooper, 1st Royal Dragoons, Royal Armoured Corps
Killed in Italy while attempting to escape from a prisoner of war camp. Aged 23
other escaping troops find their way to Allied lines.
At 4.30 am he was awoken to the noise of vehicles changing gear and soon four vehicles loomed out of the blackness. Goodall's cries in German and Italian produced no response, so, fearing that in the pitch dark they might be aiming their guns at him and his men, he opened fire, killing two in the leading vehicle. The drivers of the other two vehicles - which turned out to be Italian supply trucks - then surrendered.
With the enemy now all around, he decided to withdraw, concealed by a morning mist. After five miles, he came across a number of stationary German vehicles, and decided that the best course was to speed past firing his machine guns. He repeated the procedure after encountering a group of 100 German vehicles shortly afterwards. Again he was hidden by the mist as they returned fire.
Five miles further on, he ran into yet more German lorries, and took five more prisoners. There were by now too many prisoners to fit into the armoured cars, so some had to cling to the outside for the remaining journey (when they went over a bump, they all fell off, but were unharmed). Only as he reached Allied lines did the the mist lift.
For his actions, Goodall was awarded an immediate MC. On the way to Alamein, he took two more prisoners before succumbing to desert sores and a temperature."
Frederick was held as a prisoner of war in a camp 60 miles east of Rome. There he was killed on 8th September 1943, just one day before the Italians capitulated. He was reported to have 'died whilst evading the enemy after escaping from captivity'. He was 23 years old.
His grave is unknown which suggests that he died outside the prisoner of war camp. Today Frederick is commemorated by the Alamein Memorial in Egypt.
His mother died in 1965; his father did so in 1977. Back in 1943, on 14th May, he had been caught up in the heaviest German air raid of the war on Chelmsford which led to the deaths of more than 50 people. In the early hours he had been working at the signal box at Chelmsford when the bus station was hit and the gantry holding up the signal box was damaged and the box was in danger of collapsing into the yard dozens of feet below. Rather than getting out he had stayed in the box in order to stop a troop train from coming into the station while the raid was going on.
111231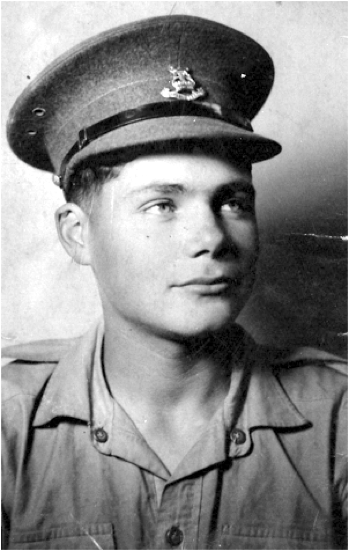 Frederick 'Fred' Herbert Hunt was born on 18th October 1920 in Wickford, the son of the railway signalman Herbert 'Bert' Walter Hunt, who had been born in Halesworth, Suffolk in 1891, and Elizabeth Hunt (nee Ranger), who had been born in Southwark, London in 1893.
Frederick's father served in France during the First World War as a signaller utilising his expertise from the railways - he was very good at Morse code and semaphore flag signalling.
Frederick's parents met in Margaretting and were married at Chelmsford Register Office on 1st December 1919. His mother was the widow of Private 27219 Frank Budd of the 1st Battalion of the Wiltshire Regiment who had been killed in France in 1918. She had previously lived in Caterham, and how she came be in Margaretting remains something of a mystery.
Frederick had a half-sister from his mother's first marriage, Freda Marion Budd (1919-1996), two younger brothers (born in 1926 and 1934) and a sister. Eileen Olive Hunt (1931-2003).
When just a few weeks old Frederick and his parents moved to 3 Railway Cottages, Arbour Lane, Springfield.
According to his youngest brother, Frederick was blessed with a wonderful singing voice and sang in the choir at All Saints' Church in Springfield as well as on his way to Trinity Road School. He had a sense of humour which made him liked by all who met him.
At the age of sixteen Frederick joined the Territorial Army Royal Engineers, but his love of horses lead him to falsify his age and at seventeen years old he joined the First Royal Dragoons (now the Blues and Royals) with a service number of 2039433.
In 1938 he was posted from England to Palestine, six days before his eighteenth birthday.
In November 1940 the First Royal Dragoons were posted to Egypt, and a month later they exchanged their horses for armed cars, forming part of the Royal Armoured Corps.
In June 1942 Frederick's unit was in Tobruk, Libya, fighting 20 miles ahead of the battle line harassing the enemy to allow the main force to retreat to El Alamein, Egypt and it was on 26th June 1942 that he was wounded and captured.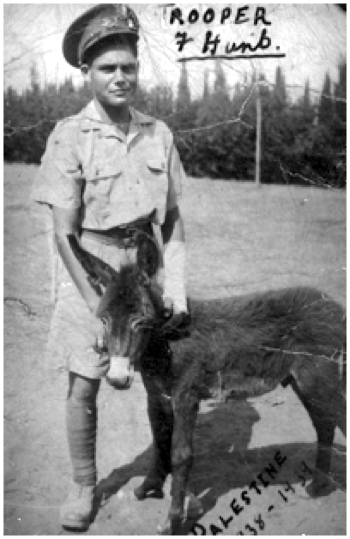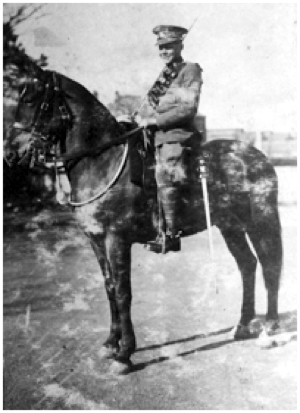 His comrade, Anthony Goodall (later a senior circuit judge), was then troop leader in the 1st Royal Dragoons, Frederick's unit. He was awarded the Military Cross for outstanding bravery around the time that Frederick was captured. Goodall's obituary in the Daily Telegraph in 2001 reported:
"Goodall was awarded an MC in the retreat from Tobruk to El Alamein in June 1942. His orders were to report German advances, which were often at night. "The technique," he recalled, "was to find a 'hull down' position, then, when enemy vehicles came in sight, work out their map reference and report that on the wireless. If the enemy were advancing fast, by the time one had done all that, they very soon started to open fire and it was time to move."
On one such occasion, Goodall retreated only to see that his troop sergeant had stayed behind to help a broken down tank belonging to the 10th Hussars. In the face of enemy fire, Goodall went back to pick up the rest of the tank crew, including the regiment's commanding officer.
A few days later, his troop was dispatched 20 miles ahead of the patrol line to help