Norman Kaye was a Liverpudlian who served in the Scots Guards from 1934 to 1938. On leaving the army he joined the Essex County Constabulary and following the outbreak of the war he was recalled to the army. Three weeks later he married at Chelmsford Cathedral. He went overseas in August 1942 and served in north Africa before participating in the invasion of Sicily in July 1943. He was killed in action that month. His widow lived Swiss Avenue.
Norman KAYE, Lieutenant, 10th Battalion, Royal Berkshire Regiment
Killed in action in Sicily. Aged 27
Norman served as Lieutenant 217431 in the 10th Battalion of the Royal Berkshire Regiment, and went overseas in August 1942. Prior to doing so he helped save a man's life and is pictured receiving the congratulations of his commanding officer for the deed.
On 10th July 1943, following the successful conclusion of the north African campaign, an allied force of 160,000 Commonwealth and American troops invaded the island of Sicily as a prelude to the assault on mainland Italy. The Italians offered little determined resistance but German opposition was vigorous and stubborn.
On 18th July 1943 Norman was killed in action on the island, losing his life after returning to help comrades who had been cut off in woods. A Chelmsford newspaper reported:
"Lieut. Norman Kaye, Royal Berkshire Regt., whose wife lives at 62 Baddow Road, Chelmsford. was killed in Catania because he went back in a vain attempt to save the men he was leading in an attack on a strongly-held enemy post.
Lieut. Kaye's wife has received a letter from his Colonel who writes: 'Norman was leading his platoon out of a wood, when they were fired on heavily from the rear. Some of his men were cut off, and he was last seen very gallantly going back into the wood to get his men back to safety. At the time of getting back he was wounded in the arm, and it was not until we advanced later on that Norman was found near the spot where he went back for his men. He was, of course, reported missing up to the time of the final advance....he was magnificent. Can you get some consultation to know that he acted so bravely, and that he did not die in vain: Having so successfully carried out his task?'
Lieut Kaye is buried in a little regimental cemetery at Primosole, South Catania, near where he died. It is, his Colonel says, quite easy to find, and will be very well cared for.
Norman Kaye was 27, and over six feet. Everyone liked him. He enlisted at Liverpool, his home town, in the Scots Guards, in September 1934. When he was commissioned in November 1941, he went to the Royal Berkshire Regt., and had served overseas since August 1942.
While training in England before going overseas, Lieut. Kaye was commended in Eastern Command orders for gallant conduct: 'During exercises involving the crossing of a river (stated the record), a Scout was swimming across the river, when his rifle slipped from its sling position around his shoulders and became caught on his foot, rendering him incapable of swimming and liable to drowning. Lieut. Kaye dived in fully clothed, and assisted a sergeant to bring the drowning man to the bank. Their prompt action undoubtedly saved the scout's life'.
For his gallantry on this occasion, Lieut. Kaye's name was brought to the notice of the Army Commander.
For a short time Norman Kaye was a member of the Essex County Constabulary at Chelmsford. He showed exceptional ability and skill as a police officer."
Norman was initially buried at Primosole on the eastern cost of Sicily, and today lies in grave II. D. 37 at the Catania War Cemetery in Sicily.
111111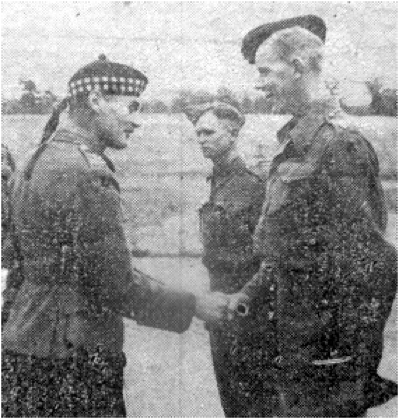 Norman was born on 27th September 1915 in Wavertree, Liverpool, the son of the marine engineer Ernest Kaye (born in the Isle of Man in 1881) and Alice Kaye (nee Danielson), born in Yorkshire in 1882. The couple had married in Liverpool in 1907.
Norman's siblings included Ernest Kaye (born 1908), Arthur Noel Kaye (born 1910), Rita M. Kaye (born 1917), and Doris M. Kaye (born 1921).
Norman served in the Scots Guards from 7th September 1934 for exactly four years and joined Essex County Constabulary on 26th September 1938 serving as Police Constable 696. After training at Headquarters, Norman
was posted to Chelmsford from 3rd December 1938.
On 1st December 1939 he was recalled to the army and 22 days later he married Doris L. Madden at Chelmsford Cathedral. She was the daughter of the late Robert Madden, a police sergeant and came from Liverpool. At the time he was aged 24 and was living with his 22 year-old bride at 53 Swiss Avenue in Chelmsford.