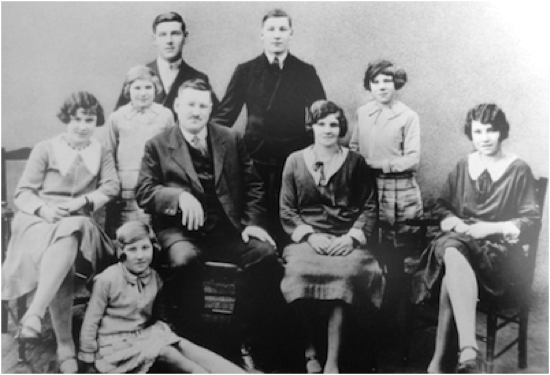 Lily Harriet Smith (sometimes 'Lilley Harriet Smith') was born in the West Country. She moved to London in the early 1900s, where she married in 1905. There she had nine children, seven of whom survived infancy. After living for a while in Ipswich the family came to Chelmsford before the start of the war and her husband ran a furnishings business. She was killed in the 'Chelmsford Blitz' of May 1943 when seeking shelter at a friend's house in Goldlay Road. Her home was in Baddow Road.
Lily Harriet LIDBETTER (nee SMITH), Civilian
Killed in an air raid on Goldlay Road, Chelmsford. Aged 63
In 1940 Lily's son-in-law, Bertie Edward Harper, who was married to her daughter Edith, was one of almost 200,000 British troops who were rescued from Dunkirk in 'Operation Dynamo'. During the operation Bertie was on board a ship escaping from Dunkirk and watched the ship in front of his being struck by a German bomb that went down its funnel and exploded, causing the vessel to sink.Eighteen years later Bertie's son would marry the daughter of one of the men who had survived the sinking.
Lily was born in Southwick near Trowbridge, Wiltshire in 1880, the daughter of the road contractor Edward Smith (born c1837) and Harriet Long, both of whom had also been born in Southwick. Her parents had married in 1859 and between 1861 and 1882 produced at least eight children including Lily.
In 1881 the census found nine month-old Lily living with her parents and six siblings at Southwick Street in Southwick. At the time her father was a road contractor, employing two of his sons.
Five years later Lily's mother died at the comparatively young age of 47. Four years after that Lily's father remarried, to a widow, Sabina Selina Price (nee Cadby), who had lost her husband in 1884. Sabina already had at least eight children from her marriage in 1866 with Thomas Price, and over the next three years had a further two or three with Lily's father.
The 1891 census recorded Lily, aged 11 and a scholar, with her father and six siblings, her step-mother, step-brother and three half-siblings, still living in Southwick. Her father remained a road contractor while one brother was a general labourer and another a blacksmith's labourer.
A decade later Lily was listed by the 1901 census living and working as a domestic servant to the pawnbroker Francis Searle and his family at 68 Cattle Street in Trowbridge. Meanwhile her father, step-mother and three children were living at 56 Upper Studley in Trowbridge where her father was a general labourer.
Within the next few years Lily made her way to London, as on 28th May 1905 she married Arthur Lidbetter at Christ Church, in Lambeth. At the time she was 24 years old, with Arthur two years her senior. Both were then resident at 17 Lambeth Walk in Lambeth, with Arthur's profession that of a master baker (as his father had also been). Arthur had been born on 17th April 1883 at 1 Hopwood Street, Southwark, London, had been living in Hove in 1891, and Southwark in 1901.
Lily and Arthur went on to have nine children, two of which were to die in
infancy: Arthur Sidney Lidbetter (born 1906 in Camberwell); Lilian Queenie Lidbetter (born 1907 in Barnet, died 1994); Edith Nellie Lidbetter (born on 26th March 1908 in Wembley, died 6th March 1994); Edward James 'Jim' Lidbetter (born 7th February 1910 in Bushey, died 1990); Albert Lidbetter (born 1914 in Islington, died 1916 in Lambeth); George Lidbetter (born 1915 in Lambeth, died 1915 in Lambeth); Rosie May Lidbetter (born 1916 in Lambeth); Dora Irene Lidbetter (born 1917 in Lambeth); and Eva Florence Ethel Lidbetter (born 1918 In Lambeth, died 2005).
In 1911 the census found 30 year-old Lily living with her husband, four children, a servant and a baker at 53 Park Road, Bushey in Hertfordshire. Lily assisted her husband, in his baker's business.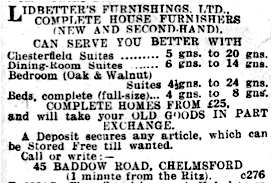 In the early hours of 14th May 1943 Chelmsford experienced what was to prove to be its heaviest air raid of the war. In a sharp attack that lasted for just over an hour, the German air force, the Luftwaffe, dropped a large number of high explosive, incendiaries and parachute landmines which
caused extensive damage to residential, commercial and industrial properties in the town, and led to the deaths of more than 50 people including 63 year-old Lily.
On the night of the raid Lily was at home with her husband at 45 Baddow Road. As the raid became more intense Lily decided to leave the property and head for a house, number 45, in neighbouring Goldlay Road, where the occupiers, George William Sims and Florrie E. M. Sims, had an air raid shelter that would offer Lily greater protection. While she made the short journey to Goldlay Road her husband remained at Baddow Road, a decision that probably saved his life. It is believed that Lily had just made it to the door of the Sims' house when it and number 46 next door were struck by a 500kg high explosive bomb dropped in the air raid. In the resulting explosion and collapse of 45 and 46 Goldlay Road 63 year-old Lily was killed, along with the Sims, while next door two widows, mother and daughter Alice Snow and Elsie Ida Gledstone, were also killed.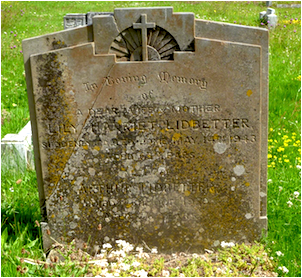 By coincidence that night Lily's daughter, Edith, gave birth to a daughter at Burns Crescent in Chelmsford. For a number of days after the raid Edith was not told of her mother's death, and when her husband, Bertie Edward Harper, arrived home on compassionate leave from the Army she thought it was as a result of the birth of their daughter. Sadly Edith's joy at the birth of her daughter was rapidly replaced by the hammer-blow news of the death of her mother.
Lily was buried in grave 5514 at Chelmsford Borough Cemetery on 19th May 1943.
Arthur's upholsterers' business was later taken over by his son Edward James with Arthur moving back to London where he remarried, to Edna D. Foulger (1915 – 1955).
After the death of his second wife Arthur returned to Chelmsford where he lived with his daughter Eva.
Arthur died, aged 76, on 26th October 1959. Afterwards he was buried in Lily's grave at Chelmsford Borough Cemetery.
130926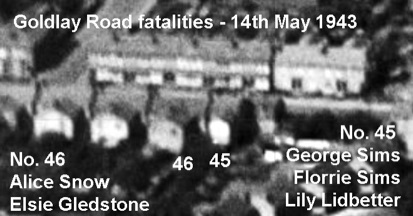 The photo (above right), beleived to have been taken to commemorate 25 years' marriage, shows Lily, her husband and seven children who reached adulthood (stood L-R: Arthur, Jim, Rosie: sat L-R Edith, Dora, Arthur, Lily, Lilian; front: Eva). The photograph was take in the back garden as the house was too small to accommodate everyone. Arthur (son) was in Australia at the time the photograph was taken so his likeness was added in from another photograph..
From London Lily, Arthur and their children moved to Ipswich and then came to Chelmsford by 1940, where Arthur ran Lidbetter's Furnishing Ltd. at 45 Baddow Road, with the family living in accommodation above the shop.