Edward Charles Miller was Chelmsford-born and like his father worked at the Hoffmann's bearings factory in the town. He married in 1927 at Chelmsford Cathedral and had a son in 1939. By 1942 he had worked at the factory for almost a quarter of a century. He was fatally injured there in October 1942 when the factory was bombed by the German air force. His home was in West Avenue Chelmsford.
Edward Charles MILLER, Civilian
Fatally injured in an air raid on Hoffmann's bearings factory, Chelmsford. Aged 41
Those on the ground were not so fortunate. One of the bombs scored a direct hit on the factory. It penetrated the roof and exploded in the recently completed Cage & Assembly Shop, (part of Hoffmann's 'C factory', to the north of Rectory Lane). 41 year-old Edward received serious shrapnel injuries as he stood at the entrance to one of the air raid shelters. Despite being rushed to the Chelmsford and Essex Hospital he was to die there seven days later.
Three others died as a result of the bomb at Hoffmann's, six were seriously injured, and 43 men and 16 women were slightly hurt. Casualties would have been far higher but for the excellent civil defence arrangements at the factory which meant that many of the factory workers were inside air raid shelters when the bomb struck.
The other bomb deflected off the factory's roof and exploded amongst houses in neighbouring Henry Road where five people died as a result.
On 31st October 1942 Edward's funeral was held at All Saints' Church in King's Road, Chelmsford, followed by interment at Chelmsford Borough Cemetery (grave 5227).
A Chelmsford newspaper reported:
Edward was born in Chelmsford on 1st September 1901, the eldest child of Edward Miller (1878-1914) and Emily Kentish Miller (nee Barnes) (1878-1955).
Edward was baptised at St. John's Church, Moulsham on 16th October 1901. At the time his father was a mechanic living at 1 Manor Road, Chelmsford (Alfrida Villa). He had two siblings, Ellen Mary Miller (born in 1903) and Charles H. Miller (born in 1906).
In 1911 the census found nine year-old Edward living with his parents and two siblings at 17 Baker Street in Chelmsford. His father worked at Hoffmann's ball-bearings factory in Chelmsford where he was a fitter of ball-bearings.
Three years later Edward's father died, aged 36. The following year, 1915, Edward's uncle, Charles Kentish Barnes, died in Greece while serving in the army. He is commemorated by Chelmsford's war memorial. Soon afterwards Edward began working at Hoffmann's, like his father before him.
On 16th April 1927 Edward married Marie Kathleen Stannard (1900-1964) at Chelmsford Cathedral. At the time he was 25 years old, employed as a viewer, and resident at 12 Marconi Road, Chelmsford. His bride, the daughter of a plumber, John Stannard, was a year older and lived at 27 Fairfield Road in Chelmsford. The couple had a son, born in 1939.
By 1942 Edward and his family were living at 8 West Avenue in Chelmsford and Edward was still working at Hoffmann's, as a foreman with almost a quarter of a century's service.
On 19th October 1942 Edward was working at the company's large factory in Chelmsford when it was attacked by the German air force. At 10.59 a.m. a lone German Dornier Do 217E aircraft approached Chelmsford from the east at an altitude of around a thousand feet. Taking advantage of low cloud and poor visibility, typical of a misty autumn morning, the aircraft dropped to around a 150 feet to make a bombing run on Hoffmann's approximately along the line of one of the factory's railway sidings.
Almost immediately Hoffmann's light machine defences opened up on the raider, but other army posts were unable to fire their Bofors guns at the aircraft because of its extremely low altitude - the gunners would have been firing in the direction of nearby buildings and people. The Dornier was able to release two 500 Kg SC high explosive bombs on the works, with delayed actions of about twenty seconds, and machine gunned the ground. With its bombs released the aircraft turned north-eastwards, circled to the north of Chelmsford and made off due east towards the coast, apparently unscathed.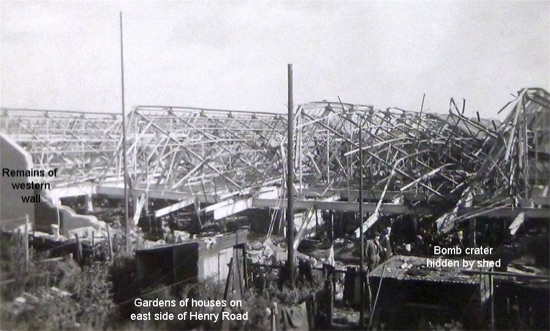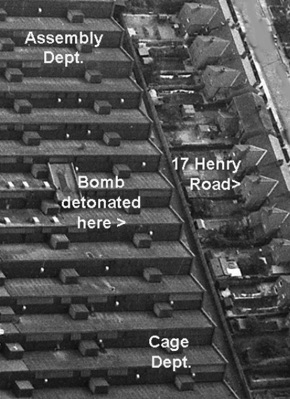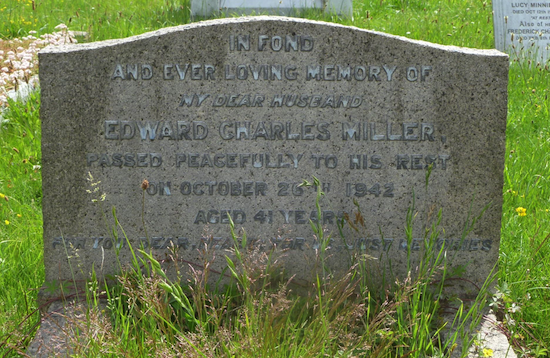 "DEATH OF MR. EDWARD C. MILLER — The funeral took place on Saturday of Mr. Edward Charles Miller, of West Avenue, who died on Oct. 26 at Chelmsford Hospital, his 42nd year. He lived all his life in Chelmsford, and was well liked. He had been in the employ of the Hoffmann Co. nearly 25 years. The widow and a young son survive. A largelyattended service in All Saints' Church (Boarded Barns) was conducted by the Rev. Ashley Turner (vicar). The interment foilowed at Writtle Road Cemetery Floral tributes included tokens from friends and neighbours; Hoffmann Works Management; Fellow workers. Cage and Assembling; R.l and J.N. Stores; Friends and fellow workers, R. I.; Friends of the Final View; Hoffmann Athletic and Social Club; Royal Oak Benefit Society; and Wardens of North Avenue Post."
Edward left an estate valued at £400 1s. 4d. with probate granted to his widow.
150328