Leonard Charles Ridgewell was Chelmsford born and raised and worked for a tobacconists in the town's High Street. He married in 1939 and the following year joined the army. He became a father in 1942, and landed in France in June 1944. He was fatally wounded there that month. His home was in Wallace Crescent.
Leonard Charles RIDGEWELL, Private, 2nd Battalion, Essex Regiment
Died of Wounds in Normandy, France. Aged 29
On Sunday 16th July 1944 a short memorial service for Leonard was held at the Baddow Road Congregational Church, led by the minister, the Rev. H. G. Davis. Tribute was paid to his memory by the congregation standing in silence. His widow, mother and father, and other members of the family were present.
At the time of his death his parents had recently moved from Chelmsford to Hornchurch, while his widow and young daughter were still at 19 Wallace Crescent in Chelmsford.
Today Leonard lies at Tilly-Sur-Seulles War Cemetery in Calvados, France (grave III. C. 5.). He was commemorated on the war memorial at Baddow Road Congregational Church in Chelmsford (now demolished). The memorial was transferred to Christ Church in New London Road when it was built to replace Baddow Road Congregational Church and London Road Congregational Church.
Leonard left an estate valued at £1,406 2s. 5d.
His widow, never remarried and remained at Wallace Crescent for the majority of the remainder of her life. She died in 2011.
151107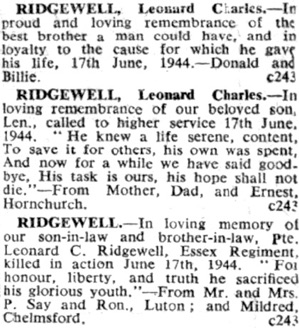 Leonard was born at 28 Glebe Road in Chelmsford on 15th November 1914, the elder son of Albert Lewis Ridgewell (1891-1967) and Belissa Frances Ridgewell (nee Cornelius) (1891-1958). His parents had married in 1912.
Leonard's brother was Donald Lewis Ridgewell (1916-1990) who served in army during the Second World War.
In 1918 Leonard's uncle George Simeon Ridgewell was killed in France while serving with the Royal Engineers. He is commemorated by Chelmsford's Civic Centre War Memorial.
Leonard worked for the tobacconists, Messrs. E. J. Rippon and Son in their Chelmsford High Street shop. He was a member of the Essex Cycling Club.
Leonard married Irene Doris Say, known to her family as Doris, at the Baddow Road Congregational Church in Chelmsford on 23rd September 1939, three weeks after the outbreak of the war. She was the eldest daughter of Mr. and Mrs. P. Say of Chelmsford. The photograph below-left may have been taken on their honeymoon.
The pair were regular tennis players at the Great Baddow and Chelmsford Recreation Grounds. serving as secretary and treasurer at the Great Baddow Tennis Club.
The couple made their home in a newly-built bungalow at 19 Wallace Crescent, also known as 'Dorlen', presumably from their name. They went on to have a daughter, born in Chelmsford in 1942.
By then Leonard had been in the army for two years since conscription, serving as Private 6024854 in the 2nd Battalion, Essex Regiment.
In June 1944 he landed in Normandy as part of the Allied invasion. He was wounded soon afterwards and on 17th June 1944 he died from wounds. He was 29 years old.