Harold Rush was born and raised in Chelmsford where he worked for a corn merchants. He joined the army when aged 18 and was captured by the Germans in 1940. After more than four years as a prisoner of war he was killed during a Soviet air raid. His home was in Tindal Street.
Harold RUSH, Driver, Royal Army Service Corps
Killed while a prisoner of war in Poland by a Soviet air raid. Aged 24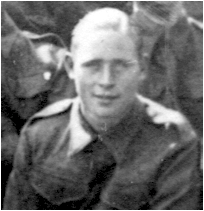 Harold was born in Chelmsford in 1920, the youngest son of Thomas Rush (1884-1953) and Ellen Elizabeth Rush (nee Lewis) (1882-1955). His parents had married in Billericay in 1911 and had been living at 7 Coval Lane, Chelmsford, when Harold's father was employed as a grinder.
Harold's siblings included Ivy Agnes Rush (1911-1989), Alfred Thomas Rush (1912-1981), Eva Ellen Rush (born in 1913), Robert George Rush (1914-1973), Henry John Rush (born in 1917), and Stanley V. Rush (born in 1919). The first two were born in Brentwood, the remainder in Chelmsford.
Harold's father was an army veteran who had served in the South African before his marriage. During the First
World War he was wounded on two occasions, was mentioned in dispatches in 1917 and was awarded the Military Cross the following year. The citation for that award read:
"6886 Company Sergeant Major Thomas Rush, Norfolk Regiment - For conspicuous gallantry and devotion to duty. When the enemy had succeeded in penetrating between the front and support platoons of his company, and all the officers had become casualties, he took charge of the company, and rallying his men held up the enemy with rifle fire and bombs, inflicting heavy losses on them. By his cool and gallant leading he set a splendid example to all ranks."
Before the Second World War Harold was employed by Messrs G.B. Ling & Son, corn merchants of 13 Tindal Street in Chelmsford, and lived at 3 Tindal Street.
In December 1938 Harold appeared before the Chelmsford magistrates, chaired by the Mayor of Chelmsford. A local paper reported:
"Cyclist and Special Constable. Harold Rush, King's Road, Chelmsford, admitted riding a bicycle without a front light on Dec. 3.—Special Constable Fairclough said he saw defendant cycling in Moulsham Street at 7.15 p.m. without a front light. When questioned, defendant said; 'What about it?" and pushed the cycle into witness. He refused to give his name and address. On a later day witness again saw defendant, who still refused his name and address. He went with witness to the police station, and there, after a lot of argument, he gave the information required.—Defendant said he did not give his name and address because he was not asked in polite manner.—The Mayor: If a policeman or a special constable asks you for your name and address it is your duty to give them. You are fined 5/-."
When aged 18 he joined the army and served as Driver T/79219 in the Royal Army Service Corps.
He was captured by the Germans in 1940 and remained a prisoner of war for more than four years. On 20th August 1944 Harold was killed during an air raid carried out by the Soviet air force. He was aged 24. At the time of his death his mother was resident at 32 King's Road in Chelmsford.
Today Harold lies in Krakow Rakowicki Cemetery in Krakow, Poland (Coll. grave 2. C. 1-14.).
150203