Emrys Frederick Sharples came to Chelmsford before the war and worked as a printer. He married at the Cathedral in 1940 and subsequently served as a gunner in R.A.F.'s Bomber Command. He was killed in a collision in mid-air between two aircraft over Lincolnshire in December 1942.
Emrys Frederick SHARPLES, Flight Sergeant (Air Gunner), Royal Air Force Volunteer Reserve
Killed in an aircraft crash in Lincolnshire. Aged 27
On 20th December 1942 he was one of seven crew on board an Avro Lancaster Mark 1 aircraft from 9 Squadron (W4182 with markings WS-B) that took off from R.A.F. Waddington in Lincolnshire at 18:15 hours, for a raid on Duisburg, Germany. Some 232 aircraft - 111 Lancasters, 56 Halifaxes, 39 Wellingtons, and 26 Stirlings took part in the mission.
Shortly after take-off while circling to gain height before setting course Emrys' Lancaster was in collision with a Lancaster of 44 Squadron (W4259 with markings KM-P). Both aircraft fell out of control into Canwick Road, Bracebridge Heath, some two miles south of Lincoln, killing all 14 airmen on board including Emrys who was 27. The other six airmen from his aircraft were Sergeant 139323 Leslie Charles Hazell - Captain (Pilot) - aged 32, Sergeant 625967 Edward Arthur Gardiner - Flight Engineer - aged 23, Sergeant 1025753 William Thomas Miller - Navigator/Bomb aimer - aged 33, Sergeant 1310893 Hubert Thomas Tatley - Wireless operator/Air gunner - aged 30, Sergeant 1357673 Charles Harry Sidney Brooks - Wireless operator/Air gunner - aged 27, and Sergeant 1079155 Eric Wilson Walker - Air gunner - aged 32.
In all 12 aircraft were lost in the mission - 6 Lancasters, 4 Wellingtons, and 2 Halifaxes, (5.2 per cent of the force).
Emrys' funeral service was held at Chelmsford Cathedral on 28th December 1942, with burial afterwards at Chelmsford Borough Cemetery (grave 5703). The cemetery records listed his home address as 59 Rainsford Road. His epitaph reads 'The years pass but the memory never fades'.
Emrys' widow married John Lawrie in 1946.
120229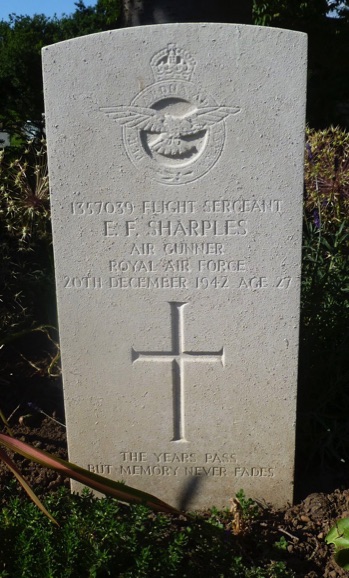 Emrys was born in Monmouthshire in 1915, the son of the engine driver James Percival Sharples (1879-1959) and Sarah Jane Sharples (nee Webber) (1878-1945). His siblings, all born in Abersychan in Monmouthshire included Muriel Ilene Sharples (born in 1903), William Percival Sharples (1904-1971) and Leonard James Sharples (1907-1978).
On 11th May 1940, when aged 24, Emrys married Gwendoline Maud Shedd (1917-1973) in Chelmsford at Chelmsford Cathedral. At the time Emrys was working as a printer and lived at 1 Victor Villas in Broomfield. His 23 year-old bride lived at 59 Rainsford Road in Chelmsford, and was the daughter of the baker, John Ernest Shedd.
By 1942 Emrys was serving as Flight Sergeant (Air Gunner), 1357039 in the Royal Air Force Volunteer Reserve.