Allan Melrose 'Jack' Sliman was a professional footballer who came to Chelmsford in the twighlight if his career in 1938 to captain Chelmsford City Football Club and work for the Council as a carpenter, He served with Bomber Command and was fatally wounded in the final weeks of the war returning from an air raid on Potsdam.
Allan Melrose SLIMAN, Sergeant, 75 (New Zealand) Squadron, Royal Air Force
Died in Cambridgeshire from wounds received. Aged 39
Allan continued to play in the truncated 1939-1940 season playing his last competitive game in the Southern League Cup final defeat against Worcester City on 1st June 1940.
Whilst at Chelmsford City Allan was employed by the Borough Council as a carpenter. A street directory from 1940 listed him living at 28 Hillside Grove, Chelmsford.
Allan enlisted into the Royal Air Force (Volunteer Reserve) and served as Sergeant (Flight Engineer) 1826936 in 75 (New Zealand) Squadron, a heavy bomber unit. It was the only Commonwealth squadron that had its country of origin within its title and by the end of the war had the second highest casualty rate in the whole of Bomber Command.. The squadron flew Wellington. Stirling and Lancaster bombers.
Allan was a member of the crew of Flying Officer Allan Ralph Baynes which arrived at R.A.F. Mepal on 1st April 1945. The other members of the Baynes crew were: Flying Officer Dawson Albert Cotton (navigator), Flying Officer Leo Francis Joseph Farrelly (leading air bomber), Sergeant G. Sword, G (wireless operator), Sergeant. William Barnbrook (mid upper gunner), and Sergeant G. Bentham (rear gunner).
The Potsdam Operation of the 14th-15th April 1945 was the crew's first and only operational combat mission.
The Squadron Operational Record Book noted that the aircraft was caught by what was believed to be 2 Junkers 88's. The damage to nose and cockpit suggests it suffered a blast of canon shells, one which would tragically hit and fatally wound Allan, who died in a Cambridgeshire hospital on 14th April 1945, close to his squadron's base. He was 39 years old.
The notes specific to Allan's aircraft recorded: "Bombed green target indicators. Good concentration and fires taking hold. Canon shell damage to nose and cockpit, Flight Engineer killed. Attacked 20 miles S.W. of Potsdam 23.07 15,000ft."
Allan was buried at Chelmsford Borough Cemetery on 20th April 1945 (grave: 5828).
The Essex Chronicle eported:
"SGT. SLIMAN'S AIR CREW ARE BEARERS AT FUNERAL
ALAN SLIMAN, R.A.F., the Chelmsford City captain and centre-half, was buried at Writtle Road Cemetery on April 20.
Sgt. Sliman, who was 39, was killed when the aircraft he was in was attacked by enemy fighters while over Germany. Sergt. Sliman leceived a direct hit as his aircraft was about to return from bombing operation. The pilot managed to get the damaged plane back to England, and Sergt. Sliman, mortally injured, was rushed to hospital. The rest the crew were unharmed.
Many sportsmen came to the funeral service. Most of the Directors of the Chelmsford City F.C. were unavoidably prevented from attending. The Vice-Chairman, Councillor F. C. Langton, was represented by his son, Mr. F. J. Langton, and there were also present Mr. Herbert Jewell, director, who also represented the Chelmsford City Colts, and Mr. Harry Warren, secretary-manager of the City Club.
Many City players attended to pay a last tribute to a greatly-respected captain and colleague. Mr. Alec Beadle represented the City Supporters' Club, and Capt. S. F;eldus was there as a representative of the Colchester United F.C.
Several of Sergt. Sliman's former colleagues of the Chelmsford Borough Engineer's staff were present.
GREAT SPORTSMAN The Rev. T. H. Cullen, minister of the High Street Methodist Church, who officiated, gave an address by the graveside. Alan Sliman, he said, was of the grandest type of sportsmen. It was true of him to say that he' " played the game," both on and olf the field of play. He left behind him a fragrant memory.
Members of Sergt. Sliman's air crew acted as bearers of the Union Jack-covered coffin. The chief mourner was the widow, The many beautiful floral tributes included those from the- City Directors and Manager—arranged in the City colours of claret and' white; the City players; Chelmsford City Colts; and the Switchgear Department of Messrs. Crompton Parkinson, Ltd.."
Allan left a widow, Gladys Rosina Sliman, who remarried in 1948 and died in Hampshire in 2004.
Allan's crew did not fly again for a month - when they did, the war in Europe was over. For these final four operations Allan's role was taken by Flight Sergeant A. Bolton: 13th May 1945 Evacuation of Prisoners of War from Juvincourt; 14th June 1945 Viewing the effects of the bombing offensive; 22nd June 1945 Viewing the Effects of the Bombing Offensive; and 25th June 1945 Checking German Radar Equipment.
130301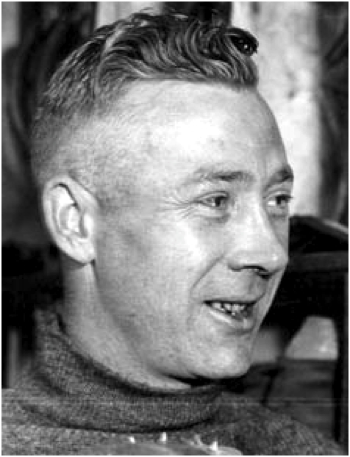 Allan Melrose 'Jack' Sliman was born on 27th February 1906 in Busby, Renfrewshire, Scotland, the son of James Andrew Sliman and Jane Elizabeth Melrose. His father was born in 1862; his mother ten years later, both in Scotland. The couple had married in Glasgow in 1896.
Allan's siblings included John Sliman (1899-1956), James Andrew Sliman (born in 1901) and Richard Melrose Sliman (1910-1978).
Allan apprenticed as a carpenter but was also a talented footballer. He started his football career with Arthurlie, a Scottish Division Three side, before Bristol City brought him south in 1928. His brother Richard also played for Bristol City as an amateur.
In 1932 Allan left Bristol City to join Chesterfield for a fee of £1,500 (a record fee paid by Chesterfield at that time) plus £238 to the player. He went on to play 241 games over seven seasons for Chesterfield, mainly in the centre-half position. He is considered one of the club's all-time greats, and is described on the club's website as 'Tall, imposing and with the presence to dominate opponents without recourse to the physical stuff, he was the foundation on which a side was built to win the Northern Section in '35-6 and establish a place as a Second Division team'. He scored 9 goals while at Chesterfield.
In 1938, as age began to catch up on him, Allan left Chesterfield to go to Chelmsford City F.C. where he joined as a player and was appointed captain. Following the resignation of Billy Walker in October 1938 he was asked by the directors of the club to temporarily take on the role of Player/Manager until a new appointment could be made.
Ultimately that appointment was not made until March 1939 when Folkestone Manager Harry Warren was appointed Manager with Alan reverting to the role of player only. Allan managed Chelmsford City for 25 matches, of which 16 were won and seven lost. During that season he was a key figure in Chelmsford City's fine F.A. Cup run which included a 4-1 home win over Southampton, and ended with defeat at Birmingham (later known as 'Birmingham City') in the Fourth Round - Allan can be seen bottom-right in the photo top right taken at that match and in the 1938 team picture below.