Bryan Roy Steward was an only child who was educated at Chelmsford's grammar school where he was so well respected that after his death a memorial prize was introduced named after him. He left school in 1939 and joined the R.A.F. as soon as he could afterwards, gaining his wings in 1941. He served with Bomber Command abd was killed Egypt when his aircraft crashed on its return to base in poor weather conditions. His home was in Eastern Avenue.
Bryan Roy STEWARD, Sergeant, 37 Squadron, Royal Air Force Volunteer Reserve
Killed in an aircraft crash in Egypt. Aged 20
On 18th April 1942 Bryan was at the controls of a Wellington aircraft (AD642) which took off at 10.36 p.m. to attack shipping at Benghazi. Also on board were Sergeant 402639 Keith Merton Cochrane, Flight Sergeant (Observer) 403608 Raymond Edgar Lloyd, Sergeant (Wireless Operator/Air Gunner) 755899 Claude Kenneth Nurse, Sergeant (Wireless Operator/Air Gunner) 1168051 Eric Bailey, and Sergeant (Air Gunner) 1051680 Michael George Cameron Scanlon.
Bad weather forced the abandonment of the mission, and on its return the aircraft flew into the ground killing all on board. 20 year-old Bryan was later buried at El Daba Miitary Cemetery and later at El Alamein War Cemetery (grave XVIII. B. 9) in Egypt. His crewmates were also laid to rest there. At the time of his death Bryan's parents lived at 2 Eastern Crescent in Chelmsford.
After Bryan's death Norman Squire, the headmaster of King Edward VI's Grammar School said: 'He was the nearest approach to he ideal schollboy as possible. All the boys looked up to him and admired him, and that does not happen often with boys. He was a real leader. A quiet lad, one of those we can least afford to lose. His death was a real tragedy.'
In July 1942, it was announced that the 'Bryan Steward Memorial Prize' would be established for pupils in the Mildmay House at the King Edward VI's Grammar School, where he is commemorated on the school's war memorial.
Bryan left an estate valued at £194 2s. 11d. with probate granted to his mother.
120504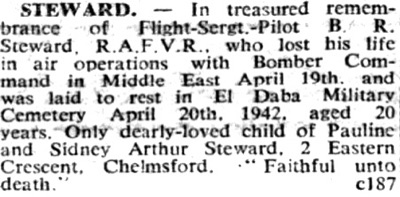 Bryan was born in Yorkshire in 1922, the only child of Sidney Arthur Steward (1892-1965) and Pauline Steward (nee Nibloe) (1895-1990). His parents had married in Suffolk in 1917.
Bryan was educated at King Edward VI's Grammar School in Chelmsford. He left the school in July 1939, when in his final report his form master wrote: 'Cannot be praised too highly; steady, efficient, popular'. He gained the general school certificate with exemption from matriculation in 1934. In 1939 he gained the higher school certificate. He was captain of the school football and cricket teams, vice-captain of hockey, played tennis for the school and was deputy-head boy.
After leaving school Bryan joined the Royal Air Force at the earliest possible age and gained his wings in 1941. He took part in many raids over Germany, and saw action over Libya and Malta. He served as Sergeant (Pilot) 1256527 in 37 Squadron.
On 7th February 1942 Bryan was the pilot of Wellington aircraft (Z8734) when it had to belly-land on return from bombing Benghazi in Libya. Although the aircraft was damaged beyond repair he and his crew escaped unhurt. He walked through the desert to the nearest aerodrome and the first person he met was another old boy of the Grammar School.