Thomas Coverley Thompson was born in Springfield and educated at Chelmsford's grammar school. During the First World War he served with the Royal Fuslieers and won the Military Cross. He later became a captain in the Royal Corps of Signals. He married in London in 1931 and had two daughters. He was killed with his two daughters, his parents and a servant when his parents' house in New London Road was struck by a German bomb.
Lieutenant Colonel Thomas Coverley THOMPSON, Royal Corps of Signals
Killed during an air raid in New London Road, Chelmsford. Aged 41
Their mother, Muriel who suffered serious injuries, was one of those rescued, along with a nurse and another daughter-in-law of the mayor. By 5.31 a.m. a further two bodies were recovered, and by 11.50 a.m. another, the fifth fatality, was found. Rescue workers continued their search into Tuesday and in mid afternoon the remains of sixth body, a servant, were found. The four adults killed were subsequently identified as Thomas' parents, Thomas (aged 41) and Alice Maud Emery, also 41, who was a servant for the mayor.
The funeral service of Thomas and his family was held at Chelmsford Cathedral on 16th October 1940. Their five coffins were placed in the building overnight prior to the service. Their deaths had come as a great shock to the town and the Cathedral was filled to overflowing for the service which was conducted by the Bishop of Chelmsford and the Provost, the Very Rev. William Morrow. The congregation was swelled by a considerable number dignitaries from all over Essex and beyond. After the service the coffins weredriven to the Borough Cemetery for burial, passing the remains of Brierley Place on the way. Large crowds lined the route. Thomas and his daughters were buried in one grave (grave: 6184). Thomas is commemorated on the King Edward VI Grammar School's war memorial.
Thomas' wife was seriously injured in the Brierley Place bombing. Their family home at the time was at Wilby in Northamptonshire.
110703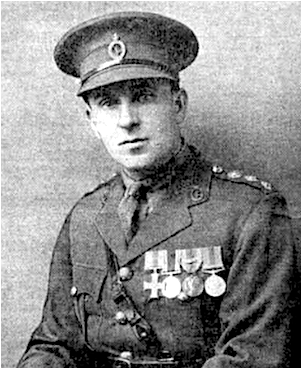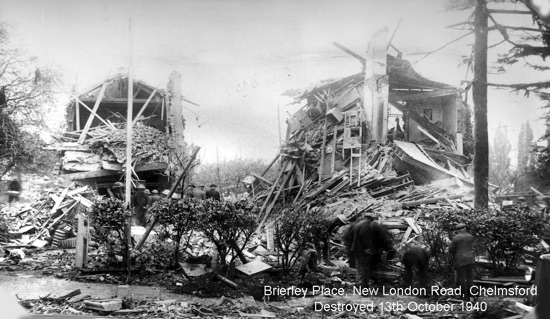 Thomas was born on 25th May 1899 and christened at Holy Trinity Church in Springfield on 25th July 1899. He was the son of John Ockelford Thompson, O.B.E., J.P., C.C. and Emma Thompson (nee Tanner). Thomas' father had been born on 8th October 1872 in Springfield the only son of Thomas Thompson. Thomas' parents married in 1895 in London. Thomas' mother had been born in Chelmsford in 1862.
Thomas' four siblings, all Springfield-born, included twins Cyril James Ockelford Thompson and Reginald John Tanner Thompson, (born on 28th July 1896 and privately christened at Holy Trinity Church in Springfield on 2nd August 1898) , William Brierley Thompson (born on 6th February 1901) and Robert Thompson (born on 19th August 1904).
The 1901 census listed one ear-old Thomas living with his parents, three siblings and two servants at 3 Meadowside in Springfield. His father was the proprietor of the Essex County Chronicle. He became editor following his father, Thomas
Thompson's death in 1908. In April 1911 the census recorded Thomas living with his parents, four brothers and two servants at The Eaves in Springfield Road, Springfield.
Thomas was educated at King Edward VI Grammar School in Chelmsford from 1905 to 1913.
During the First World War he passed through Sandhurst and joined the Royal Fusileers. Whilst serving with them he attacked and captured a German machine-gun post and was awarded the Military Cross for his gallantry.
After the war he served in Mesopotamia and India before joining the Royal Corps of Signals, and spending some time in Canada attached to the Royal Canadian Army.
On 10th April 1931 he married Muriel Morten Heathcote at All Souls' Church, Langham Place, London. She was the daughter of Mr. & Mrs. Frederick Heathcote, who lived at Boyton Hall in Roxwell. She had been born in Liverpool in 1906. The couple had two daughters, Audrey Mary Thompson (born in 1932) and Diana Louisa Thompson (born in 1939).
During the Second World War Thomas was a Lieutenant Colonel in the Royal Corps of Signals.
Thomas was killed on Sunday 13th October 1940 when Chelmsford suffered its most serious bombing incident of the war to date when a lone Luftwaffe aircraft dropped two bombs over the town. At 7.30 p.m. one of these, a high explosive, scored a direct hit on his father's home, Brierley Place (number 52), New London Road. The bomb is believed to have passed through the building and exploded in its basement, 'collapsing it like a pack of cards'.
Debris was strewn across New London Road and caused its closure between Queen Street and Southborough Road. Thomas' father who was Chelmsford's mayor, his family and servants were at home and were thought to have been sheltering in the basement when the bomb struck.
The rescue services were soon at work on the scene and by 10.40 p.m. New London Road had been cleared. However, it was not until 1.01 a.m. that the first casualty figures were received at the Police H.Q. - "Ten people involved (actually nine), two children recovered dead, three householders rescued but one injured, mayor and mayoress still unaccounted for". The dead children were the mayor's grandchildren, 8 year-old Audrey Mary Thompson and her 14 month-old sister Diana Louisa Thompson.