Robert William Torrie was born in Cumberland and moved to Chelmsford as a boy. He worked at the County of London Electricity Supply Company before joining the R.A.F. in 1943, having already been a member of the Chelmsford Air Training Corps. He went to Canada to learn to fly and was killed there in June 1944 in a flying accident. His home was in Pentland Avenue.
Robert William TORRIE, Sergeant (Pilot), Royal Air Force Volunteer Reserve
Killed in a flying accident in Canada. Aged 21
Dutchman Leading Aircraftman 1815000 Henderin Jacobus Van Vilet was also killed in the incident
De Winton Aerodrome was built by the Royal Canadian Air Force for use by the Royal Air Force, who established No. 31 Elementary Flying Training School (31 E.F.T.S.) under the British and Commonwealth Air Training Plan.
At the time of his death Robert's parents were living at "Ridges' 49 Pentland Avenue in Chelmsford and his brother was serving with the Royal Marines. Sister Margaret was in the A.T.S.
Today Robert lies in Calgary (Burnsland) Cemetery in Canada (Lot 75. Block 9. Section G). Henderin lies in the adjacent grave.
Robert is commemorated on the Broomfield British Legion's war memorial and on a stained glass window at St. Mary's Church in Broomfield.
120813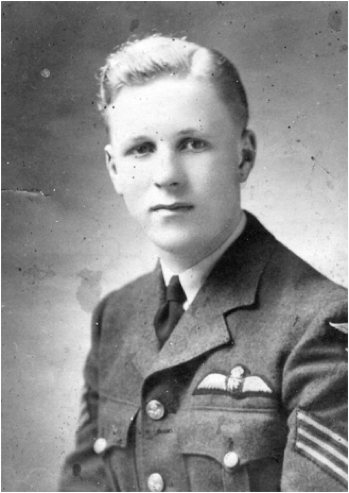 Robert was born in Cumberland in 1923, the elder son of James Torrie (1894-1961) and Hilda Ann Torrie (nee Jackson) (1895-1970). His parents had married in Cumberland in 1920. Robert's siblings included Margaret Torrie (1921-1981), James Torrie (1924-1984), and Evelyn H. Torrie (born in 1927).
The family moved to Chelmsford around 1933. Robert was an opening batsman for the town's Y.M.C.A.cricket team.
Robert worked for the County of London Electricity Supply Company in London Road, Chelmsford. prior to joining the Royal Air Force Volunteer Reserve around Christmas 1943. He had previously served in the Chelmsford Air Training Corps.
With the R.A.F. Robert served as Sergeant (Pilot) 1615916, gaining his wings on his 21st birthday in March 1944.
Three months later he was dead - killed in a flying accident on 2nd June 1944 at De Winton Aerodrome, an air training station located south of Calgary, and east of De Winton, Alberta, Canada, where he was an instructor. He had been in the Royal Air Force for 18 months, twelve of which had been in Canada. .