John Edgar 'Jack' Turrall was Suffolk-born and inherited his father's family's sporting prowess. After educcation at Chelmsford's Grammar school he was articled to a London chartered surveyor. As a Territorial he was mobilised at the start of the war and later obtained a commission with the Royal Artillery. He landed in France shortly after D-Day and was killed in action at Caen in July 1944.
John Edgar TURRALL, Captain, 72 Medium Regiment, Royal Artillery
Killed in action in Normandy, France. Aged 24
Jack's father was promising footballer who once scored 8 goals in a match for Hoffmann Athletic reserves. He had to give the game up and work in 1909 due to ill-health. He went to Australia to try and improve his health from 1913 to 1920 he served in the Royal Australian Navy. Jack's uncle, Percy Wakeford Turrall (1883-1941), played cricket for Essex, while several other uncles were also known for their sporting prowess. One captained Chelmsford Town F.C., another Colchester Town F.C.
Jack was educated at King Edward VI's Grammar School in Chelmsford where he excelled at field sports. In 1937, his final year at the school, he shared the School's points cup with T. Pattmann. Jack was one of Essex's most promising athletes, having once been repported to have set a world record at the hop, skip and jump. He represented Essex several times in inter-County matches and won many athletic events, including Essex County titles. One of his finest performances when representing the Chelmsford Athletics Club in an inter-team event he covered over 23 feet in the long jump - an unofficial county record. He was also successful at the Army Divisional Sports, carry off, against strong opposition, most of the events entered. He was also a member of Chelmsford Athletic Club.
Jack was articled to a London chartered surveyor. He served as a Territorial soldier in the 5th Battalion of the Essex Regiment and as such was mobilised at the outbreak of the war. Later he served as Captain 194690 in 72 Medium Regiment, Royal Artillery - his commission was announced in the London Gazette on 29th July 1941 and he landed in Normandy soon after D-Day.
Jack was killed in action at Caen in France on 17th July 1944. He was 24 years old. He was one of eight men recorded on the Chelmsford Athletic Club war memorial.
Today he lies in grave XII. B. 11 at Banneville-La-Campagne War Cemetery 6 miles east of Caen in Calvados, France.
At the time of his death Jack's mother was living at 129 Swiss Avenue, Chelmsford, while his father was in Australia. He died in Queensland, Australia on 8th May 1949.
Jack left an estate valued at £265 11s. 8d.
150209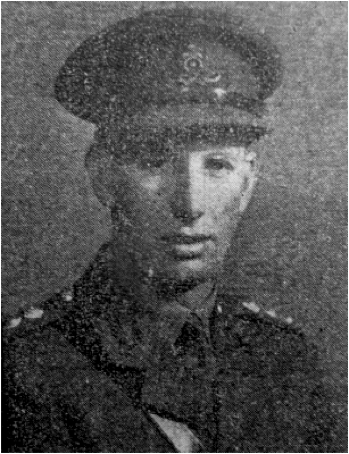 Jack was born in Suffolk in 1919, the only son of Edgar Turrall (born in 1888) and Jessie Turrall. His parents had married in Suffolk earlier that year. The Essex Chronicle reported:
"Interesting Wedding.— The marriage has taken place at Ipswich of 1st Class Petty Officer Edgar Turrall, one of the famous sporting sons of Mr. T. W. Turrall, of Kelvedon. with Miss Jessie Reeve, youngest daughter Mr. and Mrs. J. Reeve, of Needham Market and sister of Mrs. P. W. Tnxrall, Chelmsford. The bridegroom, who used to play football for the Hoffmann Club, went to Australia nine years ago, and has been in the Australian Navy some six years. He has been active service during the greater part of the war on H.M.A.S, Parramatta. He obtained short leave before his vessel returns to Australian waters, and took advantage of the opportunity to marry. His wife wiil proceed to Australia."