William Henry 'Bill' Wareham was born and brought up in Chelmsford. Prior to joining the Royal Air Force he worked at Chelmsford's Hoffmann bearings factory. He was killed in January 1944 when his aircraft crashed during a training flight. His home was in Springfield Park Road.
William Henry WAREHAM, Sergeant, Royal Air Force Volunteer Reserve
Killed in an aircraft crash in Montgomeryshire. Aged 20
began to break up, losing the starboard wing which smashed starboard wing which smashed into the starboard tail unit.
All nine members of the crew perished. The other victims were: Flight Sergeant (Pilot) Paul Bennett (aged 20), Sergeant (Air Bomber) Norman Fisher (aged 22), Sergeant (Flight Engineer) John Gibb (aged 18), Flight Sergeant (Navigator) John Spriggs (aged 31), Sergeant (Air Gunner) Albert Clark (aged 22), Sergeant (Flight Engineer) Ellis Gawler (aged 27), Sergeant (Flight Engineer) David Ramsay (aged 21), and Sergeant (Air Gunner) William Wyatt (aged 20). Their bodies were taken to Bwlch-y-ffridd Village Institute.
William, who was 20, had been in the Royal Air Force some three years. He had made a number of flights over Germany and had been home on leave just three days before his final flight. One of his brothers was also serving in the Royal Air Force, and another had been a prisoner of war in Germany for four years. He was engaged to marry Peggy Smith.
At the time of his death William's parents were resident at 21 Springfield Park Road in Chelmsford. He is pictured in the back garden of that property,
He was buried at Chelmsford Borough Cemetery on 29th January 1944 (grave 5730) with the service conducted by Rev. G. Hodgins of Springfield Holy Trinity Church.
120229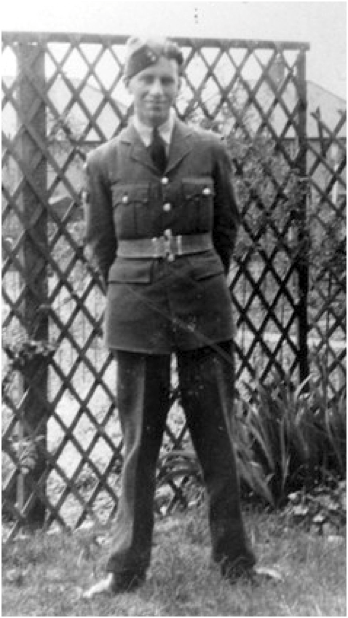 Bill was born in Chelmsford on 15th February 1923, the third son of William Henry Wareham (1867-1948) and Ellen Adelaide Wareham (nee Moore) (1887-1946). His siblings, all Chelmsford-born, were Edwin John Wareham (1915-1976), Doreen May Wareham (1916-2006), Walter Wareham (1919-1964), Marjorie E. Wareham (1929-1999), and Sidney Derek Wareham (1929-1996).
During the Second World War he served as Sergeant (Wireless Operator/Air Gunner) 1319125 in the Royal Air Force Volunteer Reserve. Prior to that he had worked at the Hoffmann's ball-bearings factory in Chelmsford.
On 23rd January 1944 at 2.40 p.m. William was killed when the aircraft in which he was travelling, a Halifax V, DG358 'J' of No. 1667 Heavy Conversion Unit from Faldingworth Aerodrome near Market Rasen in Lincolnshire, crashed into fields near south-west of Bwlch-y-ffridd, some four miles from Newtown in Montgomeryshire (today Powys).
The aircraft, which only had 78 hours flying time, had been travelling at 20,000 feet in a cross-country training exercise when, over the English-Welsh border the starboard outer engine failed. Unable to sustain altitude Flight Sergeant (Pilot) Paul Bennett began to descend the aircraft through thick storm clouds where lightening was experienced. Ice began to build up and control of the aircraft was lost. As it plunged to the ground the aircraft