John Benjamin William Warren joined the Royal Air Force before the war. He was killed during the Battle of Britain with two crewmates when their aircraft was shot down into the sea near Ramsgate, Kent. His parents lived in Writtle Road.
John Benjamin William WARREN, Aircraftman 1st Class, 600 Squadron, Royal Air Force
Killed when his aircraft was shot down off the Kent coast. Aged 19
Their aircraft was attacked and shot down by a German aircraft flown by Oberleutnant Sprick of III/JG26 near Ramsgate. Flying Officer Grice heroically stayed at the controls of the doomed aircraft and guided it clear of the town before it crashed in flames into the sea at 11.55 a.m. All three men were killed. John was 19 years old.
John's body was later washed ashore in France and he was subsequently buried at Calais Southern Cemetery (Plot O. Grave 32). Flying Officer Grice's body was recovered and cremated at Charing Crematorium in Kent, while Sergeant Keast's was interred at Whitstable Cemetery.
At the time of his death John's parents were living at 23 Writtle Road in Chelmsford. They were later presented with a silver tea and coffee service from the mayor, corporation and citizens of Ramsgate in expression of their gratitude for his valour.
John is commemorated on a family grave at Chelmsford Borough Cemetery in Writtle Road, Chelmsford.
140308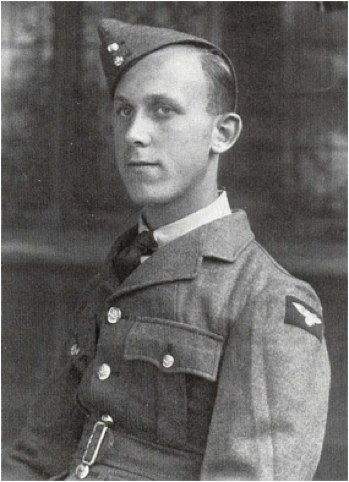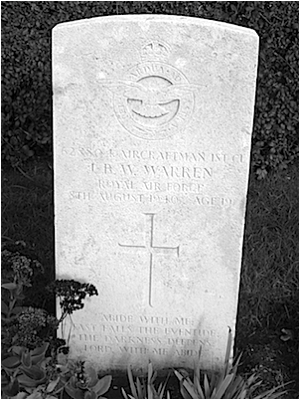 John was born in Essex in 1921, the son of Jeffrey Warren (1880-1966) and Maud Ethel Warren (nee Butcher) (1882-1969). His parents had married in 1904. John's siblings included Ethel Rachel Warren (born in 1904) and Frederick Warren (born in 1908). By 1911 the family had settled in Forest Gate where John's father was employed as an labourer in the engineer's department at London County Council.
John joined the Royal Air Force in November 1938 and progressed to be Aircraftman 1st Class 628804. Subsequently he volunteered to serve as a member of air crew and undertook a radar course. In July 1940 he was posted to 600 (City of London) Squadron at R.A.F. Manston in Kent. The squadron flew Bristol Blenheim aircraft.
On the morning of 8th August 1940 John was the he radar operator/observer in Blenheim L8665 (markings BQ-A), flown by 28 year-old Flying Officer 70266 Dennis Neve Grice, with 31 year-old Sergeant (Air Gunner) 801399 Francis John Keast as the third crew member.