Brian Norris Welsh was a Londoner who moved to Chelmsford to work for the electrical engineers, Crompton Parkinson Ltd. During the war, when aged 18, he joined the army and married in Galleywood in January 1944. He landed in France on D-Day and days later was wounded from which he appeared to recover. However, his health deteriorated and he died as a result of his wounds in January 1945. His home was in Eastern Crsecent.
Brian Norris WELSH, Private, Royal Norfolk Regiment
Died as a result of wounds in Norfolk. Aged 20
On D-Day, 6th June 1944, Brian landed in France with the Royal Norfolk Regiment. After six days' hard fighting he was wounded in two places in the leg at Caen.
He returned to England to hospital and was subsequently discharged as fit and marked for overseas service. However, at a church parade he collapsed, apparently because of blood poisoning caused by his wounds, and was taken to St. Andrews Hospital in Norwich where he died on 5th January 1945.
Brain was buried at Chelmsford Borough Cemetery on 13th January 1945 (grave 5826) after a funeral service at Galleywood. He is commemorated on the Galleywood war memorial.
At the time of his death Brian's parents were living at 75 Eastern Crescent in Chelmsford; the property is listed as his 'usual abode' in Chelmsford Borough Cemetery's burial records.
Brian's widow died in 2010.
150209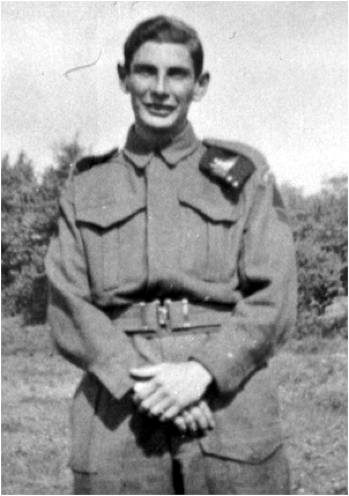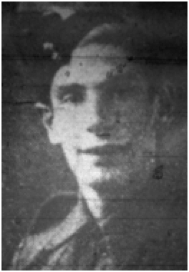 Brian was born in London in 1924, the only son of Bernard Howard Welsh (1898-1985) and Annie May Welsh (nee Thomas).
After leaving school Brian worked for the Chelmsford electrical engineers, Crompton Parkinson Ltd., and joined the army when aged 18, serving as Private 14643259 in the Royal Norfolk Regiment.
On 22nd January 1944 Brian married Daphne Barbara Garwood of Twin Cott, .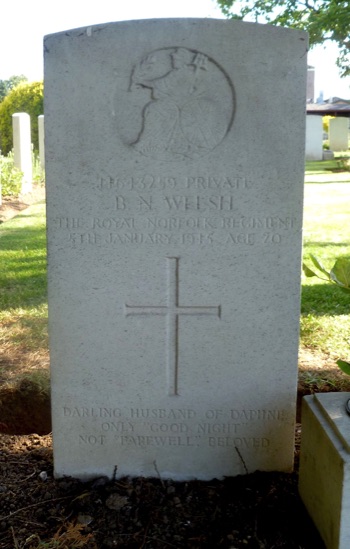 Galleywood, at St. Michael's Church in the village. At the Brian and his bride were both 19 years old. He was already in the arny and based then at Horncastle in Lincolnshire. His bride lived in Galleywood and was the daughter of Thomas WIlliam Garwood, a gas fitter.
The Essex Chronicle reported:
"Mr. W. E. Furness, the bride's former employer, was at the organ for the hymns. The bride wore a dress of white satin with veil and headdress, and carried white chrysanthemums, with white heather and trailing fern. She was attended by Mrs. W. H. Davey, Miss M. Thomas (cousins of Brian), Mrs. A. S. Brown, and Miss Edna Allen (friends). The first two had dresses of lavender taffeta, and the others were in blue taffeta: all had matcing veils and headdresses and bouquets of mixed chrysanthemums and fern. The groom's friend, Pte. J. Tussell, was best man. On leaving the church the bride was presented with a silver horseshoe by little Colin Hagger, her cousin. A reception was given by the bride's parents for 40 guests. The numerous presents included a cheque from the bride and groom's former colleagues at Crompton Parkinson's and one from her former employer, Mr. W. E. Furness. The groom is serving in the Norfolk Regiment. The honeymoon is being spent in Cornwall."