Cissie Kezia Goldsmith married in 1931 and went on to have two children. She was one of eight people killed by a bomb that struck her home. Her husband, their two year-old daughter and a lodger were also killed.
Cissie Kezia WESTRIP (nee GOLDSMITH), Civilian
Killed during an air raid at Lower Anchor Street, Chelmsford. Aged 31
The bomb demolished numbers 21, 22, 23, 24 & 25, while numbers 19, 20 & 26 were damaged beyond repair, and numbers 13, 14, 15, 16, 17, 18, 27, 28, 29, 31, 32, 33, 34, 35, 36 were seriously damaged. Across the road the explosion seriously damaged numbers 89, 90, 91, 92, 93, 94, 95, 96 & 97 which stood opposite the scene of the bomb.
Cissie, her husband and their daughter were buried at Chelmsford Borough Cemetery (grave 5419) on 22nd May 1943.
She left an estate valued at £300 1s.
110726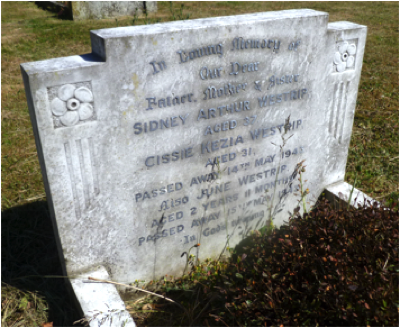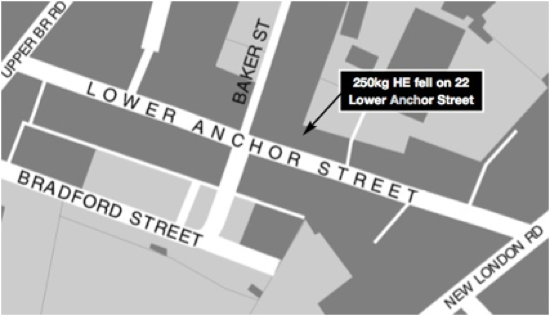 Cissie was born in Hertfordshire in 1912, the daughter of William Matthew Goldsmith (1886-1924) and Annie Carter Goldsmith (nee Elmer). Her parents had married in Essex in 1905.
In 1931 Cissie married Sidney Arthur Westrip. The couple had a son born in 1932 and a daughter, June, born in Chelmsford in 1940.
By 1943 Cissie was living with her husband, daughter and a lodger, Gwendoline Iris James, at 22 Lower Anchor Street in Chelmsford. The property was an old terraced house on the road's northern side between
The Orange Tree and The Queen's Head pubs. In the early hours of 14th May that year Chelmsford experienced what was to prove to be its heaviest air raid of the war. In a sharp attack that lasted for just over an hour, the German air force, the Luftwaffe, dropped a large number of high explosive, incendiaries and parachute landmines which caused extensive damage to residential, commercial and industrial properties in the town, and led to the deaths of more than 50 people.
Among the dead was Cissie, one of eight people who died as a result of a 250 kg high explosive bomb which scored a direct hit on her home, 22 Lower Anchor Street. One account suggests it hit the air raid shelter in which the householders were sheltering. Cissie's husband and their lodger, Gwendoline Iris James, were also killed in the incident. Cissie's baby daughter June, was pulled out of the wrecked property with serious injuries and died later that day in Chelmsford & Essex Hospital. Neighbours Henry William Smith and Joan Miriam Smith at number 24, and William Judd and Mary Judd at number 19 also died.