Kenneth Derek Gerald James Wilson was born and raised in Chelmsford the son of a pub landlord. He lost his mother at a very young age. After leaving school he worked for the County of London Electric Supply Company, before joining the R.A.F. in February 1941. He was killed in an aircraft crash in February 1943. His home was The White Horse, Townfield Street.
Kenneth Derek Gerald James WILSON, Leading Aircraftman, Royal Air Force Volunteer Reserve. Killed in an aircraft crash in Lancashire. Aged 20
Kenneth was born in Chelmsford in 1922, the youngest son of William George Wilson (1887-1946) and Beatrice Minnie Wilson (nee Hilliard) (1888-1923). His parents had married in 1908. Kenneth's siblings included Violet Dorothy B. Wilson (born in 1909), Pansy Irene M. Wilson (born in 1910), Iris V. P. Wilson (born in 1915), Derrick W. E. Wilson (born in 1919), and Gerald William Leslie Wilson (born in 1921).
On 19th November 1923, when Kenneth was still an infant, his mother died, aged 35. She left an estate valued at £295 16s. to her husband, who was at the time licencee of the White Horse Inn, Townfield Street in Chelmsford.
Kenneth joined the Royal Air Force on 4th February 1941, and served as Leading Aircraftman (Wireless Operator/Air Gunner Upper Turret) 1333224, having previously been employed in the accounts department of the County of London Electricity Supply Company. In 1942 Kenneth's brother Gerald William Leslie Wilson was killed when his ship, H.M.S. Cornwall, was sunk.
On 1st February 1943 Kenneth lost his life, aged 20, at Dalton-in-Furness in Lancashire. He is believed to have been one of two airmen from No 10 Air Gunnery School at R.A.F. Walney Island, who were killed when their aircraft, Defiant I, N3507, dived into the ground. the other airman killed was 22 year-old Sergeant (Pilot) Jack Blunden.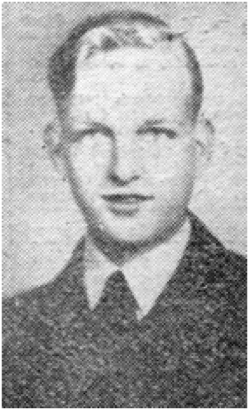 Kenneth was engaged to marry Betty Forsgate. At the time his father was still the landlord of the White Horse Inn, and his only remaining brother, Derrek, was serving with the Royal Engineers in Africa.
Kenneth's funeral service was held at Chelmsford Cathedral on 6th February 1943 with burial afterwards at Chelmsford Borough Cemetery (grave 5704). His epitaph reads 'For honour liberty and truth he sacrificed his glorious youth'.
On the anniversary of his death the follow announcement appeared in the Essex Chronicle:
"Wilson - in loving memory of Sgt. Kenneth Wilson, R.A.F. - Always remembered by his friends, H. E. and E. Lamosky, Barrow-in-Furness. 'Worthy of remembrance.'"
150112