Frank Waylett Bartlett was a Channel Islander who served in the army during the war and was badly wounded in May 1915 in France. He was evacuated to London and died from septic poisoning the following month. His body was brought to Widford for burial where his aunt and her family lived. A cousin was killed in Egypt during the war while the son of another cousin was killed in the Second World War.
BARTLETT, FRANK WAYLETT*,
Corporal, 1st/5th Battalion, Royal Sussex Regiment
Meanwhile Frank's brother served in the army with the Royal Garrison Artillery.
On 9th May 1915 Frank was badly wounded in France by shrapnel in the arm and shot through a leg. He was returned to England treated at Hammersmith Hospital in London for some weeks and it was then found necessary to amputate the arm. Septic poisoning, however, set in which led to his death there on 16th June 1915. He was 23 years old.
Three days later his funeral was held in the northern part of the churchyard at St. Mary's Church in Widford, the decision to bury him there due to the fact that his aunt, Mrs. Mary Jane Waylett and her family lived there.
Frank's mother understood from Hammersmith Hospital that a military funeral would be arranged for, but on arriving at Chelmsford railway station with Frank's body it was found that nothing had been done and the coffin had to remain at the station until a funeral hearse and coach could be obtained. Six Warwickshire Territorials volunteered to act as bearers and this was the only military piece of the ceremony.
The Rev. F. E. Thurlow conducted the service. The mourners were Frank's mother, who by then was in service at Chigwell, Mrs. Waylett; Mr. Arthur Waylett of Ilford, who was formerly in the 2nd Essex; Mr Harry Waylett; Mrs Wellington; Mrs Shuttleworth; Miss Waylett cousins. There were several beautiful wreaths, including one from the nurses at the Hospital, one from Pt. Baldwin R.A.M.C. who was billeted with Mrs. Waylett and another from the household in Chigwell.
Frank's cousin Frederick Arthur Waylett of Widford also lost his life in the First World War while serving in Egypt. A son of another cousin was to lose his life in the Second World War - Douglas Harry Waylett.
140310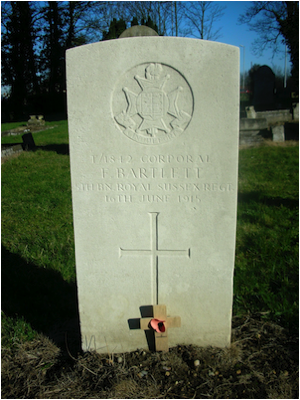 Frank was born in St. Helier, Jersey in 1891 or 1892, the son of John W. Bartlett and Eliza Bartlett (nee Waylett). His mother had been born in Moulsham in 1863, but by 1881 was already living on Jersey where she was a servant.
In 1901 the census recorded Frank, aged nine living with his parents, two siblings and two others at 11 Gloucester Road in St. Helier where his father was a coachman. The census a decade later recorded him as aged 18, employed as a tailor, living with his father at Brighton Road in St. Helier. Meanwhile his mother was at 3 East Parade, Hastings in Sussex with Frank's sister where she ran a boarding house.
Frank and his brother Frederick Waylett Bartlett served in the Militia in Jersey - a compulsory service at the time.
In 1914 Frank left his job at Messrs R. B. Colley and Co. and travelled to Hastings, presumably to his mother's, where he joined the Territorial 1st/5th Battalion of the Royal Sussex Regiment where he became Corporal T/1842. On the declaration of war the Battalion was mobilised and proceed first to Dover and later to the Tower of London, from where it eventually proceeded to the Front.