Frederick James Birt was born and lived in Gloucestershire and was billeted in the Chelmsford area early in the war. He died in a Chelmsford hospital early in the war and was buried in the Borough Cemetery.
BIRT, FREDERICK JAMES*,
Private, 6th Battalion, Gloucestershire Regiment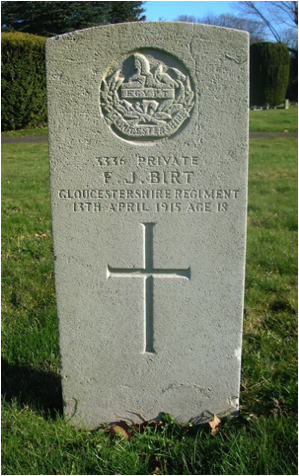 Frederick was born in Painswick, Gloucestershire in 1897, the son of another Frederick James Birt and Jemima Kezia Birt.
Four year-old Frederick was recoded by the 1901 census with this parents and siblings at 10 Dunkirk Road in Bristol where his father was a coat machinist.
In 1911 the census found 14 year-old Frederick with his parents and eight siblings at 12 Prospect Avenue in Bristol. He was an errand boy for a firm of outfitters. His father was a tailor's machinist.
During the First World War Frederick served as Private 3336 in the 6th Battalion of the Gloucestershire Regiment. In the early part of the war the battalion was billeted in the Chelmsford area.
Frederick died, aged 18, at Chelmsford & Essex Hospital on 13th April 1915.
On 17th April 1915 Frederick was buried in grave 185 at Chelmsford Borough Cemetery. The service was conducted by Rev. W. J. Selby, Senior Chaplain for the South Midland Division. The grave already contained the remains of William Hewitt who had died, aged 80, in 1893.
140310