William Bisby Richards (sometimes 'William Bysby Richards') was born in Woolwich. Little is known of his early life and it may be that he served in the military prior to his marriage in Dagenham in 1893. He went on to have nine children, worked as a time-keeper and settled in Manor Park. During the war he served in the army and was in Chelmsford in the middle part of the war. He died in Oaklands Military Hospital in February 1916. At the time he was billeted in Victoria Road.
RICHARDS, WILLIAM BISBY*,
Private, 4th Supernumerary Company, 2/6th Battalion, Essex Regiment
(formerly of the East Surrey Regiment)
During the First World War William served as Private 24262 in the 4th Supernumerary Company, 2nd/6th Battalion of the Essex Regiment. He had previously served in the East Surrey Regiment.
He died on 7th February 1916 at Oaklands Military Hospital, aged 59. His home was in Manor Park and his billet was at 17 Victoria Road in Chelmsford.
He was buried with full military honours in grave 2195 at Chelmsford Borough Cemetery on 12th February 1916. The Rev. N. Holt, Chaplain to the Forces, officiated, the band of the Oxford and Bucks. Light Infantry and 2nd/6th Essex provided the escort and firing party.
William left a widow and at least four children.
140316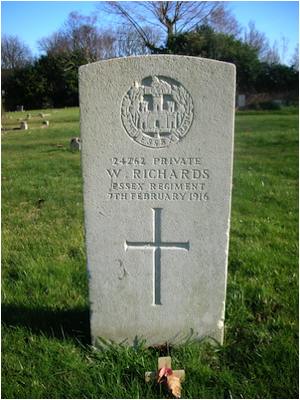 William was born in Woolwich, Kent in 1857, the son of John Bisby Richards and Sarah Richards (nee Lowe).
On 12th February 1893 William married Phoebe Francis at St. Chad's Church in Dagenham.
The couple went on to have nine children, three of whom were to die by 1911. They included: Dorothy Margaret Richards (born in Bethnal Green, London in 1894). William Arthur Richards (born in Bethnal Green in 1895, died in 1978),, James Arthur Richards (born in Bethnal Green in 1897, died in 1972), Edward Frederick Richards (born in Woolwich in 1899, died in 1988), Jack Samuel Richards (born in Manor Park in 1902, died in 1986), and Charles Francis Richards (1908-2000).
The 1901 census recorded William, his wife and four children at 57 Stanley Road in Ilford. He was a time-keeper.
A decade later the 1911 the census found 54 year-old William, his wife and six surviving children living at 126 Meanley Road in Manor Park. He was still employed as a time-keeper.