William Ramm was a Norfolk man who is thought to have served in the army in the late 1800s. During the war he was with the Norfolk Regiment and was based in the Chelmsford area in the middle of the conflict. He died at the town's military hospital at Oaklands House in April 1916.
RAMM, WILLIAM*,
Lance Serjeant, 2nd/4th Battalion, Norfolk Regiment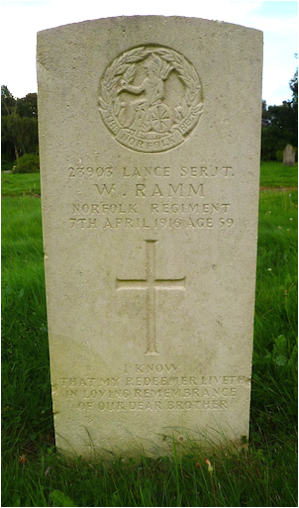 William was born in Houghton, Norfolk in 1860, the son of Henry and Mary Ramm.
He was brought up in Houghton and married around 1889.
The 1901 census recorded 40 year-old William with his wife, Hannah aged 33, and 11 year-old daughter, Charlotte in Great Massingham, Norfolk. He was a carter on a farm.
In 1911 the census recorded 52 year-old William, widowed and boarding at 11 Regent Place, Regent Street in King's Lynn, Norfolk. At the time he was a farm labourer.
During the First World War William served as Lance Serjeant 23903 in the 2nd/4th Battalion of the Norfolk Regiment. It is believed he had served with the regiment in the late 1800s.
William died at Oaklands Hospital in Chelmsford on 7th April 1916, aged 55. He was buried in grave 205 at Chelmsford Borough Cemetery on 10th April 1916. The ceremony was conducted by Rev. A Bowscott, Chaplain to the 194th Infantry Brigade.
The grave already contained the remains of Frances Boyce who had died, aged 67, in 1890.
140316