Albert William Powell was a Birmingham man who served in the army during the war. After receiving a sentence of six week's detention at a Court Martial he was taken to Chelmsford Prison. There he committed suicide in July 1917 having smuggled a round of ammunition into the prison. Under military rules he had retained his rifle for daily cleaning but should have had no ammunition.
POWELL, ALBERT WILLIAM*,
Private, 2nd/4th Battalion, Royal Welsh Fusileers
Staff-Sgt. J. W. Tapsell said deceased was admitted to the barracks on Wednesday. Deceased stripped and bathed, and his clothing and equipment were thoroughly searched. Witness found nothing thai should not be there. The kit included his rifle, and there were some dummy cart ridges which were used for drilling. Deceased then went to his room, taking all his equipment, with the exception of the rifle, which would be handed to him every morning his cell for cleaning. Deceased had brought rations with him, and these witness did not examine.
The Coroner: The cartridge might have been secreted in them? —Yes.
Maj. F- W. H. Blake, governor of the barracks, said that men there were not prisoners, but merely under detention. They did the same drill as the regiment, but they did not have the real ammunition. If they did not clean their rifles they would be ruined.
The Coroner: One would think they would have their rifles at some other time than when they are alone. If a man is inclined that way it easy to secrete a cartridge.
Major Blake: If a man is determined to commit suicide, he is bound to do it, whatever the restrictions.
The Coroner: If there are Army orders that men are allowed to have their rifles for the purpose of cleaning the Army are responsible.
A Juror : Was it possible for him to get ammunition here?
Major Blake: Absolutely no. He must have brought it with him.
It was said that as deceased had been to France he might easily have had cartridge or two.
The Coroner said it might an Army regulation, but he did not think It a wise one. The jury concurred.
A verdict was returned that deceased shot himself."
Albert was buried at Holy Trinity Churchyard in Springfield on 10th July 1917.
Chelmsford Prison had held civilian prisoners until 3rd July 1915 when the last prisoners were transferred to other prisons, enabling it to be converted into a military institution. The prison which could house 312 prisoners had seen its wartime population drop considerably, varying between 20 and 80 only shortly before its conversion.
140316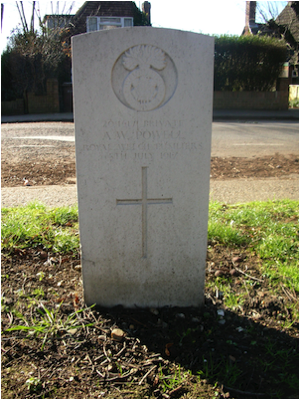 Albert was born in either 1897 or 1898. During the First World War his home was in Birmingham and he served as Private 204617 (previously 968) in the 2nd/4th Battalion, Royal Welsh Fusileers.
On the morning of 5th July 1917 his body was found dead from a shot wound in the his cell the Detention Barracks (Chelmsford Prison) at Chelmsford. He was lying his back grasping the muzzle his rifle, the trigger which was tied cord, which in turn was fastened round the his left ankle. The bullet entered the left side of the cheek, and practically blew the right side the head away, finally hitting the ceiling.
The inquest which was held the following day was reported as follows in one of Chelmsford's newspapers:
"An inquest was held on Friday before Mr. C. E. Lewis, coroner, on the body of Pt. Albert Wm. Powell, aged 19, R. Welsh Fusiliers, who was found dead from a wound in the head in his cell at the Detention Barrack at Chelmsford, the previous morning.
Capt. E. J. Prudhoe, Royal Welsh Fusiliers, said deceased had been sentenced to 42 days' detention by District
Court Martial. He was a fairly good soldier and there seemed "nothing out of the ordinary" about him. He had been to France.