William Pilbrow was born and raised in Northampton and came to Chelmsford early in the war when his army unit was billeted in Great Baddow. He died in Chelmsford hospital in June 1915 while recovering from an operation on cuts to his wrist, he death being caused through him eating before the operation.
PILBROW, WILLIAM*,
Gunner, 4th Battery, 2nd/4th South Midland Howitzer Brigade,
The Coroner: Is there anyone in authority knew he was going to be operated on? - I cannot speak as to that: I know he was going in the morning, and I did not see him again. The orderlies understand the position of the man be operated on.
Foreman : The sooner someone is made, responsible for these things the better.
Dr. Platts: The man is responsible.
The doctor was then sworn, and stated that he saw deceased in the morning, and arranged that he should brought the hospital at 9 o'clock for treatment. He was not aware treatment would be that day. Assuming that deceased returned to Oaklands, and had his dinner at 12.30 and was operated on at 5.30, there was no evidence that deceased necessarily died because of his dinner. Dr. Waller the man died from spasms the larynx; it would have to be proved that were caused by the vomiting of undigested food. All patients vomited after anaesthetic. Four to five hours alter a meal was a considerable period of time, and good healthy man like the deceased would have digested the food. It was possible had food eat over which they had control. Tho man vomited currants, and witness was informed that currants were not in the diet at Oaklands that day. Currents were digested with groat difficulty.
By the Foreman: It is quite possible for them to get food over which we have control. Because a man has a meal it is not by any means necessary that he dies.
The Coroner: It is desirable that stomach should be free from food?— Yes. This was quite a minor operation, but it took considerable time, and needed an anaesthetic.
By Col. Tunbridge: I knew there was a possibility of a general or a local anaesthetic.
Ought not the orderly to have received instructions?—He had instructions that deceased was have a light breakfast.
Any direction given to him about dinner?— No. I did not know but what the man would be admitted into the hospital. The doctor further said the orderly who brought deceased to the hospital might not necessarily the one in charge him at Oaklands, where a male nurse would have charge him until the operation. Oaklands was large place, and the deceased, who was not a bed patient, had a good deal of room walk about in. It was quite possible he might have walked out of the hospital.
The Coroner sent for the nurse who had charge of deceased
Pt. E. N. Davis, 2/2nd S.-Midland Div. Field Ambulance, R.A.M.C., said the previous day the deceased was in his charge from 6 a.m. to 2 p.m., except for time deceased went to the hospital. On his return he did not say was he was to operated on, but the orderly with him said deceased had to go again at 3 o'clock and witness concluded that operation would be performed. He immediately told deceased, and impressed upon him that was to have no dinner. Witness superintended giving out the food that day, but apart from what he told deceased no steps were taken to see that deceased had no food. In such cases the men generally agreed to have no dinner, and did not turn up for a for meal.
The Coroner - You would rely upon him not to have it?— Yes. I was very busy on this day, being short handed owing to inspection, and I relied upon, him obey my instructions.
Col. Tunbridge: And you took steps to see that did this?—l could not take further steps than I did.
The Coroner: Did he appear to take warning seriously?—He just said, "Very well* something of that sort, and went into the grounds. Owing the inspection I had charge of nearly three times the number of patients should have. Witness added that dinner that day comprised roast beet and stew. There were no currants in the diet, but there were some peas the "pontoon" (stew).
Col. Tuuhridge: Did anyone tell yon to exercise care? —No; but I could see care was needed when I dressed the finger. I do not know how got the wounds, hut I have beard rumours.
Did they not point the necessity of care?— Yes, and we were careful.
Did yon have a watch? —No; there was a sergeant see to that.
Why didn't you take steps to see he had nothing eat?—l do not know what steps I could have taken. I was exceptionally busy.
Did you report to the staff-sergeant that he was going under an operation?— Yes. Did the staff-sergeant take any steps to see that had no food? —Not to knowledge.
Did you take steps to see that he was in charge of an orderly until 3? - No he was left free his own devices as other patients.
Could he leave the premises?—it was quite possible, but would be against the rules and regulations. There was one in charge of him. There were only three, orderlies in the hospital that day.
Col. Tunbridge said that for his part he was relieved to find that Davis so impressed upon deceased that should have no dinner. It relieved him very much, because after all they could not expect orderlies in a military hospital to act as policemen. According to the evidence was the deceased's own fault entirely, (Hear, hear).
The jury returned a verdict in accordance with the medical evidence, and the jury, while attaching no fault to anyone, suggested that in future patients to be operated and not under observation might be asked they had had food."
William was buried in grave 104 at Chelmsford Borough Cemetery on 14th June 1915, the service being conducted by Rev. L. W. Wright, Curate of St. John's Church, Moulsham.
His grave already contained the remains of Charlotte Lodge who had died in 1893 aged 77.
140316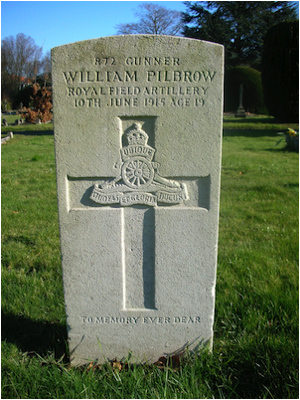 William was born in Northampton in 1894, the son of Philip and Mary Pilbrow.
The 1891 census found him with his mother and four siblings in Northampton. A decade later the next census recorded him, aged 17, serving as a Private at the Depot of the Northamptonshire Regiment in Northampton.
During the First World War William served as Gunner 872 in 4th Battery, 2nd/4th South Midland Howitzer Brigade, Royal Field Artillery. In civilian life he worked as a grinder.
During the early part of the war William's unit was billeted in the Chelmsford area at Great Baddow.
William died, aged 20, on Thursday 10th June 1915, at the Chelmsford & Essex Hospital while being operated on for a cut wrist. His death was subject of an inquest held at the hospital which was reported in the local press as follows:
"An inquest was held Chelmsford Hospital today on Gunner William Pilbrow, 20, 2/4th. South-Midland Howitzer Brigade, R.F.A. (T), stationed at Great Baddow, who died at the institution the previous afternoon, following an operation.
Second-Lieut. G. P. Philps, 2/4th. South-Midland Howitzer Brigade, R.F.A., said the deceased belonged to Northampton,- and in civil life was a grindery operator.
Pt. R. Aldis. R.A.M.C., said he accompanied the deceased from the military hospital at Oaklands to the Chelmsford Hospital the previous afternoon for operative purposes. Deceased walked.
Dr. C. Alford said he was called to the Police-station on Sunday night, and saw deceased in charge of the military police. He had two cut wounds across the wrist and a cut which divided the tendon of the little finger. Witness stitched the wounds as best he could, and instructed the military to take the deceased to Oaklands military hospital. Witness saw him again at the hospital the previous (Thursday) morning, when deceased came to see about stitching the cut tendon. Subsequently, soon after 5 p.m., witness assisted Dr. Waller in the operation. The anaesthetic was administered Dr. Pitts. The operation was complete, and while the doctors were washing their hands deceased, began to retch, which was a usual thing. On leaving witness was re-called by Matron, deceased having vomited large quantities of undigested food. Deceased was suffering from spasm the larynx, and collapsed, and died almost immediately without breathing properly.—By the Foreman (Mr. P. Tunbridge): He should not bad food in the stomach all for operation.
Sister K. Charlton said that on the morning deceased came to the hospital regarding the tendon and she told him to come in the afternoon at 3 o'clock and to have no dinner. Deceased took the whole filing as joke. She was present at the operation. No question was put deceased as to whether he had carried out the order to have nothing to eat.
Dr. T. H. Waller said the operation was begun about 5.15 p.m. The operation was complete, and deceased was coining round, when he began vomiting and brought up two small bowls of partly digested food, consisting largely of currants and peas. He never breathed again. Artificial respiration was resorted to. and injections were used but he did not breathe again, and died from spasms of the larynx, due to the vomiting.
The Coroner C. E. Lewis): Is it the practice to inquire whether food has been taken before the anaesthetic —Not if instructions are given. We take it they are carried out. If a person came in with an accident should ask when he had food last, it rests with the anaesthetist when patient has had food whether he should be operated on or whether should wait an hour two.
The Foreman: It was unfortunate the question was not put to the deceased, as he was not under observation
Dr. Waller: So it was, as it happened, but you don't think it necessary when instructions are given.
Lieut.-Col. Tunbridge, R.F.A.: I take that you attribute death purely to the fact of the anaesthetic having been administered upon a full stomach? - Yes, and vomiting having occurred.
And if the stomach had not been full it might not have happened?— Yes.
Dr. H. Platts, a civilian doctor at Oaklands Hospital: These will sometimes occur even patients specially prepared for operation.
Dr. Waller: I agree.
Replying to questions from the jury, Dr. Platts said it would rest entirely with the deceased what he did subsequent to the instructions not to take dinner. They had practically no control over the man. Oaklands was only a clearing hospital. Witness did not know that man was sent down actually for operation; he was sent to his hand attended to.