Charles Herbert Peggs was an east Londoner who served in the army during the First World War. He died in the Military Hospital in Chelmsford in March 1917.
PEGGS, CHARLES HERBERT*,
Private, 17th Battalion, Yorkshire Regiment (Green Howards)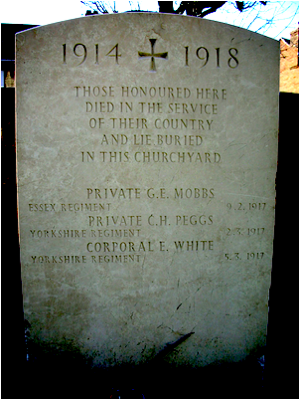 Charles was born in Bow, London in 1899, the son of James Needham Peggs and Louisa Jane Peggs (nee Byatt).
The 1901 census recorded two year-old Charles with his parents and two elder sisters at 12 Knapp Road in Bromley-by-Bow, London. His father was then a builder's labourer, but he was to die in the next few years.
Charles' mother married widower William Thomas Branfield in 1909 and two years later the census found 12 year-old Charles with his mother, two sisters, step-father and three step-siblings at 86 Fairfoot Road in Bow.
During the First World War Charles served as Private 43047 in the 17th Battalion of the Yorkshire Regiment.
Charles died, aged 18, on 2nd March 1917 in the Military Hospital at Chelmsford and was subsequently buried at Holy Trinity Churchyard, Springfield on 6th March 1917 where he is commemorated on a special memorial.
After his death his mother lived at 22 Alfred Street in Bow.
140316