Arthur Henry Painter (sometimes Paynter) came to Chelmsford early in the war from Gloucestershire when his army unit was billeted in the vicinity of the town, He died in October 1915 at Chelmsford Hospital.
PAINTER, ARTHUR HENRY*,
Private, 2/6th Battalion, Gloucestershire Regiment
On 16th October 1915 the Essex Newsman reported:
"Territorial's Death.—The funeral took place at the Borough Cemetery on Thursday, with full military honours, of Pt. Henry Paynter, aged 20, Gloucesters.
The deceased, who belonged to Easton, near Bristol, died on the previous Friday at the hospital, where he had been for some weeks.
His battalion, with whom he was very popular, provided band, escort, firing party, and buglers, and two officers were present, while 'the coffin, carried on a gun-carriage, was surmounted by the Union Jack and the deceased's hat and belt. The mourners were the mother and father, while wreaths were sent by the parents, Capt. Strongitharm, the N.C.O.'s and men, the Transport Company"
140316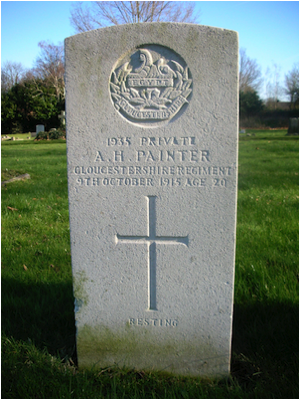 Arthur was born in Shirehampton, Gloucestershire in 1895, one of six children of the labourer Thomas Henry Painter and Eliza Ann Painter (nee Burcombe).
In 1911 the census found him aged 15 living with his parents and two siblings at 47 High Street, Lower Easton in Bristol. He was a blacksmith's apprentice,
During the First World War Arthur served as Private 1935 in the 2/6th Battalion of the Gloucestershire Regiment, and in the early part of the war the conflict he was billeted in the Chelmsford area.
Arthur died, aged 20, on 9th October 1915 in Chelmsford Hospital.
At the time of his death Arthur's home address was 47 High Street, Easton in Bristol. He was buried in grave 2188 at Chelmsford Borough Cemetery on 14th October 1915.