Frederick William Owen was born in Birmingham and came to Chelmsford early in the first weeks of the war when he was billeted in the area. He died from blood poisoning in November 1914 after serving in the army for 103 days.
OWEN, FREDERICK WILLIAM*,
Gunner, 2nd Battery, 3rd South Midland Brigade, Royal Field Artillery
Frederick was buried with full military honours in grave 2088 at Chelmsford Borough Cemetery on 19th November 1914. The service was conducted by the Rev. C. T. R. McNulty, chaplain to the South Midland Division Artillery. His coffin was borne to its last wresting place on a gun-carriage, with a detachment from the 2nd Warwicks, Royal Field Artillery in escort. There were a number of family mourners and a wreath was sent by the officers and men of Frederick's regiment.
140310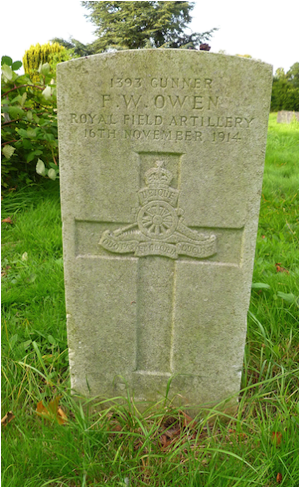 Frederick was born in Birmingham, Warwickshire in 1892, the son of another Frederick William Owen and Mary Ann Owen.
The 1901 census found eight year-old Frederick with his parents, a younger sister and a boarder at 7 Balfour Street in Balsall Heath, Birmingham. His father was a hot water engineer. A decade later aged 18, Frederick was working as a plumber's mate and living with his parents and a boarder at 55 Clifton Road in Balsall Heath. His father was a hot water and steam pipe fitter.
On 6th August 1914, two days after war was declared, Frederick signed up at Birmingham for four years' service as a Territorial soldier. At the time he was 22 years old and was employed as a fitter. He was five feet seven and three quarters of an inch tall, with good vision and good physical development,
He was posted as Gunner 1393 in the 2nd Battery of the 3rd South Midland Brigade, Royal Field Artillery. In the early months of the war his unit was billeted in the Chelmsford area.
On 10th September 1914 Frederick was admitted to the Chelmsford & Essex Hospital, suffering from blood poisoning. He failed to recover and died there, aged 22, on 16th November 1914, having been in the army for 103 days.
At the time of his death Frederick's home was at 55 Clifton Road, Sparkbrook, Birmingham.