George Ernest Mobbs was born in east London where he married in 1909, going on to have four children. Pior to joining the army he worked as a glass finisher. He died in Chelmsford Prison in February 1917 have cut his own throat. He had been detained there by the military authorities for a 14 day sentence arising from offences including attempting to leave his garrison without a pass.
MOBBS, GEORGE ERNEST*,
Private, 3rd Battalion, Essex Regiment
Deceased had been under witness's charge, since Feb. 5, and had been daily handed his razor in accordance with regulations. Witness had never noticed anything about the man's conduct to arouse suspicion.
Major P. W. H. Blake, commandant the Detention Barracks, said deceased was received at the barracks on Feb. 5 from Dovercourt, to undergo sentence of 14 days, dating Feb. 3, for absence as a defaulter and attempting leave his garrison without a pass.
The Coroner: Is it the practice to allow these men their razors?—Yes. They are not considered prisoners—they are only undergoing detention. The razors are handed out them every morning according to regulations. The regulations for civil prisoners are quite different; civil prisoners are not allowed razors.
Capt. M. Hawkins, Bedfordshire Regt., attached Training Res. Batt., said deceased, who had been attached to his company since December, was a very quiet man, who had been up on a similar charge before this year. The unit was composed of returned Expeditionary Force men sent to the unit for hardening. They went before the doctor every week. Deceased had been to France.
Mrs. Mobbs. the widow, giving a London address, said her husband had been in the army since Jan., 1915, and had served in France for 14 months. She saw him at Christmas, when he came home on 48 hours' leave. He complained of his leg. He was a glass silverer by trade. He was always a quiet man, and never threatened to destroy or injure himself. He had three brothers in the Army. He was wounded in the leg and arm, and the shrapnel was still the leg.
Dr. H. W. Newton, the medical officer. said he saw nothing unusual about the deceased upon admission. Friday he saw him just after death had taken place. The dressings the neck were not soiled, indicating that he was dead when they were put on. The cut in the throat was five inches long and severed the leading structures. It was the most effective incision witness had ever seen. Death was due to haemorrhage.
The jury returned a verdict of Suicide, stating there was insufficient evidence show the state of deceased's mind. The jury gave their fees to the widow."
George was subsequently buried on 13th February 1917 at Holy Trinity Churchyard, Springfield where he is commemorated on a special memorial.
Chelmsford Prison had held civilian prisoners until 3rd July 1915 when the last prisoners were transferred to other prisons, enabling it to be converted into a military institution. The prison which could house 312 prisoners had seen its wartime population drop considerably, varying between 20 and 80 only shortly before its conversion.
140316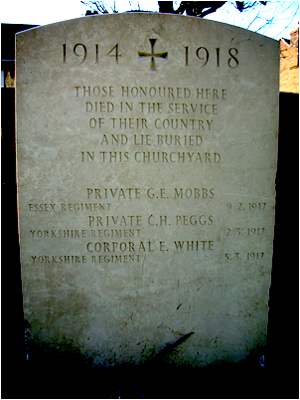 George was born on 13th December 1890 in Shoreditch, London, the son of William Henry Westerman Mobbs (1856-1939) and Harriet Hussey (1860-1930).
On 7th January 1891he was baptised at St Columbs, Haggerston. At the time his father was a boot finisher, living at 21 Essex Street.
The 1891 census found George, his parents and four elder brothers at Essex Street, with his father still employed as a boot finisher, and occupation he still held in 1901 at the next census. That listed 11 year-old George was recorded at 34 Watson Place in Shoreditch with his parents and eight siblings.
On Christmas Day 1909 George married Eleanor Frances Bedford at St Andrew's Church in Hoxton, London. At the time he was living at 4 Dale Street, Shoreditch, his bride at number 5. He was a glass silverer, The couple went on to have four daughters between 1910 and 1916.
In 1911 the census recorded, his wife and eldest daughter at 33 Ware Street, Shoreditch. He was still employed as a glass silverer.
On 14th August 1914 George, then a
mechanic, joined the army's special reserve in London, but was discharged on 24th October 1914. He subsequently rejoined the army in January 1915 and served as Private 16830 in the 3rd Battalion of the Essex Regiment.
George died at the Military Detention Barracks (Chelmsford Prison) on Friday 9th February 1917 from the effects of a cut to his throat.
On Monday 12th February 1917 Mr. C. E. Lewis. held an inquest at the Barracks which was reported in the local press as follows:
"Cpl. T. Yates. M.P.S.C. said that about 6.40 a.m. on Friday he handed deceased soap and water for washing, and shortly afterwards his razor to shave with. A few minutes later Staff-Sergt. Gammon called him, and they saw deceased lying on his face on the floor his cell, in a pool of blood, with his throat cut and unconscious.