Henry Meager was born in Kent and after marriage settled in Chingford where he fathered at least six children. During the war he served in the army. He died from illness in February 1916 at Chelmsford Hospital.
MEAGER, HENRY*,
Private, 8th Supernumerary Company, 2/6th Battalion, Essex Regiment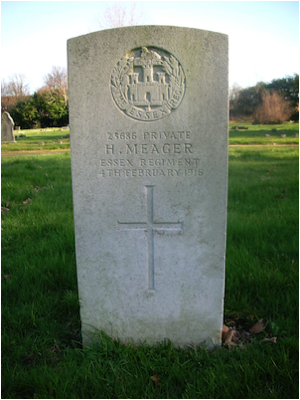 Henry was born in Greenwich, Kent in 1858. He married Deborah Wickham in Kent in 1884. The couple went on to have six children before Deborah died in 1910. In 1891 and 1901 the census found the family living in Chingford.
In 1911 Henry was recorded by the census living at 5 Chivers Road, New Road in Chingford with four children. He was a road labourer.
During the First World War Henry served as Private 25686 in the 8th Supernumerary Company, 2/6th Battalion of the Essex Regiment.
Henry died after a few days' illness on Friday 4th February 1916 at the Chelmsford & Essex Hospital, aged 58.
He was buried with full military honours in grave 203 at Chelmsford Borough Cemetery on 9th February 1916. The Buckinghamshire Regiment provided the band, and the 6th Essex the escort and firing party. The grave already contained the remains of George Massey who had died in 1891, aged 52.
At the time of his death Henry's home was at 14 Marriage's Square, off New Street, Chelmsford where it is beleived he was billeted.
140316