Richard Austin Ingram was born in Birmingham and as a soldier came to Essex in December 1914. At Kelvedon he cut his throat with a razor while under detention and died soon afterwards in Chelmsford & Essex Hospital. A verdict of suicide while temporarily insane was recorded at his inquest.
INGRAM, RICHARD AUSTIN,
Private, 6th Battalion, Royal Warwickshire Regiment
An inquest was held at the hospital the following day. Dr. K. D. WIlkinson said that he was caked to the deceased shorty after 7 a.m., and found him lying on the floor of the guardroom. Another doctor accompanied Richard to the hospital. The wound in the throat was extremely severe, severing the upper part of the larynx and gullet, and was self-inflicted. Death was due to collapse and haemorrhage, following the injury. The wound was inflicted by a razor. The inquest heard the deceased was undoubtedly insane at the time of the injury, and he attempted to tear off the bandages, and struggled with those who were attending him. He was evidently of intensely suicidal tendency.
Private Fowler of the 6th Warwickshires, said that he was on guard duty in the room where Richard was a prisoner for having tried to get away without leave. He escorted him to the lavatory. The deceased hurried downstairs. The witness followed, and found him in the arms of a sentry with a wound in his throat, which he said he cut with a razor. There was a looking glass in the lavatory, and the deceased must have been looking in it. Earlier in the morning, when Richard woke up, the witness said 'Good morning.' The deceased made no answer, but stared at the witness. During the night the deceased stared vacantly at the ceiling.
Lance-Sergeant H. L. Derby, 6th Warwickshires, spoke of taking the razor from the deceased and rendering first aid. The deceased was under arrest for attempting to desert, and would have been tried during the morning. He seemed very quiet and rather eccentric.
In reply to a juror as to whether prisoners were not searched, the witness said that in such cases as these, because they were supposed to keep themselves clean, and the decades would have had to shave before going in front of the Colonel.
Private Charles Jones said that he saw Richard coming downstairs. He fell into his arms, suffering from a cut throat.
Sister J. Stapleforth, of the hospital, said the deceased was admitted about 9.15 a.m. He was accompanied by a military doctor, and was also seen by Dr. T. H. Waller. Death occurred at 9.50 a.m.
Police Sergeant Haggar from Witham detailed a visit to the guard room and to seeing a pool of blood in front of a large mirror. Police Constable Bacon spoke of searching the deceased's clothing and finding 16s 2.5d.
A verdict of Suicide while temporarily insane was returned.
The Coroner said he certainly thought a man in a guard room should be deprived of all dangerous weapons, especially when about to take his trial for such a serious offence as desertion, or any other offence. Lieutenant Partridge, who appeared for the deceased's regiment, said they had never before had any trouble of this sort. He would convey the expression to the Commanding Officer.
The Coroner said: "One is not casting any aspirations, but mentioning it as a preventative measure.' Lieutenant Partridge replied: " I cannot say it is not already thought of. I understand some alterations are contemplated."
29 year-old Richard was buried in grave 2092 at Chelmsford Borough Cemetery on 18th December 1914.
140310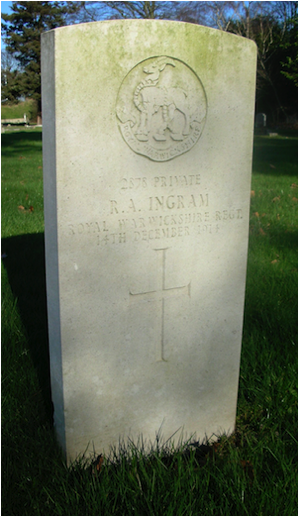 Richard was born in Birmingham, Warwickshire in 1886, the son of George James Ingram (1850-1904) and Emma Ingram (nee Plimer) (1848-1914).
In 1891 the census recorded four year-old Richard living with his parents, five siblings and two boarders at 8 Staniforth Street in Birmingham. At the time his father was a gun action filer. A decade later the 1901 census listed 14 year-old Richard with his parents and four siblings at 8 Sydenham Buildings, Phillips Street in Birmingham. Richard was brass greaser and his father a cycle filer.
In 1907 Richard married Maud Rule in Birmingham. The couple went on to have three children: Richard George Ingram (born 1908), Ernest Wilfred Ingram (1909-1985), and Winifred Ingram (born in 1913).
The 1911 census found Richard and his family at 25 Court 1, Hatchett Street in Birmingham. Richard worked as a barrel browner for a gun manufacturer.
During the First World War Richard served as Private 2878 in the 6th Battalion of the Royal Warwickshire Regiment. On 3rd December 1914 the battalion arrived in Kelvedon from Birmingham. Eleven days later, at 6.45 a.m., Richard, who was detained in the guard room, suddenly cut his throat. Members of the military Red Cross and the military doctor, Dr. Wilkinson, were soon in attendance, and after being medically treated the injured man was sent in a Red Cross motor ambulance to Chelmsford & Essex Hospital, where he died later that day, the 14th December 1914.