Walter Ernest Harris was billeted in Chelmsford in the early months of the war where he became one of at least ten victims of a meningitis epidemic which struck the town in the first part of 1914.
HARRIS, WALTER ERNEST*,
Private, 1st/4th Battalion, Oxford and Bucks Light Infantry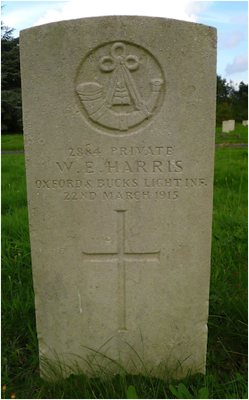 Walter was born around 1891.
During the First World War he served as Private 2884 in the 1st/4th Battalion of the Oxford and Bucks Light Infantry, which was billeted in the Chelmsford area during the war's early months.
Walter died on 22nd March 1915 in the special hospital 'Kenilworth' in Moulsham Street, Chelmsford from cerebro-spinal meningitis, aged 25. The disease caused at least a dozen deaths, the majority military, in Chelmsford in early 1915. Chelmsford's local papers reported that Walter came from Birmiingham, was married with one child, and had been ill for five weeks.
He was buried with full military honours in grave 190 at Chelmsford Borough Cemetery on 25th March 1915. The grave already contained the remains of Isaac Hawkins who had died in 1892 aged 61.
The military victims of the 1915 outbreak of cerebro-spinal meningitis in Chelmsford included:
Harold Leach - 24th January 1915
Charles William Giles - 25th January 1915
Ernest Stone - 8th February 1915
Frederick Sims - 11th February 1915
Bertie Ames - 17th February 1915
William Ernest Bruton - 17th February 1915
Henry Gilbert Edmondson - 19th February 1915
William Andrew - 20th February 1915
Frederick James Andrewartha - 26th February 1916
Thomas Charles Tooth - 4th March 1915
Walter Ernest Harris - 22nd March 1915
Samuel Herbert Bolton - 25th March 1915