Frederick Sims was born in Bristol and joined the army in November 1914. Soon afterwards he was billeted in Chelmsford where he died in January 1915, one of at least a dozen soldiers killed by an outbreak of meningitis which struck the town in the early months of 1915.
SIMS, FREDERICK*,
Gunner, 1st/1st South Midland Division Ammunition Column,
The week's local newspapers in Chelmsford reported that his was one of two deaths of soldiers that week from the disease, following recent similar deaths among the civilian and military population in the town. One newspaper stated: "The fever is a dangerous epidemic, and endemic, febrile disease, characterised by inflammation of the membrane of the brain and spinal cord, giving rise to severe headaches tenderness of the back of the neck, paralysis of the muscles, of the eye etc. It is sometimes marked by a skin eruption. There is yet no definite knowledge as to the transmission, but it is not contagious, and it is very rarely indeed that two cases occur in one house. Isolation, however, is considered desirable for nursing and control and we understand that steps are being taken to secure such accommodation should any more cases occur, and that at Chelmsford on 10th February 1915 a conference was held between the Joint Hospital Board and the military authorities on the subject. After a discussion it was decided to hire premises as a temporary arrangement, and pending the provision of a hut at the Isolation Hospital site on the Baddow Road, a mutual agreement being arrived at for a division of the expenses between the civil and the military authorities. It is thus hoped to stamp out the fever."
Frederick was buried with full military honours in grave 183 at Chelmsford Borough Cemetery on 13th February 1915; the service being conducted by Rev. W. J. Selby. Senior Chaplain, South Midland Division. The only mourners were Frederick's parents. The procession to the cemetery was a very imposing one: The firing party, with arms reversed, proceeded the 5th Gloucesters' band playing the 'Dead March', and behind came the coffin, covered with the Union Flag and Wreaths, and carried on a gun. Following the mourning coach were about 200 men of the Ammunition Column, eight officers bringing up the rear.
Frederick's grave already contained the remains of Thomas Stubbings who had died in 1893, aged 86.
The military victims of the 1915 outbreak of cerebro-spinal meningitis in Chelmsford included:
Harold Leach - 24th January 1915
Charles William Giles - 25th January 1915
Ernest Stone - 8th February 1915
Frederick Sims - 11th February 1915
Bertie Ames - 17th February 1915
William Ernest Bruton - 17th February 1915
Henry Gilbert Edmondson - 19th February 1915
William Andrew - 20th February 1915
Frederick James Andrewartha - 26th February 1916
Thomas Charles Tooth - 4th March 1915
Walter Ernest Harris - 22nd March 1915
Samuel Herbert Bolton - 25th March 1915
130407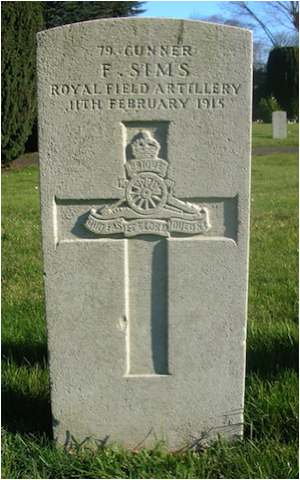 Frederick was born in Bristol, Gloucestershire in 1894, the son of William Edward and Ellen Amelia Sims.
In 1901 the census recorded Frederick, aged 7, living with his parents and five siblings at 3 Woodbine Terrace in Bristol. A decade later, aged 17, he was living with his parents and eight siblings at 13 Lyndale Road in Bristol. He was a pacemaker at a chocolate factory while his father was a cellar man, a trade he had held in 1901.
On 15th November 1914 Frederick joined the army at Bristol for a four year term with the Territorials. He was given an initial service number of 1923. His medical record from 24th November 1914 shows that he was 20 years old, five feet seven inches tall, had a 36 inch chest with 3 inch expansion with good vision and good physical development. On 19th January 1915 he was transferred to serve as Gunner 79 in the 1st/1st South Midland Division Ammunition Column, Royal Field Artillery.
The South Midland Division, was billeted in the Chelmsford area during the early part of the war. Frederick was billeted at 35 Primrose Hill in Chelmsford and it was there he was found dead in bed around 8 a.m. on Wednesday 25th January 1915. The previous day he had not been very well and did not go on parade, but did not consider medical attention necessary. On the day of his death he did not appear for breakfast, and a comrade who called him received no
reply, so he investigated and found the body of 20 year-old Frederick who had died from cerebro-spinal meningitis (also known as 'spotted fever'). He had been in the army just 85 days. At the time of his death his parents remained at 13 Lyndale Road in Bristol.