Harold Leach was a Gloucestershire man who spent the early part of the war in the army in the Chelmsford area, living in a billet in South Primrose Hill. In January 1915 he died there from meningitis, the first of at least a dozen soldiers killed by the disease in the early weeks of 1915. His body was returned for Gloucestershire for burial.
LEACH, HAROLD*,
Private, D Company, 1st/5th Battalion, Gloucestershire Regiment
He, however, passed away in his billet at noon on Sunday 24th January 1915. He was initially thought to have died from from heart failure following influenza or pneumonia. However, a post-mortem revealed that Harold was one of the first victims of an outbreak of cerebro-spinal meningitis (also known as 'spotted fever') which struck Chelmsford in the early months of 1915
His commanding officer (Capt. A. T. Mitcheson) wrote to Harold's parents, who were highly respectable inhabitants of Cowley:
"Your son was always a good soldier, and did his duty conscientiously and well, and everyone in his company will feel his loss keenly. I wish to convey to you the deepest sympathy of all our officers, N.C.O.s and men of D Company in your sad bereavement."
After preparations which had been made to lay him to rest in Chelmsford Borough Cemetery were cancelled, his body was taken back to Gloucestershire for burial at St. Mary's Church in Cowley on 28th January 1915. The Cheltenham Chronicle reported:
"Amidst many manifestations of sympathy and witnessed by a large number of people from the district, the remains of Private Harold Leach, 5th Gloucester Territorials, whose almost sudden death at Chelmsford was recorded in the 'Echo' a few days since, was laid to rest in the parish churchyard at Cowley on Thursday afternoon, the Rev. J. H. L. Gifford (rector) officiating.
The bearers were the following workmen from the Cowley Manor estate: Messrs. J. Collett, F. Williams. W. Ayres, T. Reeves. E. Greening, and A. Plumbe. The death of the young soldier has caused much sorrow in the neighbourhood, where his parents are held in great respect. Among those attending was his fiancé Alice Parker (Kempsford).
The service was a quiet and simple one, typical of the young life it commemorated. Harold Leach will be remembered by all who knew him as one of those who did his duty thoroughly and will, and he died for his country as much as if he had actually died in the trenches."
Harold is one of eight men commemorated by Cowley's war memorial.
The military victims of the 1915 outbreak of cerebro-spinal meningitis in Chelmsford included:
Harold Leach - 24th January 1915
Charles William Giles - 25th January 1915
Ernest Stone - 8th February 1915
Frederick Sims - 11th February 1915
Bertie Ames - 17th February 1915
William Ernest Bruton - 17th February 1915
Henry Gilbert Edmondson - 19th February 1915
William Andrew - 20th February 1915
Frederick James Andrewartha - 26th February 1916
Thomas Charles Tooth - 4th March 1915
Walter Ernest Harris - 22nd March 1915
Samuel Herbert Bolton - 25th March 1915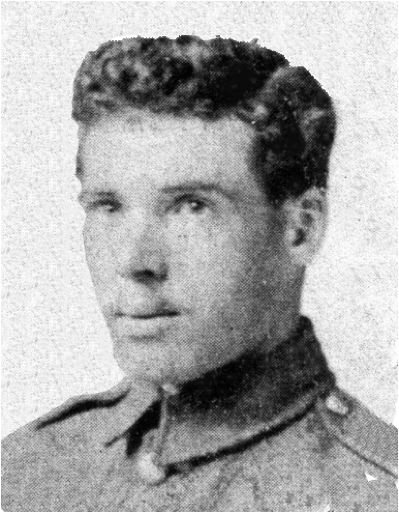 Harold was born in Coberley in Gloucestershire in 1892, the second son of James and Elizabeth Leach.
In 1901 the census found him aged nine living with his parents and four siblings in Cowley village in Gloucestershire where his father was a stone mason. A decade later the next census listed 19 year-old Harold with his parents and four younger siblings at Cowley. He was an estate carpenter; his father an estate mason.
During the First World War Harold served as Private 1949 in D (Cirencester) Company of the 1st/5th Battalion of the Gloucestershire Regiment. The Battalion, as part of the army's South Midland Division, was billeted in the Chelmsford area during the early part of the war. Harold was billeted at 30 South Primrose Hill in Chelmsford (today's number 68).
On Saturday 23rd January 1915 he was on parade,
apparently in good health as usual and in the afternoon when off duty went out for a walk. When he returned he swept the snow from the garden paths of his billet, and was all right at 4.30 p.m. In the evening he began to complain of having a cold, and went early to bed. He became worse during the night and early on Sunday morning a doctor was sent for and arranged for his removal to Oaklands Hospital in Chelmsford.