Thomas Edward Barker came to Essex from Cambridgeshire. He lived in Rettendon where he trained as a teacher. He married in 1910 and the following year began teaching at Trinity Road School in Chelmsford. He joined the army in May 1916, and was shot and killed near Ypres in January 1918. His home was in Rettendon.
BARKER, THOMAS EDWARD,
Lance Corporal, 2nd Battalion, Royal Fusiliers
Thomas and Lily's son Gerald Edward Barker was born on 17th May 1915 and christened at St John's Church, Moulsham on 8th September 1915. At the time Thomas was described as an assistant school-master still at 26a Baddow Road, Chelmsford. The property was one of a pair of semi-detached houses to the left from the front of what is now Shanty's Chemist. They were demolished and redeveloped as a shop and flats around 2009. 26a is the right of the pair pictured below in 2007 when awaiting demolition.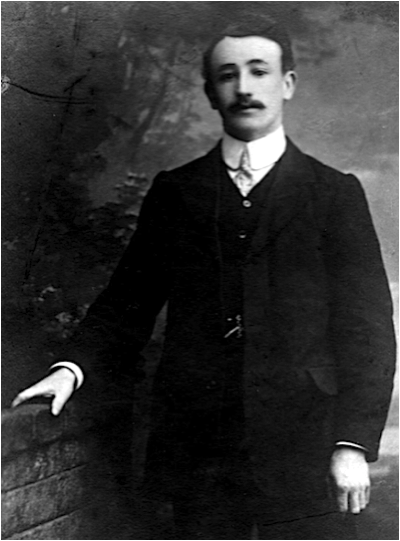 Thomas was born at Shepreth, Cambridgeshire on 17th September 1886, the son of George Baylis Barker and Julia Barker (nee Payne). His father had been born in Wyke Regis, Weymouth, Dorset on 14th October 1854; his mother in Shepreth in 1856, the daughter of Isaac, miller of Shepreth. The couple had married in Shepreth on 8th December 1885.
When aged four Thomas was recorded by the 1891 census living with his parents at Brookman's Farm, Back Lane in Stock. His father was a farmer. Thomas' uncle William Barker also lived in the village with his family.
Thomas' siblings included Alice Barker (born in 1892 in Stock) and Edith Emily Barker (born in 1896 in Billericay). In 1901 Thomas' father purchased Roman's Farm in Rettendon. The census that year found 14 year-old Thomas living with his parents and two sisters at Rettendon Common Hill, where his father was a farmer.
Thomas was educated at Rettendon School and then trained there as a pupil teacher until he left in June 1905,
Thomas married Lily Beadel at All Saints' Church, Rettendon on 18th June 1910, having lived at Roman's Farm until that point. At the time he was aged 23, employed as a teacher, and lived in Rettendon. His bride Lily had been born on 10th March 1889 at 20 Mildmay Road, Chelmsford, the daughter of Benjamin Beadel and Charlotte Beadel (nee Ewson). At the time of her marriage to Thomas. Lily was living in Moulsham.
The following year the 1911 Census found 24 year-old Thomas and 22 year-old Lily living at 26a Baddow Road in Chelmsford (later renumbered as 64). Thomas was an assistant school master. The household was completed by a 28 year-old boarder, Norman Beadel who was an assistant in a yeast business. Later that year, on 11th September 1911, Thomas joined Trinity Road Council School in Springfield.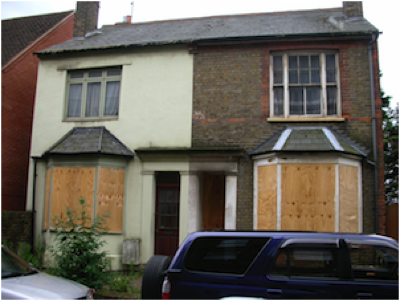 At some point Thomas taught at St. John's School, Moulsham Street, Chelmsford.
Thomas subsequently enlisted at Chelmsford, serving as Lance Corporal GS/37335 in the 2nd Battalion of the Royal Fusiliers. The battalion was a regular army unit that had been in India at the outbreak of the war, returned to England, and saw action in Gallipoli before landing in France in March 1916. Thomas joined up two months later.
Thomas was shot in the head and killed in action
on 22nd January 1918. He was aged 31. He is buried at Poelcapelle British Cemetery, ten kilometres north-east of Ypres in Belgium (grave: XIII. F. 8). The cemetery was created after the Armistice when graves were brought in from the surrounding battlefields and smaller graveyards. Among those buried in the cemetery is Private John Condon of the Royal Irish Regiment, who at 14 years of age is thought to be the youngest battle casualty of the First World War commemorated by the Commonwealth War Graves Commission.
On 15th February 1918 the Essex County Chronicle reported news of Thomas' death.
Thomas is commemorated on the Civic Centre Memorial, Chelmsford and on a brass memorial in Rettendon Church. He was entitled to the Victory and British War medals.
After the war Thomas' widow, Lily Barker, was resident at Redmays, Western Road, Billericay. She remarried on 11th September 1924 to Harold Arthur Matthews, an engineer, at the Parish Church, Mountnessing. Around 1927-1928 she had Tarpots Bakery at Benfleet.
Thomas' parents remained at Roman's Farm until 1926 when they sold it to a Mr. Kidman. Then they moved to 25 St. John's Road, Chelmsford.
Thomas' mother died on Boxing Day 1935 from breast cancer. George died on 30th December 1938 leaving an estate valued at £205 5s. 8d,; just a few days earlier his son, Gerald, had married Mary Baker (on 26th December 1938), at St. Mary's Church, South Benfleet.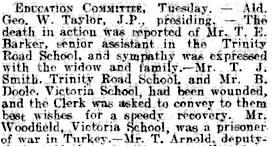 Thomas' widow, Lily, died on 29th December 1964 and is buried at Mountnessing Church where her mother also lies. Sadly Lily's second husband was returning from putting a wooden cross he had made to mark her grave when he was killed in an accident crossing the Southend Arterial Road on 18th January 1965. Gerald, whose father had died when he was only two, had lost his mother and step-father within three weeks.