John Thomas Bannister was Chelmsford born and bred, and worked as a grocer's assistant before joining the army in November 1915. Accidentally wounded in 1916, he was discharged from the army in February 1917, but was killed a year later in a German air raid on London. His home was in Townfield Street.
BANNISTER, JOHN THOMAS*,
Civilian
The following week the same paper carried a report of the funeral. Among those attending was his fiance Kate Marshall.
The 1918 register of electors listed John's parents still living at 24 Townfield Street (pictured). His father died there on 3rd September 1928
John's sister Daisy married George Henry Fogden on 9th June 1924 at Chelmsford Cathedral - she died in 1956 in London.
John is not commemorated by the Civic Centre Memorial in Chelmsford
130908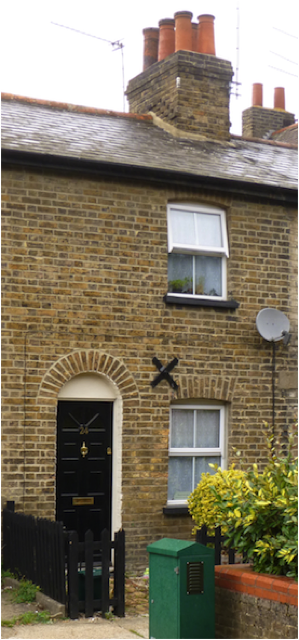 John was born in December 1894 in Chelmsford, one of three children of Stephen John Bannister and Emily Millicent Childs. His father had been born in 1861 in Kent ; his mother in 1871 in Chelmsford. The couple had married in 1893.
John's siblings were Daisy Bannister (born in 1893 in Chelmsford) and Bertie Bannister (1896-1897).
The 1901 census found six year-old John living with his parents, sister and a lodger at 3 Steamer Row in Chelmsford. His father was a coach painter.
When aged 16, the 1911 census recorded John living with his parents, a nephew and a two year-old visitor at 7 Steamer Row. At the time John was an errand boy; his father was a house painter.
On 23rd November 1915 John joined the 9th Battalion of the London Regiment (Queen Victoria's Rifles). a Territorial unit, where he served as Rifleman 392239. He landed in France on 11th July 1916 and was badly wounded late later that year, returning to England on 18th September 1916. The Essex County Chronicle carried a short report on his injuries in its 20th October 1916 edition:
"Rifleman T. Bannister, aged 24, son of Mrs. Bannister, Townfield-street, Chelmsford, was accidentally wounded by shrapnel, sustaining wounds in the face and hands and a fractured arm. He is now in hospital at Cheltenham and going on satisfactorily. Rifleman Bannister before joining the Colours earlier this year was a grocer's assistant in the employment of Mr. W. J. Payne, Broomfield-road."
In October 1916 John's uncle, Sergeant F. J. Childs of the Hussars was awarded the Military Medal, an event that made the local papers/
John was in hospital in England from 18th September 1916 until 7th February 1917.
As a consequence of his injuries John was discharged from the army on 20th August 1917 as he was no longer considered fit enough to serve.
At the time of discharge he was described as five feet nine inches tall, with a 34.5 inch chest. a sallow complexion, grey eyes, and fair hair. His occupation was grocer's assistant and he intended to reside at 24 Townfield Street in Chelmsford. His military character was described as very good. He was given an initial weekly pension of 28 shillings.
Having survived service in France John was killed during an air raid on Old Kent Road, London on 17th February 1918. News of his death appeared in the Essex County Chronicle on 22nd February 1918 under the headline 'Killed in the raid.'