Albert Henry Berry came from a large Chelmsford family who latterly lived at South Primrose Hill. He joined the army before the war, landed in France in August 1914 and died in April 1915 from wounds received. A cousin was also killed in the war.
BERRY, ALBERT HENRY,
Private, 2nd Battalion, Essex Regiment
During the First World War he served as Private 8367 in the 2nd Battalion of the Essex Regiment, a regular army unit that was at Sheerness in Kent at the start of the war. The battalion, presumably including Albert, crossed the English Channel from Southampton on the S.S. Corsican, landing in Le Havre early on 24th August 1914. That autumn it was in action at the Battle of Le Cateau, then the Battle of the Marne, the Battle of the Ainse, and the First Battle of Ypres. Albert died from wounds on 17th April 1915, presumably received at the latter battle. He is buried at Bailleul Communal Cemetery, Nord, France, some 14.5 kilometres south-west of Ypres (grave: J. 72). Bailleul was an important hospital centre during the war and presumably Albert died there having been brought back from the front.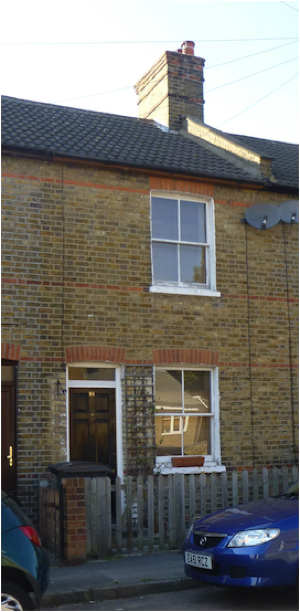 Albert was born in Stourbridge, Worcestershire in 1885, the son of James Berry and Ellen Berry (nee Stevens). Albert's father had been born in Woodstock, Oxfordshire in 1847; his mother in Chelmsford in 1852. The couple had wed in Chelmsford in 1871. The family lived in Stourbridge from around 1884 to about 1892.
Albert had at least 13 siblings including: Ada Jane Berry (1871-1948), Edith Jane Berry (1873-1947), James William Berry (1875-1936), Charlotte Ellen Berry (1877-1938), Minnie Lizzie Berry (born in 1879), Charles Watts Berry (born in 1880), Walter Lambert Berry (born in 1882), Rosa Berry (born in 1883), Cassie Maria Berry (1887-1955), James Osbourne Berry (1889-1908), Harry George Berry (born in 1891 in Stourbridge), Joe Stephens Berry (1893-1975) and Thomas Frank Berry (1896-1962). All the children apart from Albert and Harry George had been born in Chelmsford. At the 1881 census the family had resided at 15 Primrose Terrace, Lower Primrose Hill, Chelmsford.
The 1891 census found five year-old Albert living with his family at 24 Cliff, Stourbridge, Worcestershire. His father and eldest brothers were leather grounders. By the time of the 1901 census they had returned to Chelmsford and were living at 37 South Primrose Hill (today's number 51). Albert was then aged 15 and employed as a shed mender by the Great Eastern Railway. His father and eldest brother remained as leather workers, while brother Charles was a general labourer.
Albert joined the army at Chelmsford before the First World War. At the time his home was in Maldon. He was recorded by the 1911 Census serving in India with the 1st Battalion of the Essex Regiment. In 1911 Albert's parents were living in Leicester.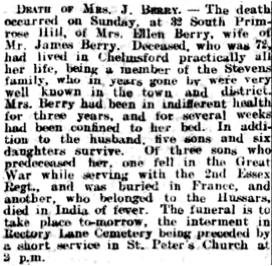 Albert is commemorated on the Civic Centre Memorial, Chelmsford. He was entitled to the 1914-15 Star, British War Medal, and Victory Medal.
The 1918 Register of Electors listed Albert's parents at 32 South Primrose Hill, Chelmsford (now number 93) (pictured).
His mother died in Chelmsford on 19th April 1925, aged 72. His father died the following year aged 75. Albert was a cousin of James Frank Morris Stevens who is also commemorated by the Civic Centre Memorial.
Albert's grandfather, Thomas Berry, who had been born in Oxfordshire around 1819, was the brother of John Berry, who had been born in Oxfordshire around 1821. One of John's grandsons was Leonard Raven Berry who is also commemorated by the Chelmsford Civic Centre War Memorial. Albert and Leonard were second cousins.
130804